Listen: TEETH – Meme Is The New Riddim EP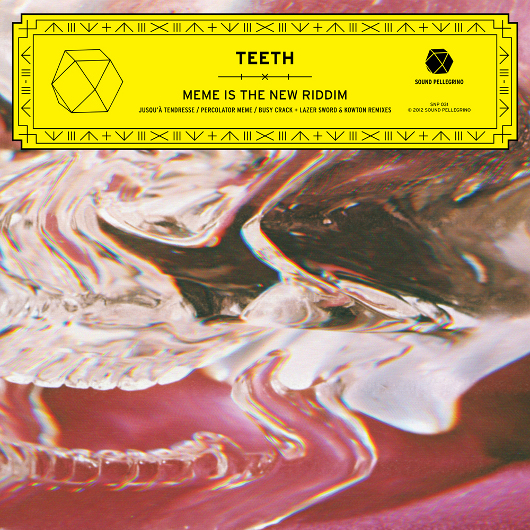 The latest EP package on the ever intriguing French imprint Sound Pellegrino sees some much welcome new material from Finnish producer TEETH backed by remixes from Lazer Sword and Kowton.
TEETH – aka Matti P – and Sound Pellegrino co-owner Teki Latex have shared roots in hip-hop, with the former a member of Ceebrolistics and the latter one-third of legendary French troupe TTC. TEETH's first EP, Shawty, was released on Oneman's 502 imprint last year. He has since been commissioned to remix Bambounou, Femme En Fourrure and Renaissance Man, and has started his own label, Signal Life.
A typically verbose press release from Monsieur Latex says TEETH'S "love for conceptual art and poetry, his atmospheric drowsy rap roots mixed by a love and fascination for 4/4 house and techno from Chicago to Berghain" laid the foundations for the Meme Is The New Riddim EP.
The choice of remixes is equally intriguing, with Kotwon becoming the second Bristolian on the Sound Pellegrino roster, following Julio Bashmore's sultry sax-led remix of High Powered Boys in 2011. The Livity Sound and Pale Fire chief strips "Jusqu'à Tendresse" for an atmospheric bubbler, while Lazer Sword – aka Low Limit and Lando Kal – turn in a jagged, slashing remake of Cajmere referencing lead track "Percolator Meme".
Meme Is The New Riddim comes in the usual Deutsche Grammophon referencing artwork and will be released on June 18, 2012, on digital format.
Tracklisting:
1. Percolator Meme
2. Jusqu'à tendresse
3. Busy Crack
4. Percolator Meme (Lazer Sword Remix)
5. Jusqu'à tendresse (Kowton Remix)