Mr Beatnick – Sun Goddess review
There was a time when London DJ/producer Mr Beatnick could have been classed as a "jobbing beatmaker" – a funk, jazz and hip-hop digger with a passion for loose, off-kilter rhythms, soulful vocals and the possibilities of vintage synthesizers and dusty drum machines. There was a swing and wonkiness to his productions that marked him out as a student of leftfield instrumental hip-hop.
Those days have long passed. After initially impressing those of a soulful persuasion with a trickle of beatsy tracks and remixes in the late noughties, his transformation began in earnest in late 2010. Beautifully programmed remixes for Architeq and Throwing Snow displayed a new found love of 4/4 rhythms, Detroit techno, slo-mo grooves and British bass music. While he couldn't be pigeonholed, his move towards dark, sweaty basements full of house and techno evangelists was almost complete.
Then came 2011's Synthetes, his first EP for Don't Be Afraid. Championed by a wide range of underground DJs – from Gilles Peterson to Deetron and Scuba – it forged his love of loose, analogue beats with house and techno-inspired grooves. Some loved the title track – the sort of string-laden, jazz-flecked 4/4 beauty that makes your heart sing – while others devoured the melodic flourishes, off-kilter snares and rising melancholy of "Don't Walk Away From My Love". As an EP, it was sublime – easily his best work thus far.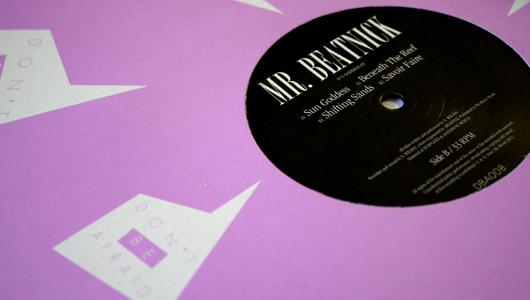 Now, he returns to Don't Be Afraid with another smart EP in the shape of Sun Goddess. It again shows Mr Beatnick in fine form, doing what he does best: making machine soul that both inspires and shakes dancefloors. As with Synthetes, there's a real swing to the beats, a lightness of touch to the drum programming and a deeply soulful feel to the bubbling synth melodies and jazz-inspired arrangements.
Opener "Sun Goddess" picks up where "Synthetes" left off, wrapping sun-bright melodies, woozy electronic melodies and hazy synths around loose 4/4 rhythms and a pulsing analogue bassline. While inspiring and heartwarming, there's something faintly downbeat about the melodies. It's the epitome of "bittersweet". The same could be said about "Beneath The Beef", a fluid combination of stripped back 808 percussion, rising and falling synth work (reminiscent of The Orb's ambient house classic "A Huge Ever Growing Pulsating Brain…") and darting stabs. It's almost ethereal.
"Shifting Sands", on the other hands, explores a slightly heavier path. Oozing with percussive power thanks to same nifty MPC programming, it again comes loaded with slippery synths, woozy pads and intoxicating sounds. It's no darkroom stomper, by any means – the beats are too loose, the synths too tactile and the composition too sparse for that – but compared to its predecessors it's positively murky.
The sturdy drum work continues on "Savoir Faire", an unashamedly positive finale to a fine EP. In comparison to the rest of the release, the drums are surprisingly rigid. It has an air of the late 1980s about it, when vintage drum machines produced rhythms that were simultaneously curiously loose and quirkily monotonous. Musically, it's almost dizzyingly upbeat – all rising alien melodies, rush-inducing riffs and blissful motifs.
Matt Anniss
Tracklisting:
1. Sun Goddess
2. Beneath The Reef
3. Shifting Sands
4. Savoir Faire