Regis – Complete Works 1994-1996; 1997-1998; 1999-2001
Explaining why Regis and his music exist is a difficult one. A pop psychologist could point to his surroundings, the concrete mazes of Birmingham, as being pivotal in shaping his relentless, unfliching vision for techno in the same way that the decaying Detroit cityscapes informed the first wave in the US.  Equally, it is also possible to posit that O'Connor is merely following in a long line of UK pop, punk and industrial situationists who were unwilling to just make and release music and who wanted to leave something more meaningful in their wake.
According to this theory, O'Connor is following in the footsteps of Genesis P.Orridge and Cabaret Voltaire. This writer believes that there is another dynamic at play, namely that Regis's Irish roots enhance an inherent sense of fuck you-ness that was especially prevalent during his first few years as a producer. While theorising often leads to doubts and ambiguities, this retrospective set puts it beyond doubt that Regis can claim ownership of industrial techno.  The period when he and Downwards rose to prominence is known as the 'golden age' of UK techno  – from the early to late 90s; 1993 to 1997 or 1998, depending on whom you ask – and it's no exaggeration.
During that period, Lanstrumm, Schmidt and Vogel were producing a grated, gated vision for primal Chicago jack, Steve Bicknell was setting the scene for loopy techno with Lost  – and to some degree the purist-influenced leanings of Klock and Dettmann in the next decade – and Advent and Planetary Assault Systems were pushing a futuristic agenda for big rooms. But the sound that has most resonance nowadays is the mutant strain of electronic music created by Regis, Surgeon and Peter Sutton in Birmingham.  More heavily influenced by Coil and Throbbing Gristle than Detroit techno and Chicago house, the Downwards label provided the platform for a a visceral, distorted sound that oozed confrontation and excitement in equal measures.
The first part of this retrospective, 1994-1996, has a basic, functional feeling, sounding like O'Connor is learning as he's going, but the fact that we're listening to a learning curve doesn't detract from the raw energy and pulverising force that each track exudes. Grainy, distorted kicks and grimy acid licks, supported by firing percussion, spew from the speakers when the needle drops on tracks like "Speak to Me", "Model Friendship" and "Surface". There's a snotty confidence at play here that makes Regis all the more fascinating; like punk's protagonists 20 years before, O'Connor and his cohorts had discovered that it was possible to record, release and distribute one's work (he co-founded the Integrale distribution outfit) without any outside interference.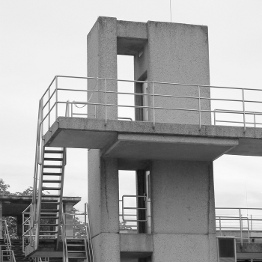 While it's impossible to say for sure if this gave Regis the cojones to do what he wanted, on "We Said No" and "Point of Entry", it sounds like he is testing the limits of acceptability, with the distorted drums pushed into the red. Despite this exuberance, there are also signs of Regis's future direction. The steely, slamming drums of "Lapal" and "Translation", coupled with the bleepy, bassy "She 1" and "She 2" hint at the minimal approach that features on the second retrospective. Tellingly, "Ital" also favours a stripped back approach, and its shuffling jack could be a distant relation to Joey Beltram's "Game Form" –  also released around this time – but by comparison it sounds grainier, gnarlier and much more unhinged.
And so to mid-period Regis (if we assume that 2001 marked the start of O'Connor's new projects under the British Murder Boys and Sandwell District banners). The second compilation, 1997-1998, covers a shorter period of time, but in creative terms, it's a wide open field.  "Necklace Of Bites" and "Disease Through Affection" continue with a slamming industrial approach, with the former riding jarring, out of time percussion and the latter reaching a crescendo and then dropping into a break down as Regis fires out razor sharp percussive daggers. "Adolescence" and "Executive Handshake" are also imbued with the same heavy industrial rhythms, but the filtering and sense of grimy repetition show that O'Connor provided the fuel for the loop techno sound of the late 90s. This is especially audible on "Guiltless", where rolling tribal drums, looser than the rigid one-note sampling of the subsequent loop doctrine, provide the basis for a wall of atmospheric builds. 1997-1998 also sees Regis flirt with acid on the spaced out "From Now On" and the linear "Barriers" while a more reflective side is audible on the rolling but deeper textures of "Escape From Yourself" and "Right Side of Reason Part 2". Clearly sticking around for too long bored Regis and this tendency is evident on "Indifference", its intense broken beats hinting at the driving force behind the wave of post-loop techno that birthed artists like Inigo Kennedy and Oscar Mulero.
Finally, 1999-2001 documents the third chapter in the first Regis story. O'Connor's subequent work as part of Sandwell District brought him the kind of recognition that Downwards never did. This recognition is probably why O'Connor and Dave Sumner ended Sandwell: it was in danger of becoming the kind of credible techno 'brand' that they always railed against and the idea of them headlining mobile phone-sponsored dance festivals a la Richie Hawtin was abhorrent to them. In any event, 1999-2001 provided the blueprint for Sandwell and a lot of the current wave of industrial, abstract techno. Regis doesn't depart from the dance floor, and on the slamming title track to the 2001 Penetration album and with the metallic angular rhythms of "It's A Man's World" and "Thirst", make for some of his most DJ friendly music. He also has the final say on loop techno with "Baptism" and "Purificiation", which feature lunging basslines,  soulful vocal samples and O'Connor's dense, upfront beats sounding more confrontational than burning a warehouse full of Primate records.
Immediacy aside, it's the sound design on 1999-2001 that has proven to have such a lasting effect. From the atmospheric sounds on "It's A Man's World" and the angelic textures of "Thirst" to the eerie strings on "White Stains" and the eerie found sound samples on "Penetration", these productions predate the work of the current wave of abstract techno producers by a decade. "Solution (Voice)" – which features a creepy sample from Jim Jones of mass suicide cult Peoples Temple  – the more serene ambience of "Broken on the Wheel",  the dead paced beats and muffled vocals on "Slave To The Inevitable"  and "Rise", which could be a recording of an individual being tortured or engaging in a sadomachtistic enterprise, all see Regis focus solely on atmospheric, eerie soundtracks. But it's his ability to craft relentless grooves  while  exorcising ghosts from his machines that explains why 1999-2001 still sounds so relevant – just listen to the whiplash rhythms and tunnelling, hypnpotic riffs of "White Stains Part 2" if you're in any doubt. Almost twenty years after some of these tracks were released, Regis still reigns supreme.
Richard Brophy
Tracklisting: (3xCD version)
Speak To Me
Model Friendship
Ital
Lapal
Point Of Entry
Surface
Keep Planning
We Said No
Allies
Translation
Careless Pedestrian
Sand
Cold Water
The Black Frighter
He/1
He/2
A Necklace Of Bites
Disease Through Affection
Adolescence
Executive Handshake
Body Unknown
Barriers
Concentrate
Escape From Yourself
From Now On
Indifference
Wound Us
Guiltless
The Right Side Of Reason (part 1)
The Right Side Of Reason (part 2)
Solution (Voice)
Rites
Execution Ground
Solution (Music)
Rise
Baptism
Purification
Broken On The Wheel
Get On Your Knees
Slave To The Inevitable
It's A Man's World
Thirst
White Stains
Penetration
Aftertaste Of Guilt
Her Surrender
White Stains (part 2)