Corrosion Control with Milo Smee & JR Seaton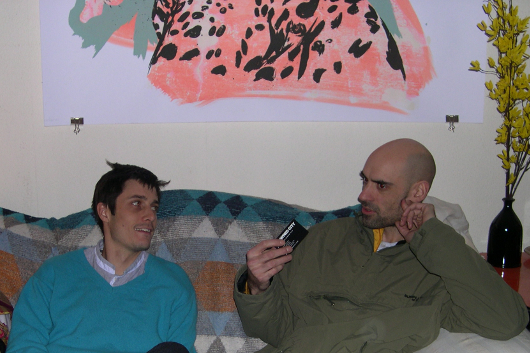 The name Milo Smee will have registered on the radar of most electronic music consumers in one form or another in recent years, either consciously or unconsciously. Hidden beneath some bizarrely brilliant pseudonyms in Binary Chaffinch and Kruton, Smee contributed a sizeable portion of the Dissident back catalogue and it's here where his work first became apparent to these ears. However, his production work stretches further back as part of 5 Mic Cluster with Mark Broom, Chris Baker and Fergus Purcell and preceding that, Kactus, a collaboration with his brother Leo.
It is of course the Chrome Hoof project with Leo with which Milo veered closest to widespread recognition, the two of them merry leaders of an increasingly large orchestra of musicians for their large scale musical experimentalism. This ambitious side was demonstrated further on Smee's most recent turn as Binary Chaffinch which made for one of last year's most unappreciated 12"s. Released in the first few weeks of 2011 on the esteemed I'm A Cliché imprint, the title track to Heavenz Gate was perhaps the most epic twenty minutes of music committed to vinyl in recent times, calling on the talents of two vocalists, a choir and five other musicians.
Taking to Twitter to bemoan the lack of appreciation for the records amidst the end of year list meetings, this writer was kindly notified by a certain JR Seaton that Smee was sitting on some music that was equally potent if totally different. That music was to be revealed as Bintus, a wholly devastating homage to Smee's long term love of 303 formed acid and dark rave techno, soon to be released on Smee's own Power Vacuum imprint. It's music that sounds wholly appropriate now – something signified by Ben UFO recently dropping some Bintus amidst the latest Kassem Mosse on his Rinse FM show – yet any accusations of playing to current fads can be swiftly cast aside because further discussion reveals Smee is not someone who follows such musical trends. Bintus is borne out of several decades longing to make the sort of music Smee grew up on as a teenager, whilst his ideal signees for Power Vacuum are Dopplereffekt and Acid Junkies.
It soon became apparent that Milo and JR Seaton had in fact become recent friends through a musical acquaintance, and the latter was somehow instrumental in the conception of the Bintus project. The chance to let two talented musicians chew the fat seemed altogether more interesting than any possible email discussion, so we asked Smee and Seaton to sit down in the latter's Berlin apartment to discuss their respective musical paths.
JR: So 2012 – a new year, new projects and a new label in Power Vacuum.
MS: Yeah, you have to take your share of responsibility in my founding of Power Vacuum – you triggered something that was latent in me that I probably wouldn't let myself think the thought, or see it through which is the desire to run my own label. I've had lots of friend do their own labels and of course it can be a real struggle, especially when the music I like and tend to make is generally a hard sell. It seemed like quite a lot of ball-ache and I was always quite happy to do the music and let someone else deal with the promotion and admin side. But I've come to be intrigued by the potential rewards of programming the whole sound of a label.
You had some tracks and I thought they were bloody good.
True, but the tracks that you thought were bloody good weren't made when I said I want to make a label.
No they weren't, but the tracks that have come to form the first release came through the fortuitous opportunity of a mutual friend of ours having a 303 which he was going to clone. So before he took the thing to bits, we borrowed it along with an 808 and had a couple of days each hammering out tracks, though you hammered more than me…
Yeah I got hours and hours of jams from that, it was one of the most exciting unbroken three days I can remember, because I've been banging on about acid house to all my friends and boring people on the subject since probably 1991 when it was at its most unfashionable. I had missed acid house as I was a couple of years too young to get involved in the 88-89 period that we all know and sounds so exciting. I was about 14 then and was in into indie music and a bit of a miserablist – but I did hear House Hallucinations around at an older friends house and I thought, what's this weird stuff from the future that's so beyond anything I'd heard.
So two decades later you realised the eternal 303 and 808 dream!
Yeah the two machines came together in my living room for three days and I obviously had a lot of pent up ideas. I remember in 1989 I worked in a music shop on Saturdays for a tenner a day and there was a 303 in the window for £25 – a couple of years later I was slightly regretful about not getting my discount on that 303. Anyway, I got these machines together and I went crazy and ultimately this is how the Bintus project came together.
Well I left you with the 303 after having worked out how to use it and came back a few days later and you had the 303 hooked up to the 808 synced with the Jupiter Four…
Yeah, I ran out of space on the hard drive of one laptop, so started recording on another – I was in an acid haze.
And then me and TJ [Objekt] heard these finished tracks we thought the sound you had hit upon was quite contemporary and current.
Sure, but it was purely the '88 era acid house and early 80's electro I had in mind- as an eleven year old all the youth clubs around me were playing electro and everyone was trying to break dance in turquoise Louis cords, Puma states and whatever- I followed and did the same of course. Electro was the first music that I experienced that sounded futuristic and alien and combining those two elements of acid and electro with Bintus, is what became apparent as the session continued.
It's interesting 'cos this last year the proper electro sound I love has been coming back, the raw semi-Detroit influenced, some of the early UR stuff and I like a lot of the Dutch electro stuff..
Dopplereffekt are my favourite.
Of course, there you go, you've got the marriage of Gerald Stinson from Drexciya with the European kind of Kraftwerk sensibility, the classic European sound.
The Dopplereffekt approach is so stripped and raw, they know exactly what they're doing, tweaking the sounds just right to claw away at some futurist region of the brain.
When we first heard your track "Advanced Fuel", the snare that you achieved on that is textbook Dopplereffekt, it just clobbers you – it's so rough and raw and dissociative in the best Drexciyan sense.
Right, that's interesting. Sonic grit is what I'm trying to achieve with Bintus, which is a very recent thing because of the happy set of circumstances that finally allowed me to express these long felt acid desires I've had.
We recognised that there is a nice connection into the sounds people play today which you didn't really have in mind when making them.
Yeah that's right, I don't really know what's going on now with the current hyped people; I don't buy new records much. The most recent stuff I enjoyed was dubstep going to FWD around 2004 / 2005 I think. That's the last time I was buying "new" records and I was lucky beacuse I knew Neil Joliff via a mutual friend, and he was running these labels, so I was seeing DJs like Hatcha, Benny Ill and Kode 9 at Plastic People. That was the last club I went to and got excited by the sounds, one reason being I could recognise some of the sounds from my late teenage years embracing hardcore breakbeat techno. That was the music in '91 and '92 that met up with me being 17, 18..
You mean the kind of borderline breakbeat techno and IDM?
Hardcore techno, you know Beltram with Mentasm, Steve Bicknall's Lost – The Gonzo, Njoi, Cosmo and Dibbs, Trigger, Subject 13 and also maybe the more commercial end with T-99's Anastasia – that no messing aggressive breakbeat based techno. It was rave essentially before it went into gabba and jungle, which ramped up the tempo and the ante generally in some ways but wasn't doing as much for me music-wise. So yeah, hardcore rave, dark, heavy techno with these mad aggressive synth sounds is also what I'd like to have a go at doing sometime, as it was the sound of my first few years of clubbing.
Speaking of Steve Bicknell, I think my own first experience of the Lost parties was around 1999/2000 at the Arches and then various random venues around London. I remember seeing Jeff Mills play at the Mermaid Theatre on the banks of the Thames one time…
What were they playing in that period?  Acid tech?
Prior to that my formative dancing years were spent at a club called The Drome that was under London Bridge. It was run by the IRA at that time so it must have been illegal… They were then kicked out and London Transport had it go pro and it became SEOne, and they continued some of the programme, including the Raindance night we went to. They had the opening night of SEOne and someone died, so that ended and it became what is now Cable studios. But that space used to have this party that we went to and that was acid techno, and ravey jungle. That's something I was into when I was 15, around 1999, and I quickly shifted away I guess when I saw Laurent Garnier, he was my big teen DJ idol, he really brought out the possibilties of what a DJ could do, having the power of knowing an awful lot of music and how to put it together. And then Jeff Mills, just the sheer power and futurism of techno…
It's funny because I really like the style, the aesthetic of the hardcore techno rave DJs in the early 90s. I mean a period from the Sheffield Bleep thing, the fast chop-chop cross fading style of DJing, going from one bar of a track to another. I can't get that approach to DJing out of my head because I enjoyed it so much and I'm still annoying people by DJing like that now (laughs).
Our connection comes from a Dissident-rooted circle of mutual friends; this was the foundation of our friendship.
For sure, and Binary Chaffinch was a good vehicle to meet up with people because some people in a certain circle had heard of it.
That was prog disco in a way, it was you realising your inner Chrome Hoof ideas… I imagine if Chrome Hoof was just you, then it would have ended up sounding like Binary Chaffinch.
Probably yeah, I mean I did use a few of the same musicians on Binary Chaffinch to record the string lines and stuff like that. The track "False Energy" was borne out of working with Ben (Gatto Fritto) at Reckless and hearing him put on Gino Soccio's "There's A Woman", which I'd never heard. I loved the real biscuit tin kick drum on it – there's no weight to that drum in comparison to the kicks we hear now. I found a drum machine which did a similar kick, and went from there. All the live timbales were done by my mate Fergus, the amazing graphic designer Fergadelic.
Binary Chaffinch resurfaced early last year with Heavenz Gate on I'm A Cliché – was that the end point for your productions as Binary Chaffinch or do you see yourself returning to it?
Well after doing an 11 minute track that took me a year and a half, then a 20 minute track that took me two years to complete, I don't really want to do a 40 minute track that takes me four years to finish! I mean "Heavenz Gate" took that long because I was doing other stuff as well, but also because I had to record lots of other musicians and arrange it all. Doing a twenty minute track but not going down the complete repetition route – which I love – was an enjoyable challenge.
You produced a 20 minute track that sounds like it lasts five minutes – the experience of listening to it doesn't drag on. Even E2 E4 feels like it lasts 20 minutes plus, "Heavenz Gate" has this weird quality because there are so many shifts and movements somehow 20 minutes is reduced to five.
Well just the intro alone is five minutes (laughs). I don't know what brief I gave myself other than "I'm going to write a 20 minute track". There's some weird rhythm stuff going on, there's an acid house section, there's a pure percussion section – being a drummer of course I wanted a lot of percussion and grooves so people could dance. So to try and get all these different things into twenty minutes was hard work. There is more Binary Chaffinch stuff to come; I've got two or three tracks half finished that I'm into and if I include "False Energy" and "Heavenz Gate" – or at least an edit of those two – plus a couple of newer good ones I'd like to do an album. It's not something I'd put out myself because this label that's not started yet, and might die after the first release anyway, is to focus on a real tight beam of quite grinding acid, techno and electro. If you distil the stuff that I'm into it falls down to that vintage mid to late 80s electro, acid house and good hard techno a la the early 90s rave stuff. So some sort take on those three things is kind of where I want to take the label. And how about you, your last six months have been quite topsy-turvy?
Yeah kind of, I've been lurching from one idea to another – I have kind of settled on a focus with Call Super.
And what's the vibe with that as it sounded tougher to me than the JR Seaton stuff you were doing previously?
Definitely. It was initially a collaborative project between Matt Waites and myself, but unfortunately he had too many other commitments to fully engage with it. Now it is just myself, and the next thing out is a remix for Renaissance Man as part of their album remix project. As for JR Seaton, he is now just a DJ who plays in Berlin from time to time. One of the things about making electronic music that initially drew me in was the web that many earlier producers wove with different pseudonyms. Of course now it's not an issue, you just wait six months and then the internet tells you what's what and who's who. I don't worry about cultivating a brand. I respect that approach in others but it's not something I'm personally interested in. I have started sending bits of music out recently but only to about six people, and even that I find a vague ordeal. You definitely cultivate a multitude of projects and I like that. It is an example of an ego in check , and a healthy appetite for experimenting for experimentation's sake. I mean there's Booze, the project you have with Demian from the Oscillation, you just put out an album via All Time Low. That's kind of going back to your punk funk, live drums and bass sound.
That's what Chrome Hoof started as – it was just drums, bass and a few synthesisers we reached over and hit when we weren't doing something else, then the band evolved and grew.
Then you were charging £400,000 a festival appearance and chartering three planes to fly around the world to carry all your equipment.
Yeah (laughs), we barely covered expenses, let's face it, but we did like expenses. It's not like we did a stripped down show, let's put it that way. It was never a business model though! It was brilliant getting intentionally ridiculous with all aspects of the Chrome Hoof show, it was entertaining. And also because two brothers start a band or they are at the core, you can do everything on a whim just because it pleases you or you think it's funny. Of course no one else might think it's funny or be into it, but you have to make decisions about considering your audience, just having as much of a pissabout as possible- seeing what you can get away with…
I'm tempted to say I'm in a similar position with a residency in a new club in Berlin called Prince Charles. Each night will be called Handwriting, and I was hoping to use it is as a platform to have some freedom and general fun. My intention is to book DJs and just give them an open remit to play whatever they want, maybe do a set that they've wanted to play recently but not had the opportunity to.
I thought you were going to say book a DJ that people want to see but also book one that no one wants to see!
For the next one I've booked John Heckle and Sotofett from the Sex Tags Mania crew and whenever I tell people, they turn to me and say "who?", so I'm sadly succeeding on that front.
I haven't heard of them, but you know me – I don't know anything about modern music. When I heard you DJ you play a lot of different stuff, with Handwriting are you going to focus the beam or just keep it loose?
The point of Handwriting is to essentially go into every set with a sense of freedom and not put any restrictions on where you want to go.
Well that's the beauty of playing the 9pm set before anyone arrives isn't it, that's the DJ slots I love.
Absolutely: my sets are going to be 7pm till 9pm and then go eat some supper then I'll open the doors.
Can I get a gig there sometime? I'd happily take that slot and play Ella Fitzgerald into Foreigner.
Well you could have the 5pm –7pm slot and then I'll take the next slot and then we'll go get some supper and then everyone else will arrive.
I'll be asleep by then!
Corrosion Control/Advanced Fuel is out on Power Vacuum on January 31st on vinyl and out now digitally. The next Handwriting welcomes John Heckle (live) and DJ Sotofett on the 17th February, whilst you can catch Milo and JR Seaton djing at their NUKK NUKK floor at the Sameheads Party on February 11th.
Intro: Tony Poland