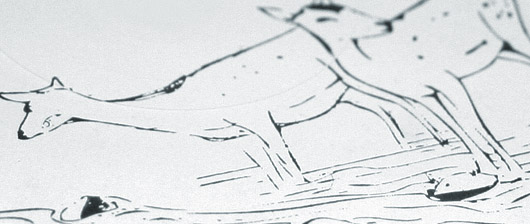 This week we took some time out to honour our favourite tracks, albums and labels from 2010.
We're not going to lie, it was a painstaking process – blood, sweat and tears were spilt – but we got there in the end. A big Juno congrats goes to all the labels and artists who made our lists – a congratulatory ham is on the way.
That aside, you'll be relieved to know some people were getting down to the business of releasing records this week too, and if you like boompty, grooving 90s deep house, you'll probably love the new 12" from Isolee (check out the artwork above too). The Frankfurt based producer dropped two remixes of mystery track "Most Of This Moment" – even the esteemed members of Juno's deep house mafia couldn't spot the source material – the first of which brought to mind Charles Webster's classic hookup with Shara Nelson on "Sense Of Danger".
With news of Beni's debut album on Modular announced this week, the other half of defunct Aussie duo Riot In Belgium – now producing under the Nile Delta pseudonym – popped up with a rather tasty new 12 inch on Cut Copy's Cutters imprint replete with Tornado Wallace and Chicken Lips remixes.
Of course we're in the midst of Theo Parrish fever at Juno Plus HQ with the Detroit don already providing the office with some staunch listening material in the shape of his Stop Bajon edit and Amerie meets Lil Louis blend. The real gold however was delivered unto us in the form of the long overdue eleventh edition of Parrish's highly prized Ugly Edits series, some six years after the last volume.
Elsewhere, the latest Pampa twelve saw label boss DJ Koze share the vinyl with Border Community don Nathan Fake and as you'd expect from two such esteemed knob twiddlers it's a very good look.
Oh and hats off to boutique techno imprint Sect for securing the services of two of techno's finest, Surgeon and Silent Servant. Both the UK stalwart and the Sandwell District collaborator turned in tough, raw and generally brilliant remixes of "Five" from Croatian techno producer Jolka.
Meanwhile in the download department Chamboche popped up on Under The Shade with "Closer", a bongo-laden deep house/nu-disco fusion that quickly builds into a spiraling dancefloor headtrip.: if Mark E made appregiated electronic disco, it would sound something like this. Be sure to check the Runaway remix too.
And if you haven't been keeping up with the movements of Rush Hour this year (if so, shame on you), you can redeem yourself by checking out their superb Best Of 2010 compilation. Further digital heat came from the likes of Nebraska, Jam City, Redshape and the Wolf Music crew.
On the CD front, there was more (yes, more) from Theo Parrish, plus a wonderfully jazzy album from Glenn Underground and some freshly polished Chromatics.
That's it for another week – pats on the back all round people! Happy hunting.