Flying Lotus: Live at the ICA, London (18/08/10)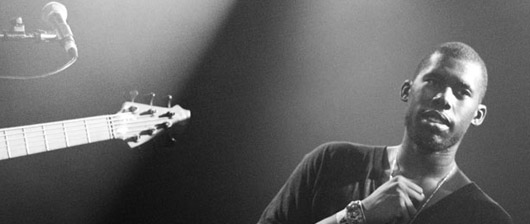 There was a huge sense of anticipation building in the darkened room of the ICA on Wednesday August 18. For those who had attended the Brainfeeder event the previous weekend, or the sold out live performance of his film score for Harry Smith's 1957 film Heaven & Earth Magic at the Tate Modern on Monday, this was the final part of Flying Lotus aka Steven Ellison's tripartite series of London events this summer.
Much has been written about Flying Lotus' legacy; his relation to the Coltranes, his far out style and avant-garde approach, his psychedelic musings and status as Warp's poster boy, as well as his genre-breaking works – his Reset EP (2007) and artist albums 1983 (2006), Los Angeles (2008), and Cosmogramma, released earlier this year to almost universal critical acclaim. What none of this does, however, is prepare you for the breathtaking adventure of seeing Fly Lo perform live.
Benji B has said that the set at Brainfeeder was one of the best he's ever seen Fly Lo do. The same Benji B, of course, who was warming up for him tonight, playing out the soulful, atmospheric funk, which filled the room as we gazed up at a screen behind the stage full of weird tripped out projections – multi coloured jelly fish, underwater flora and fauna and a twisted infinity figure of eight blazing out like Sauron's eye in Lord of The Rings in a grainy filtered light.
On the stage, there was an enormous golden harp, a twisted helter skelter ensemble perched up by the drum kit, all decked out next to the saxophone, bass guitar, violin, lap top and microphone. As the group emerged on to the stage, a rousing applause and flurry of wolf whistles greeted the musicians warmly. Blue and red spotlights flashed as Cosmogramma contributors Rebekah Raff (harpist), Ravi Coltrane (saxophonist), Miguel Atwood-Ferguson (violinist) all took their places alongside Steven Bruner (bassist) and the man himself, Steven Ellison aka Flying Lotus, whose beaming smile shone out across the room as he removed his trademark flat cap and got down to business.
It was not until the untouchable Andreya Triana took her place at the front of the stage, teetering in her platform shoes in a pool of strobe lighting, three songs in, that things really kicked off. Her gorgeous, honeyed voice – rather akin to that of Riya at times – sent goose bumps across the airwaves. Playing out a range of jazz infused, hip-hop inspired, dubstep referencing ethereal electronica – tracks from the aforementioned Cosmogramma – it seemed like everyone in the room knew each beat, each flourish that was coming. There was complete absorption in the music, from players and spectators alike and a cerebral sense of engagement throughout.
Amongst the playlist, which undulated between more bass heavy moments, textured intstrumental intricacies and vocal led bliss, the band took it in turns in the spotlight. It was for "Nose Art" that bassist Steven Bruner gave an impressive display of fret-work, and "Arkestry" where the drummer did a breathtakingly tense display, the drum rolls slithering and hissing, fading away before building up again into a tumultuous crescendo. Violinist Miguel Atwood-Ferguson then bridged the gap between striking the minor key during a more melancholic contemplation, before seamlessly moving in to an energetic, lilting almost jig-like passage, as retro black and white imagery flickered on the screen behind.
Ravi Coltrane showed his jazz heritage with a spectacular sax solo, and one passage from Rebekah in "Auntie's Harp" (an ode to Fly Lo's great auntie Alice Coltrane) was mesmerising – the harp rocking back and forth, glistening in the light and that elusive, magical sound emanating from the strings. Triana, who was almost omnipresent throughout, even when she was not in the spotlight, did a fantastic rendition of "Mmmhmm", with soft, drifting vocals singing out "It's plain to see/for you and me…" and a psychedelic marbling on the backdrop acting as a synaesthetic mirror behind. The moment when Bruner joined in, with breathy D Bridge-esque vocals, was particularly striking.
Drawing to a close, after a fantastic – and much applauded – dramatic encore, Flying Lotus took to the fore, introducing everyone, and ending on the words, "Be safe and see you all next year…" It felt like a piece of musical history in the making for Infinity.
Review: Belinda Rowse
Photos: Chris James Edwards