Ones to Watch (No 10) – Blue Daisy
Blue Daisy is one of those artists you can't quite put a finger on. Granted, he makes some lovely, hip-hop tinged electronica, but the comparisons to Flying Lotus are both lazy and premature. Besides, Blue Daisy – real name Kwesi Darko – is already paving his own singular path. Drawing inspiration from his personal experiences, the environment and the streets of his beloved Camden, he makes lovingly crafted beats, richly textured and deeply atmospheric. We caught up with him to discuss summer festivals, his upcoming album and why he deliberately eschews making club music.
What kind of music did you listen to growing up, and how did you get into electronic music production?
To be honest I was not into music when I was really young, I got into it quite late. I was about 15 or 16 before I started really getting into it, before that I listened to a bit of hip-hop, and my older brother listened to garage and grime so I was exposed to that too. It was the Pay As You Go era, the Heartless crew, that kind of thing. As time went on my world expanded, and when I first heard Kanye West's College Dropout I realised I wanted to make music. Kanye was just this normal guy, you could relate to him, but he was able to rap and make beats. I thought, 'I can do that'. So at first I wanted to be a rapper. I didn't have any producers around me, so I wasn't into sampling or making tracks. I started dabbling in hip-hop and became an MC in a grime crew, and then I started making beats on the side. As time went on, I started doing my own thing on the side. I was in the dark, doing my own stuff. I played it to some of my friends, and they were saying things like, 'you're either way ahead or way behind with what you're doing here', and I guess I was a bit ahead.
Where do you see your music fitting in? Do you identify yourself as part of the dubstep community?
I really don't see myself as dubstep, to be honest I'm not a massive dubstep fan. The early dubstep stuff, I was into that, because it was fresh, it was a new genre, and every release was really bass heavy. Now the whole scene has got a bit clouded. What is dubstep now? There used to be lots of echo, delay snares. The first dubstep record I bought was The Bug – that is dubstep to me. But at the same time I understand that aligning myself with the dubstep scene, is a way to sell or market me.
What do you make of the comparisons to Flying Lotus?
Well that is a massive compliment, when you look at what he has done and the worldwide adulation he's received. But at the same time I think there are more differences than similarities in what we do. Fly Lo is influenced by J Dilla, that off beat sound, and so was I, so you can draw a parallel there. I remember when I first heard his stuff I thought he was pretty cool, but those kind of comparisons can be a hindrance or a blessing.
"I was in the dark, doing my own stuff. I played it to some of my friends, and they were saying things like, 'you're either way ahead or way behind with what you're doing here'"
You have said before that your music is headphone listening … could you see it working in a club environment?
My music is inspired by the environment I'm in. It's inspired by nature, by everyday life. I don't go clubbing that much. I'm more or less a hermit. I'm happy keeping my own company, or hanging out with those closest to me. When I'm listening to it, I like to get deep, sit back and think about it. I think the club thing, it's not timeless. I'm making music for the long run, in 10 years I still want people to be able to listen to it, to relate to it. I'm not down with the idea of fitting in, Blue Daisy represents being different, being an outcast.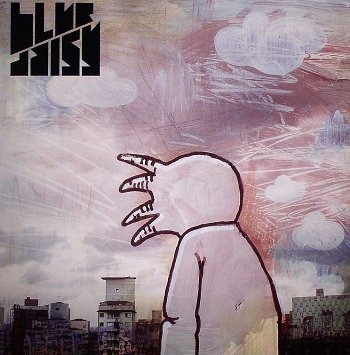 Tell me about the artwork for the Strings Detached EP – it's very dystopian. It seems to fit with the music perfectly.

Well Black Acre work with some artists, so we basically send the tracks off to them and don't leave any instructions, because we really want them to get the feel of the music. For Strings Detached the artwork came back perfect. It told the story of the music perfectly, and I think that's the reward for letting the artist be free.
Mary Anne Hobbs gave you a big break by playing your tunes on her show. How big an influence has she been in your career to date?
Before Mary Anne Hobbs, I was a bedroom producer, no one had heard of me. After she got hold of my tracks, I've had a lot of attention. It just came down to chance and luck, I noticed her Soundcloud dropbox and left my tracks in there. She played them pretty much straight away, even though they were 192s (laughs). It was amazing, and she is one of the leading factors in where I am at now, she's given me an inner confidence, because to have someone so respected supporting your work is inspiring. Now she plays my tracks regularly, it's a big help. I have the highest respect for her, and I tell everyone that!
Tell me about your live show – how long have you been doing that?

The live show is all I do, I can't DJ to save my life. I've been trying to perfect it since about August last year, it is very different from what you hear come from me in the studio. The live stuff is more experimental, harder, harsher, in your face, very distorted and glitchy.
What kind of reactions do you get?
Most people are like, 'wow, what the hell were you doing up there,' because I basically bring my whole studio along with me to play live. I think (the live show) keeps people's minds working. I recently bought a Macbook, so I might be changing things up a bit. I usually bring my whole studio down and bang it out (laughs). I'm a bit worried, because people seem used to the image of me bringing down this big studio. But at the same time I can't keep doing it forever, after all it is my studio and if something happened to it…
"I'm not down with the idea of fitting in, Blue Daisy represents being different, being an outcast"
I see you have a few festival dates this summer, at Soundwave and Outlook – are you excited about that? Are they your first festival gigs?
Yeah I'm really hyped because I've heard good things from some friends who have been in the past, although I'm not sure how my music will go down in the blistering sun! Might have to reel in all the crazy noise a bit just for them.
Tell us about what you've got coming out next…

I finished a couple of tracks with Anneka, she's this amazing vocalist I hooked up with. That will come with remixes from Sunken Foal and John Talabot. I'm also doing an EP project with TokiMonsta who is part of the Brainfeeder camp. We've done a switch, it's kind of like a remix, basically we swapped tracks and flipped them in our own way. I'm also working on an album. I've got enough tracks but I'm a pretty fussy guy. The plan is to have 30 tracks and have a selection and pick the album from that. I want to make it a proper album, working with vocalists on most tracks although there are a couple of instrumentals. When it's ready, I'll know. I've got the contract with Black Acre, and they don't rush me at all, I'm totally free in that respect, within reason! They know that you can't rush these things.
And I understand you're also working on a few leftfield projects?

A few experimental bits, there's a short film I'm working on at the moment.  That's an area I want to get into, a lot of my friends are into film and I like the more abstract end of i. I'm also working on a little AV project with three VJs and I've got an EP coming out called Music Of The Colour Blue. Each track will be accompanied by a short film. I also hope to expand into the arts fold, do some exhibitions and collaborate with galleries. I think it all makes sense because my music is very visual.
Interview: Aaron Coultate