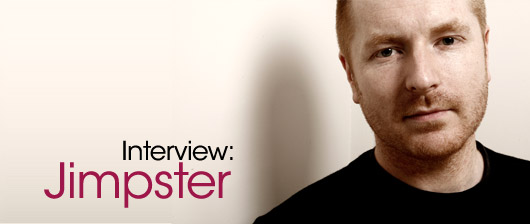 Since starting Freerange Records in 1996 with friend Tom Roberts, Jimspter (aka Jamie Odell) has quietly gone about his business, developing a reputation as one of the UK's best deep house producers. With an intimidating remix discography (even the man himself is not sure how many he's done), and some fine original productions, it's little wonder he's been in hot demand in 2009's deep house-friendly climate. Juno Plus visited his studio in the backstreets of Hackney in east London to chat about all things music.
Your dad Roger was a drummer with Brit jazz-funk outfit Shakatak. Was he the main musical inspiration for you growing up?
I owe all my musical upbringing to him. He was encouraging, like most parents, but he never forced me to get a proper job. He was happy with me pursuing music as a career. I was playing with all this recording equipment when I was 10 years old. He was doing sessions at Fairlight studios, and I'd be there messing with the synths. It had a huge affect, because most kids learn instruments growing up. I learned the piano too, but I knew from a young age my real passion was with recording, production and sequencing.
And of course you were in your own cult band, the Bays…You guys never practice, just play live, is that right?
Yeah I joined the Bays in 2002. They are quite unique; essentially every gig is a jam session. With musicians and producers, it's often a case of never the two shall meet, but here you have musicians and producers working together very harmoniously – it is a great fusion. I got into it through Tom Middleton and I was in the band for seven years. The project is still going, although in the last year I've taken a back seat because of DJing commitments.
Does not playing live leave a creative void?
Certainly. I miss it in terms of the inspiration it gave me. I mean, I've always played in bands and loved performing live music.
Did you find the Bays improved over time, or did you gel more or less immediately?
We kind of improved, but having said that, we had some great gigs from the off and some shit ones as well. It all depends on the vibe of the room, the crowd, the sound. We are all interested in dance music, our drummer Andy is inspired by house and drum and bass, and that's one of the reasons why it all gels so well.
"For me deep house has always been Kerri Chandler, Ron Trent, the whole Prescription Records and New York scene. That was the blueprint we used for Freerange, the inspiration"
Going back a bit now, how and when did you start your record label, Freerange?
I started Freerange back in 1996 with Tom Roberts. He's a DJ and has great taste in music, but he's also got a very good business brain. We are old school friends. The opportunity to start the label came about when my wife's mum sold her business, and there was £2,000 floating around so we used it to press our first records up! Now it's 14 years later and I think the reason why we are still here is that we've never relied on it as our main income; we fit it around everything else in our lives. We don't live and die by it. The growth of Freerange has been very organic in that respect, it's always been the two of us ticking along, putting music out at our own pace. I think it was six or seven years ago when we started finding our little niche, which was the deeper end of house. We also put out some stuff from Switch as well, which threw us into the crossover market, and from there we were able to attract bigger names to the label.
Obviously 2009 has been a great year for Freerange, with the Tony Lionni release and your own Sleeper EP, amongst others…has it been a  natural growth?

Well I DJ a lot more these days, and I find that I am surrounding myself with like-minded people all the time. Your network just expands in a very positive way, you get talking to people. If you play a gig with someone, you get chatting and then give them a call to do a remix for the label. With Tony Lionni, I think we met a gig, that's how it worked. It means I spend a lot of time casing Facebook and MySpace, but it's all worth it.
Do you get much time to listen to unknown demos?
We used to a lot, but now we don't have enough time to be honest. I'm sure there's a lot of music passing us by. But we've got the regular roster on the label, producers like Shur-i-kan and Milton Jackson, and we like to complement them with new people.
Your early productions had a leaning towards the jazzier side of house. That seems to have changed quite a bit down the years – why do you think that is?
I think my music now has become more focused on the dancefloor, and that has come with DJing more and seeing what works and what doesn't. When I started producing, nu-jazz and the broken beat scene were in full swing, so my productions reflected that. But now it's more personal – I'm inspired by playing in good clubs with good soundsystems.
Deep house has undergone something of a resurgence in 2009- why do you think that is?
Everyone seems to be talking about deep house, but as with all these things it won't last for long. It's been good for me, because it's meant I've been getting more bookings. But I think there's been a misuse of the term, because guys who had been making progressive or tech house are now saying they are deep house. But what they are doing is very white. There's some good stuff, don't get me wrong, but for me deep house has always been Kerri Chandler, Ron Trent, the whole Prescription Records and New York scene. That was the blueprint we used for Freerange, the inspiration.
How are your own productions coming along?
Quite slowly! I'll hopefully start a new EP after Christmas, and who knows, it might turn into an album.
You've been a hugely prolific remixer down the years – I lost count on your discogs page. How many have you done now?
Who knows, maybe 70 or 80 … actually it might be 100 by now! I go through phases where I'm very inspired and I take on a few at a time, then I come to a point where I think I'm spending too many of my creative ideas on other people's work. It's a juggling act really. I enjoy remixes, you can push the songs into different areas, and there's a good chance that their fans are not your fans, so you open yourself to a new group of people.
How do you go about making a remix?
First I'll listen to the song a few times in its entirety, to get a feel for what I'll be able to pull out and use. I find it nice to work with vocal tracks, even though I do a lot of dubs, because I find vocals inspiring, and they are an easy way to give a track shape and a solid arrangement. Then I can always go back and take the vocals out later.
"With the Bays, I was travelling with a bunch of alcoholics and drug addicts (laughs), now I'm travelling on my own, on my own time, and I really enjoy that"
Are you working on any remixes now?
At the moment I'm working on a remix for Josh Wink, and one for Kasper Bjork.
Looking at your touring schedule, you have gigs coming up everywhere from Berlin to Lodz and then Seoul. How does that impact on the rest of your life, and do you enjoy the globetrotting nature of DJing?
DJing keeps the wolf from the door, and it's very busy at the moment. With the Bays, I was travelling with a bunch of alcoholics and drug addicts (laughs), now I'm travelling on my own time, at my own pace, and I really enjoy that. It also lets me get a lot of work done, I take my laptop on long flights and train journeys so I can work on tracks. I love going to new places, although I'm rarely in a city long enough to see anything other than the hotel and the club. You get to meet the resident DJs at clubs, and it never ceases to amaze me, when I meet a resident DJ in somewhere like Croatia, who plays three nights a week to 600 people. They are not known outside their own country, but they are doing this amazing job and have this amazing knowledge. I take my hat off to people like that.
Where are you favourite places to play?
Well London seems to lack in good midsize venues. In Poland they do it well, 300-400 people clubs, good crowd, good sound. It shouldn't be too hard. I'm surprised there isn't a Watergate or Panorama in London too. One of the best places to play is Madrid, which surprised me at first, but deep house is very big there and there's a thriving underground scene.
What does 2010 hold in store?
The label has a very busy schedule for the first four or five months of next year. We've got two 12"s a month, and three albums, including one for Tony Lionni. I've also got an EP scheduled for sometime in 2010, and more remixes.
Interview: Aaron Coultate
You can buy Jimpster's tracks and check out the Freerange catalogue at Juno Download.