Juno's Christmas tips for 2009
As 2009 draws to an alarmingly rapid close, we at Juno Records and Juno Download have put our heads together to brings you our top 10 gifts for Christmas. There's a nice mix, ranging from top of the range software to slipmats; books and DVDS to synthesizers; meaning that we've covered every eventuality for the DJ who has everything. You can check out our full list of 50 gift ideas here.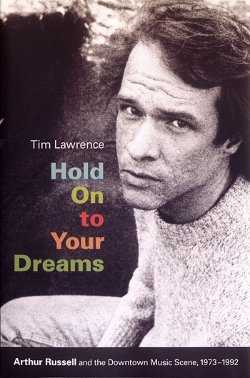 The late Arthur Russell is still revered in music circles, and rightly so: he is responsible for some of the most original and inventive music ever made.
The cellist/composer/singer bridged the gap between New York disco and more avant garde and experimental genres, collaborating with everyone from Phillip Glass to Nicky Siano.
This is the first biography on Russell – and author Tim Lawrence conducts interviews with more than seventy of his collaborators, family members, and friends. 'Hold On To Your Dreams' provides vital new information about this singular, eccentric musician and his role in the boundary-breaking downtown music scene.
Lawrence charts Russell's odyssey from his hometown of Oskaloosa, Iowa; to San Francisco and eventually to New York, where he lived from 1973 until his death from AIDS-related complications in 1992.
A fascinating man – and this tome gives you an insight into just how important he was. Aaron Coultate

Novation's Launchpad is a brand new MIDI controller intended for use with Ableton Live.  In the flesh the Launchpad is a simple, nicely laid out & well-built controller with a total of 80 backlit, rubberized buttons. It is USB bus-powered so it draws power from the computer and doesn't require an adaptor to run.
In operation the Launchpad works seamlessly with Live, as you'd expect for a controller designed in conjunction with Ableton. It can be used to control other functions in Live using Ableton's 'Learn' mode as well as control almost any other music software using Novation's award-winning 'Automap' control software.
The exclusion of knobs & fader does limit the Launchpad somewhat compared with Akai's more complete APC40 Ableton Performance Controller, but for £149 compared with the pricier & less portable APC40 (£379), the Launchpad is definitely worth considering. Ben Daly
Live Intro is Ableton's replacement for the popular Live 7 LE software, and with a sub £100 price tag, this is bound to be a bestseller, and popular for those looking for a way in to Ableton's world. Ableton Live Intro is perfect for anyone looking for an inexpensive, user-friendly, intuitive and creative piece of software
Being able to mix an old disco track seamlessly into dubstep and then into a country and western song was mind blowing. Ben Daly
Mukatsuku Records is a London-based label specializing in strictly limited edition vinyl only releases, putting out top quality funk, jazz, broken beat and hip-hop.
These logo slipmats are ideal for those DJs who cherish the vinyl format.
Some esteemed fans of Mukatsuku Records include music icons Danny Krivit, Gilles Peterson, Quantic, Jazztronik and Jazzanova…the list goes on.
Oh, and these are only available from Juno Records! Nik Weston

The 'Boy's Own' fanzine was, as Andy Weatherall put it, 'The village newspaper of acid house'.
Started in 1986, they documented the revolution in youth culture that took London from the snootiness of rare groove to the all-in craziness of acid house.
Put together by a bunch of cultural hooligans from Slough and Windsor, Boy's Own gave a voice to the suburban soulboy and the 'casual' culture of the terraces, reporting in hilarious detail the tunes, the fashions, the slang and the parties.
Boy's Own was Andy Weatherall, Terry Farley, Steve Hall, Steve Mayes and Cymon Eckel; plus a lengthy cast of illustrious contributors include Paul Oakenfold (who wrote the very first Balearic feature anywhere), Norman Jay, Chris Sullivan and all the key figures of acid house.
In passing, Boy's Own also became world-famous DJs, sowed the seeds for lads'-mag journalism, founded a label that defined British house, invented raving in a field… and popularised the bouncy castle.
This collector's item also comes with a free 7″. Text courtesy of DJhistory.com
The SL3 is the new interface from Rane aimed at professional DJs. It's designed to be used exclusively with Serato's Scratch Live DJ software for scratching and mixing audio files from your computer's hard drive using regular turntables or CD players.
OK, now for the tech talk: Rane have improved in the audio quality department, with the SL3 boasting a USB 2.0 high speed audio interface (instead of the SL1's USB 1.1), an improved dynamic range of 104 dB versus the previous version's 94 dB,  and a maximum audio output of 3 Vrms compared to the SL1's 2 Vrms.
This version is definitely an improvement on the SL1; the Aux Input and Output alone make it worth shelling out £529 for.  Ben Daly
These self-assembly kits from Gakken are a perfect gift for someone this Christmas, and for under £50 each, shouldn't break the bank.
Most people are fascinated with anything imported from Japan, and these dinky do-it-yourself wonders certainly won't disappoint in that department.
Both kits are fairly easy to assemble and require no soldering or electronics expertise.
Each kit should take roughly 20-30 minutes to complete and is an ideal way to pass some time while cooped up indoors with the family over the festive season.
The SX-150 Analog Synthesizer has one oscillator which is switchable between a saw & square wave. It also features an LFO whose rate can be adjusted, a pitch envelope knob, a low-pass filter with a cutoff knob & resonance switch, attack & decay knobs, a speaker, an output socket for connecting to an amplifier, an external source socket for connecting to the Gakken Mook Theremin (or another device) and a pen stylus for playing the synth.
The Gakken Mook Theremin has a tuning knob, a volume knob an aerial to change the pitch of the instrument while playing, an on/off switch and a speaker. Release your inner geek! Ben Daly
The ultimate coffee table book for any Chicago music lover, Light On the South Side is a 132-page collection of Michael L. Abramson's amazing photographs, taken in the underground bars of Chicago's South Side between 1975-77.
Abramson hit clubs like Perv's House, Pepper's Hideout, The High Chaparral, The Patio Lounge, and The Showcase Lounge, not to capture the artists on stage, but rather the faces in the crowd.
Nick Hornby says it best in his introduction: "This is a special book, about one tiny corner of the world over a handful of evenings a long time ago; but that tiny corner of the world ahs, for decades now, meant a great deal to an awful lot of people scattered all over the world".
Look out for cameo appearances from Kid Creole, August Darnell, and many more. Aaron Coultate
Why? Erm, why not! Wanna try some scary shake, rattle 'n' roll? Well, you can do all that – and how – with these Beadbrains Skull Rhythm Shakers.
Beadbrains are unique, skull-shaped shakers that produce a true, loud maraca sound.
They come in a range of colours (red, blue, yellow, purple and glow in the dark, if you're asking), they are durable, and they can be used for all styles of music or just to scare people at house parties. Aaron Coultate
Check out our full list of 50 Christmas tips right here.