We are very proud to bring you our second guest bloggers, Classixx. Hailing from LA, Michael David and Tyler Blake have exploded onto the electro scene in the past 18 months, with releases on French imprint Kistune and remixes for Holy Ghost!, Phoenix and Beni. In their first post, the duo take us on their whirlwind European tour, taking in Amsterdam, Milan, Napoli, Rome and Paris…
November 5-12

Amsterdam: Our trip began with a connection through Amsterdam. We arrived in the massive Dutch airport to learn that we had an eight hour layover. To our convenience, there were luggage lockers next to our gate (EVERY airport should have luggage lockers). We took a train to a few incorrect stops before arriving at Amsterdam's central station. We found people in Amsterdam speak almost perfect English – we thought this trend would foreshadow week to come. We stopped in a typical bar, and drank some nice Amstel.
Firenze: On to Italy…Francesco and Maggie, a cool couple, picked us up from the airport in Firenze. We rushed to the hotel for a quick chill before heading straight to the gig. Our show was in an underground bunker with brick walls, a dome ceiling, and angelic statues protruding from the arches. The sound wasn't great, but the spirit of our friends in Firenze saved the night. There were many people familiar with our tunes, which will never stop surprising us on the other side of the world.  The next day was great, I woke up early and had a sacred moment at the Duomo and felt inspired by the architecture. We walked along the river and took a picture in front of the Tuscan city.
Perugia: After pleading with a few friendly Italians to help us find our platform, we found our way to Perugia, about a two hour train from Firenze. Our animated friend Fabio picked us up from the train station. Fabio looks a lot like Super Mario, he's also a really cool dude. We went to dinner at a local restaurant and had Fabio order us something traditionally Perugian. 10 minutes later, we were served a plate of pasta in a white cream sauce with sausage and black truffles. It was delicious, but easily the richest/heaviest meal we've ever had. The club Urban in Perugia where we played, had an AMAZING sounds system. We enjoyed a loud, two hour set that was prefaced with a freestyle BMX show in the middle of the club. Pretty strange and funny.
Milano: Our booking agent, Alberto, picked us up from our train in Milan. The train station is an amazing spectacle, I took a quick picture before leaving.  We went to a small restaurant with a great crew of people. On the way to the club, we were treated to some haunting Italian strings on the train. After arriving, we took pictures and did an interview for PIG magazine. The show was really great, the people in Milan were with us until the end of the night.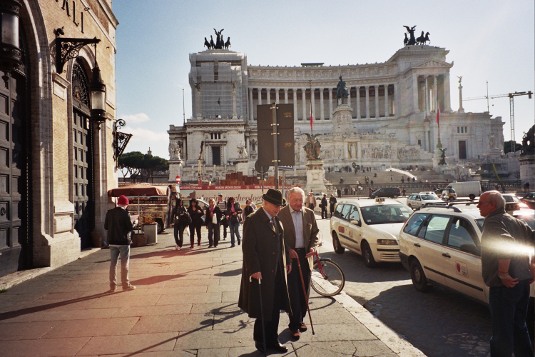 Napoli: An off-beat, little Napolitan guy named Guiseppe picked us up from the Airport. He spoke nice English and let us know about Italian politics and video games. We went to a really authentic pizza restaurant (Napoli is the birthplace of Pizza), ordered classic Margherita's and bought umbrellas. We took a quick tour around the city and admired the ancient coastline. The show to follow was the best of the tour to date. The venue was underground and slammed with people who danced and sang from the first drop.
"An off-beat, little guy named Guiseppe picked us up from the Airport. We spoke about Italian politics and video games"
Rome: Andrea met us in Rome to play his famous club night Elektrica. We spoke for an hour or so about underground music, and I knew we'd have to dig deep into our digital crates to impress him. Andrea played a flawless mid-tempo set before we went on. It was a hard act to follow, but we had another really great show in that night in Rome.
Paris: Our stay in Paris was short but very nice, the show at Social Club was loud and brash. We were opening for the Bloody Beetroots so the crowd was especially energetic. It felt like a punk show when we used to play in bands. Everyone was at the front of the stage and responded mostly to big drops and loud noises.
NEXT WE'RE HEADING TO SWITZERLAND, ENGLAND, AND SWEDEN. WE'LL KEEP YOU POSTED.
In the meantime, check out the Classixx tunes at Juno Records and Juno Download.