Interview: Wolf & Lamb
In case you've been living under the rock for the past year, you'll know that New York house/techno imprint Wolf & Lamb has been one of the most talked about labels of 2009. With their now legendary parties at the Marcy Hotel and releases from the likes of Lee Curtiss, Seth Troxler and Nicolas Jaar, plus Zev & Gadi's own productions, Wolf & Lamb is now regarded as an important part of the electronic music landscape. But is it pure hyperbole or justified praise? Juno Plus scribe Aaron Coultate spoke to Zev Eisenberg (one half of the duo) to find out more.
What inspired you to make the move to London this year?
Well my girlfriend is a London girl, and that seems to be all the rage at the moment. I've been in and out of London since the middle of summer, I'm not permanently living here or anything. I have to say playing in London is a real treat, the crowds are really musically open minded. Even when we play more techno, we get a great response. You can get away with murder (laughs).
What's coming up next – are you heading back to New York?
I'm going to India, to kind of get away from it all, meditate, and work on my album for a couple of months.
It must have been a pretty hectic year – how have you coped with so much media attention and lavish praise?
It's been interesting, but we've been doing this for many years – so to be honest it was more a gentle escalation than an overnight thing. It's been slowly building and in the last year it kind of reached fever pitch. In the UK it's slightly different; a lot of this has gotten big this year.
How and when did you make the transition from minimal/tech house to warmer house sounds?
Zev disagrees with me on this, but I attribute it to the Burning Man festival.  The feeling there its warm, the sun is shining …  but we were playing darker stuff that was appropriate to people back in New York, but not in the sunshine. It didn't make sense, and in that respect we got caught off guard. I remember about 3 years ago we were playing the closing party, and we had all these great new tech house tracks and all we could play was pop because that's all anyone responded to. So we decided, next year that not going to happen, and we dug for some appropriate songs.
"I grew up on a diet of Hasidic Jewish music … it was kind of like being a raw vegan"
How did you and Gadi first meet?
I met Gadi at a party in Williamsburg, Brooklyn. We were in the same financial situation, we had been working for a few years, had saved up some money, and wanted to put all of our time and energy into music.
What kind of musical diet did you grow up on?
I had an Hasidic Jewish music diet (laughs).  It's kind of like being a raw vegan. You take all the bad styles of music that didn't make it, then they are regurgitated 10 years later into a scene, and that is modern Jewish music. And the lyrics are all about how good God is, all that. It gets a bit boring. Still, even then it had an ability to stir me, and I knew if music this bad could stir me then music is indeed a powerful thing.
And what kind of music are you listening to now?
Gadi and I get into a new genre twice a year, we are constantly switching. You don't know how annoying it is, we become experts in a genre and then we jump onto something else. There was disco house, then we really got into minimal techno…
"The Marcy is a tiny piece of heaven in a big bad city"
Tell us a bit about the Marcy Hotel – it's developed a worldwide reputation for hosting great parties…

It's our little space. It took us a couple of years to fix it up and now I think it's a really magical place in an overwhelming city.  It's unparalleled in New York, and, after travelling a bit, I think it's unique anywhere. Some people have said it's like the Bar 25 of New York. You get in there, and you're like, "where the fuck am I?" It's a tiny piece of heaven in a big bad city.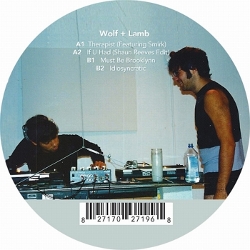 Sounds a bit like Mancuso's Loft…
Yeah!  I would say it became more like that after we stopped promoting it widely. One night my friend was putting on a bunker party in New York and we put on an after hours party. It was a Mutek showcase, and it just went really well, so we decided to keep it as an after hours thing. We basically had every name in minimal techno playing at our house. It got to the stage when people would contact us to play.
What is it that makes the Marcy special?
Well once we realised promoting it widely wasn't such a good idea, we started booking just us and our friends to DJ. That made for a much better vibe; everyone feels comfortable there, and that includes the DJs. They are comfortable pushing boundaries with music -you get them playing stuff they'd never play anywhere else. Meanwhile there are people sitting on the couch, chatting … everyone is your friend. The night takes you on a journey, it's not just a party.
"I have always said to Gadi, when it stops being the best party ever we'll stop"
Any highlights?
Every party has been big. That's one of the things about it, after 20 parties it became an ongoing joke that we kept outdoing ourselves, kept improving.  I have always said to Gadi, when it stops being the best party ever we'll stop. I think we've put on about 100 parties so far, 60 or 70 of which have been in the Marcy.
You have your studio at the Marcy too, so does it serve as a hub for the label?
Not really, the direction of the label is not linked to the Marcy to be honest. The studio there is for Gadi and me. Sure it's a place for our acts to stay when they are in New York, but it's not the focal point of the label. We've got people everywhere making music and our direction is determined when someone sends us an amazing track. It is all very organic in that respect.
What have you got coming out on Wolf & Lamb in the next few months?
We've got a various artists release, Significant Others Too, with new tracks from me and Gadi. Gadi's is straight up hip-hop, mine is more of an epic vocal house track. It's a well balanced EP, like a nice breakfast, you get some sweet and sour (laughs).  There are also two Soul Clap pop edits on the way, of Chris Isaacs and Fleetwood Mac – I haven't been able to stop listening to them. And the next EP from Nicholas Jaar isn't too far away either.
What does 2010 hold for Wolf and Lamb?
I don't have any plans for next year, it's all about going to India and recovering from this year. The thing is, everyone on the label has their own trajectory, so in many ways 2010 will take care of itself. But my hunch is that it is going to be pretty hectic, we've all had a lot of time to reflect on the success and now we're entering exciting new territory.
You can buy Wolf & Lamb 12″s from Juno Records and digital releases from Juno Download.