10 Best: Effects Units 2022
We select our 10 favourite hardware effects units, including filters, delays and more from brands including Vermona, Roland and Erica Synths.

As much as we love the raw, unadulterated sound of synths, drum machines and samplers, effects add flavour to your tracks. Whether it's a simple filter or a semi-modular unit hooked up to a Eurorack setup, effects add colour and character to music. Even in an age of plugins and software effects, hardware still does things that just can't be achieved any other way.
Join us as we run through our favourite effects units, from simple analogue filters to spring reverbs, digital delay units and more from brands including Vermona, Roland and Korg.
Contents
What to look for
Assorted flavours
To use a cooking analogy, effects are like the spices and seasoning which add flavour to the raw ingredients of your tracks. As you might expect, there are countless flavours to choose from. Our list includes a huge variety of effect types, from digital to old-school analogue, raw and lo-fi to slick and polished.
Which direction you go in depends on your personal taste. Some of our other lists have a clear progression from cheaper and more basic models through to bigger and better models as you go up in price. That's not necessarily the case here; if you're looking for a reverb, a filter isn't going to do the job no matter how fancy and expensive it is.
Depth vs immediacy
We often find with studio equipment that there's a trade-off between depth and immediacy. That can certainly be the case with effects, where there's a time and a place for depth but also clear cases where immediate gratification works best. More complex effects units take a bit more time dialling in the sweet spots.
The balance here feels particularly important if you intend to use your chosen effects for live performance, where it's important to get the right sound quickly and have carefully calibrated, well-placed controls to tweak the sound in real time.
In sync
For time-based effects like delays and echoes, it's worth considering whether you want to be able to synchronise the effect with other parts of your hardware setup. A lot of effects include MIDI connection for exactly this reason – and for adjusting parameters – but users of analogue gear and Eurorack modular should also look out for effects which allow you to hook up analogue clock signals or triggers and even to control parameters via CV signals.
The best effects units
To say that Vermona specialises in high-quality analogue gear is something of an understatement. The German brand's synths and drum machines are some of the best on the market, but where they really excel is in the world of effects, an area where they seem to focus more attention than just about anyone else.
Picking from the range is hard, but the Retroverb Lancet stands out for its versatile combination of spring reverb, overdrive, filtering and the kind of envelope and LFO features you'd normally associate with synths rather than effects. The Retroverb is way more than just a reverb unit, but the spring is the star of the show here, offering a delightfully retro edge to the sound. It's really a multi-effects unit in a uniquely analogue sense. A superb accompaniment to analogue synths and drum machines in particular, but versatile enough to work on anything.
More info/buy
| Pros | Cons |
| --- | --- |
| Old-school in all the right ways | No MIDI |
| Creative and versatile | |
| Tech specs | |
| --- | --- |
| Effects type | Spring reverb; overdrive; filter |
| Channels | Mono |
| Dimensions | 260 x 145 x 80 mm |
| Weight | 750 g |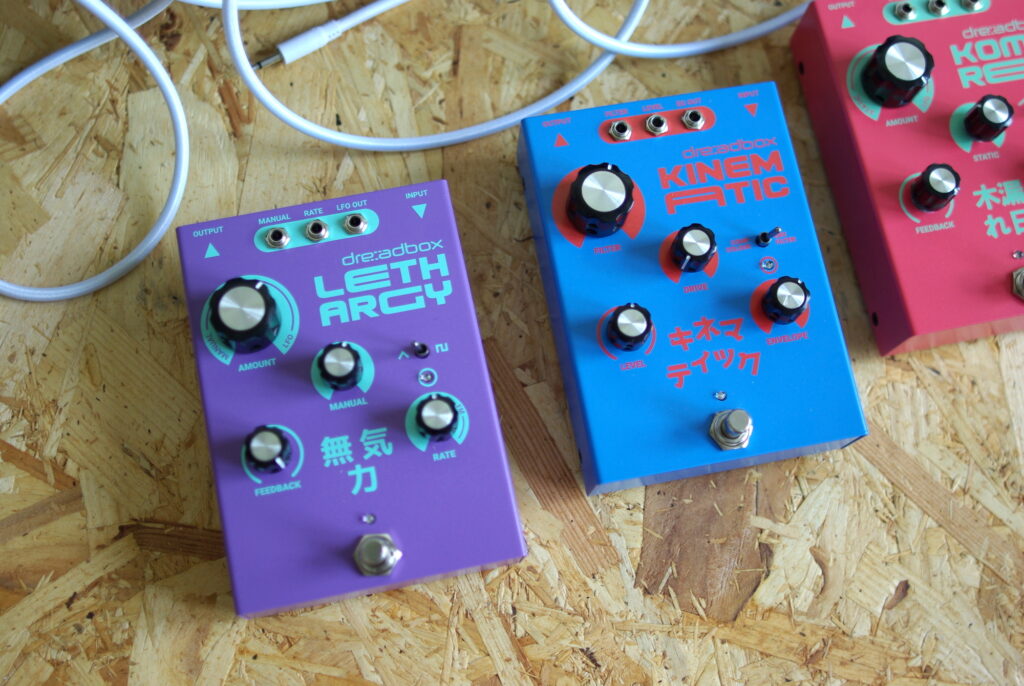 It's difficult to pick just one of Dreadbox's excellent effects range for our list, so forgive us for bending the rules and picking all of them in this slot. Dreadbox's Komorebi, Lethargy and Kinematic pedals are, respectively, a flanger/chorus effect, an 8-stage OTA phaser and a VCA-based compressor and envelope filter. All three are quite different, but all sound amazing in their own way.
What Dreadbox have done really well here is to think about the different types of ways in which people use effects. All three work just as happily with guitars as synths, including Eurorack modular. All three also include patch points for the modular synth heads, allowing you to integrate them neatly with your modules and get creative. If forced to pick just one, the Kinematic might be our favourite, working either as a colour compressor or an envelope filter.
More info/buy
| Pros | Cons |
| --- | --- |
| Uniquely creative takes on classic effects | Eurorack diehards might prefer modules to the pedal format |
| Patch points to hook up to other instruments and Eurorack modules | |
| Tech specs | |
| --- | --- |
| Effects type | Flanger/chorus; phaser; compressor/envelope filter |
| Channels | Mono |
| Dimensions | 140 x 100 x 56 mm |
| Weight | 525 g |
The original Voice Transformer was the Boss VT-1, a mid-90s digital effect designed as a simple way to mimic the sound of classic vocoder and harmoniser effects. One of the few vocal-specific effects on the market, it became a bit of a cult classic, heard on Apollo 440's late-90s big beat classic 'Stop The Rock'.
Roland resurrected the Voice Transformer name in 2014 as part of the Aira range, which has subsequently been updated to the VT-4. The concept with the latest model is broadly similar to the 90s original: it's all about quick, easy vocal effects without the need to mess with banks of parameters. The key controls here are the pitch and formant sliders on the left-hand side of the unit, which allow you to shape and morph the sound of your vocals in real time. The VT-4 can do anything from subtle twisting and shaping through to extreme vocoding and robot effects. It can be gimmicky if you push it too far, but exercise a little restraint and it's hugely effective. It's worth trying on drums and synths too, offering some weird and wonderful effects when pushed into experimental territory.
More info/buy
| Pros | Cons |
| --- | --- |
| A reboot of a vintage classic | Mainly useful for vocals |
| Distinctive and interesting vocal effects | |
| Tech specs | |
| --- | --- |
| Effects type | Vocoder, harmonizer and hard tuning |
| Channels | Mono in, stereo out |
| Dimensions | 174 x 133 x 58 mm |
| Weight | 554 g |
While filters might seem like quite simple tools, they can be hugely distinctive and effective when done well. Just think of synths like the Minimoog or Roland TB-303, which are defined by the character of their low-pass filters. Even in the DJ world, Urei isolators and Allen & Heath filters have become part of the fabric of electronic music. The Sherman Filterbank can stake a strong claim to be considered on the same level, originally launched in 1996 and given a modest update in 2001.
At heart it's a bank of three analogue filters (low-pass, band-pass and high-pass), switchable between parallel and series configuration. Although getting hands-on with the cutoff and resonance knobs is the real key to creating movement and getting the most out of the filters, the LFO, envelope generator and array of MIDI and CV inputs provide huge potential for automation, modulation and creative synthesis. Used by everyone from Aphex Twin to Trent Reznor, the Filterbank is still produced in Belgium by its original designer, Herman Gillis. A modern classic.
More info/buy
| Pros | Cons |
| --- | --- |
| A modern classic | It is only a filter… |
| Probably the best filter on the market | |
| Tech specs | |
| --- | --- |
| Effects type | Triple filter |
| Channels | Mono |
| Dimensions | 430 x 110 x 80 mm |
| Weight | 4.3 kg |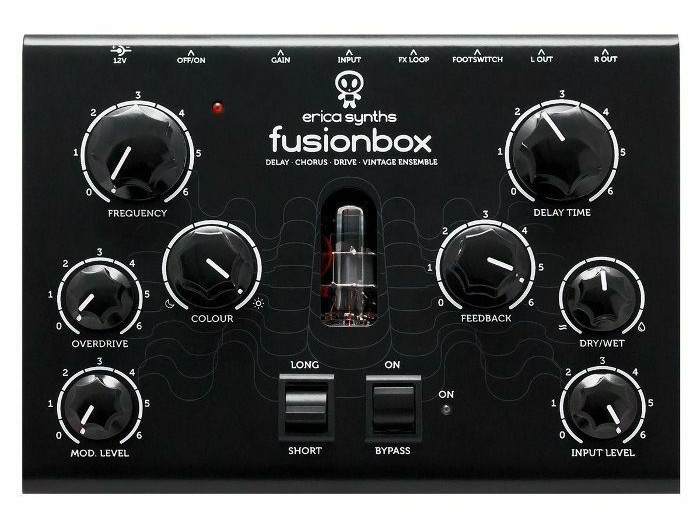 The growth of the modular scene over the last decade has seen the emergence of countless interesting effects, but most are confined to the Eurorack format. For those who don't want to take the plunge on a full modular setup, however, some of that innovation has spilled over into other formats.
Erica Synths mainly specialise in Eurorack modules, but also occasionally repackage some of their technology as standalone devices. The FusionBox is like a greatest hits of the Latvian brand's analogue modulation effects, with the key element being the inclusion of a pair of bucket brigade chips (basic analogue delay circuits with a uniquely charming lo-fi sound). There's also a valve circuit thrown in for good measure, allowing you to push the level and overdrive the signal, adding beautiful creamy distortion. It's a superb combination for warm, gritty delay effects, chorus and great filtering via the Colour control.
More info/buy
| Pros | Cons |
| --- | --- |
| A little bit of all the best analogue effects | No way to sync delay times |
| Distinctive tone and colouration | |
| Tech specs | |
| --- | --- |
| Effects type | Delay; flanger; chorus; overdrive; filter |
| Channels | Mono in, stereo out |
| Dimensions | 185 x 140 x 55 mm |
| Weight | 700 g |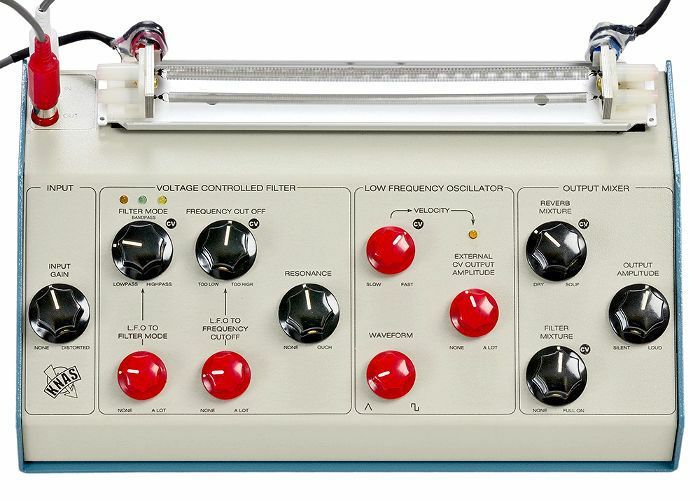 Spring reverb is one of the oldest audio effects in existence, dating back to the 1930s when it was included in Hammond organs as a way of providing a sense of ambience and space, with metal springs used to add echo to the sound of the instrument. Nowadays the effect is most commonly found in guitar amps, but it also crops up occasionally as an effect in its own right, often associated with modular synths.
Knas's Ekdahl Moisturizer packages the concept into a dedicated effect, with the springs proudly displayed to prove the point. Run signals through it without touching it if you like – and the result is a classic spring sound – but the real point here is to 'play' the spring itself. Manipulate the visible springs by hand while a sound's playing and you can physically alter the signal, adding fantastic weirdness. It sounds great, but it also adds an interesting visual element for live performance. There's no doubt that the Moisturizer is the most visually striking effect on our list, part way between retro dub studio and a mad scientist's laboratory.
More info/buy
| Pros | Cons |
| --- | --- |
| Old-school combo of filtering and reverb | Too weird for some |
| Exposed spring encourages hands-on manipulation | |
| Tech specs | |
| --- | --- |
| Effects type | Spring reverb; filter |
| Channels | Mono |
| Dimensions | 260 x 110 x 146 mm |
| Weight | 1 kg |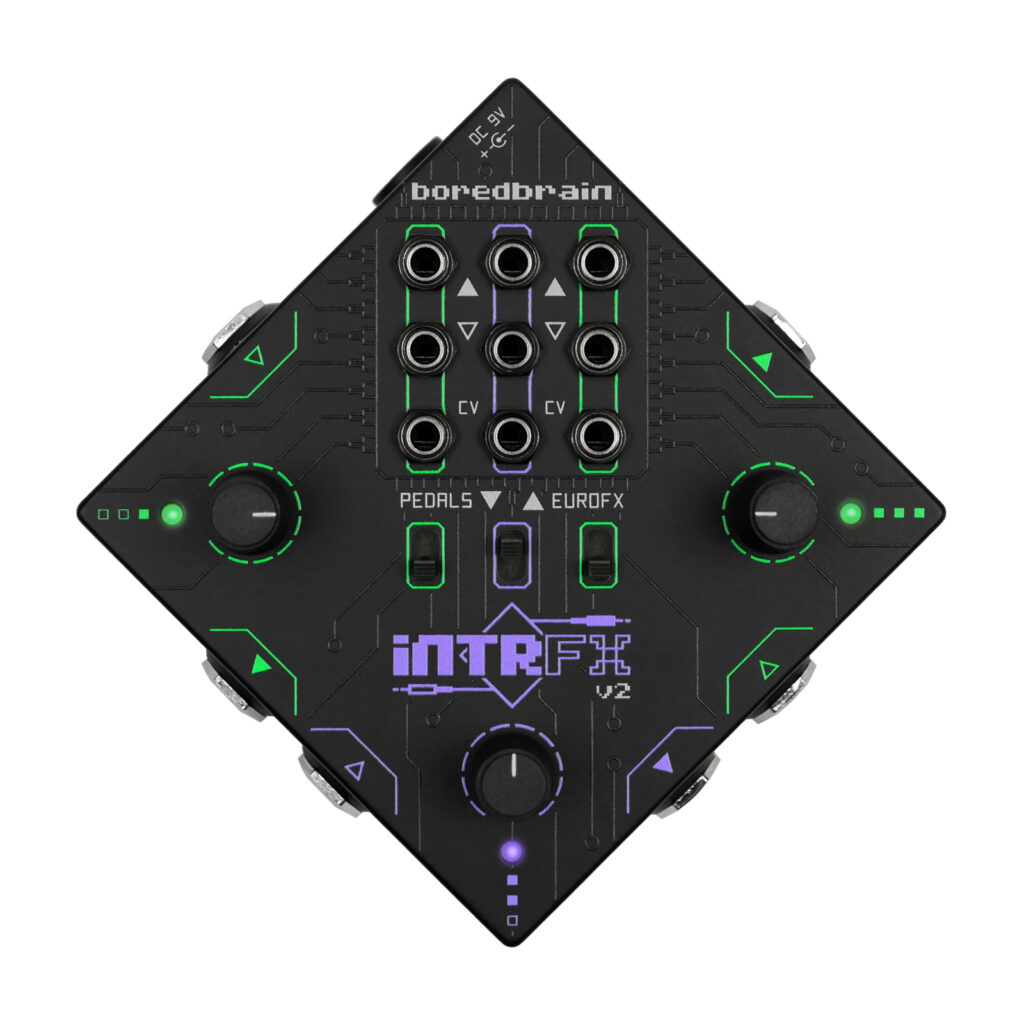 The INTRFX v2 is one of the more unusual selections on our list. Is it technically an effect? We're not quite sure, but it certainly falls into the broader category. Essentially a kind of effects interface which allows you to patch and route signals between Eurorack, effects pedals and instruments, the INTRFX allows you to blend and get creative with other effects, opening up vast creative potential. At the most basic level, you could hook up two effects and then blend the two, but it gets really interesting when you route different signals to different effects, chaining up effects to create mad combinations – synth or guitar effects, stompboxes and Eurorack modules are all compatible.
There's very little else like it on the market, but it opens up new creative possibilities that would be hard to achieve any other way.
More info/buy
| Pros | Cons |
| --- | --- |
| Get more out of your effects | Requires other hardware |
| Create unique routings and blends | |
| Tech specs | |
| --- | --- |
| Effects type | Effects processor |
| Channels | Three |
| Dimensions | 95 x 95 x 64 mm |
| Weight | 330 g |

Vermona earn a second place on our list with one of their many filters. We could have chosen other Vermona effects here – the beautifully retro VSR3.2 spring reverb, perhaps, or the versatile Filter Lancet – but the Action Filter has proved enduringly popular since its introduction back in 2002 as the DAF-1 Dual Analog Filter. Straddling the line between studio tool, live performance device and even DJ tool, the Action Filter is a long-standing favourite of many producers.
Unashamedly simple, the Action Filter offers nothing more complex than pairs of inputs and outputs, plus an array of knobs and switches to control the dual resonant filters. There's no MIDI or CV control, just a purely manual approach with the emphasis on the pair of large cutoff frequency knobs either side of the rack unit. When combined, the two filters operate as either a bandpass or a notch filter, selected via a toggle switch. There's also the option to choose between a softer 'smooth' mode and the more raw 'rough' mode based on the first-generation unit.
It's simple but hugely effective, representing a good affordable alternative to the more complex Sherman Filterbank.
More info/buy
| Pros | Cons |
| --- | --- |
| Simple but effective dual filter | Other filters offer more features |
| Smooth and rough settings for different flavours | |
| Tech specs | |
| --- | --- |
| Effects type | Filter |
| Channels | Stereo |
| Dimensions | 483 x 44 x 60 mm |
| Weight | 1.1 kg |
A tiny powerhouse. Korg's Kaoss Pads redefined performance effects when they were first introduced in 1999, packing various digital algorithms into a compact format. The unique selling point was the touchpad interface, allowing musicians to get hands-on and manipulate the sound in real time. Although the single-touch pad might seem basic by modern standards, this was long before the widespread arrival of phones and tablets with touchscreens, making the Kaoss Pad stand out from the crowd.
The original was probably best known as the glitchy, chaotic sound of Radiohead's 'Everything In Its Right Place', but various models in the expanded Kaoss range over the last couple of decades have expanded the sonic potential and versatility even further. The smaller Mini Kaoss Pads prove to offer much of the appeal of the full-sized models, especially with the addition of sampling features found in the S version. It's a creative way to loop, delay, glitch and mangle sound at a very reasonable price.
More info/buy
| Pros | Cons |
| --- | --- |
| Glitchy touch effects in a compact package | A bit basic by modern standards |
| Fun and immediate | |
| Tech specs | |
| --- | --- |
| Effects type | 100 effects; sampler |
| Channels | Stereo |
| Dimensions | 128 x 25 x 76 mm |
| Weight | 100 g |
Jomox are best known for drum machines, but alongside mighty analogue monsters like the Alpha Base (featured in our 10 Best drum machines list), the German brand has always shown a parallel interest in creative effects. The T-Resonator is a filter box on steroids, described by the brand as a "time-woven filter matrix". The T in the name stands for time, referring to the way the unit builds on stereo filters with digital delay lines and an LFO. The results are everything from fairly simple filtered delays through to long, modulating reverb-style effects and washing ambiences.
The complexity of the T-Resonator takes time to get to grips with, but it's well worth putting in a bit of effort for the creative results you can draw out of this fascinating and unusual little box.
More info/buy
| Pros | Cons |
| --- | --- |
| A filter box on steroids | Complex to get the best out of |
| Combination of stereo filters and digital delay lines gives impressive depth | |
| Tech specs | |
| --- | --- |
| Effects type | 'Time-woven filter matrix' filter/delay |
| Channels | Stereo |
In summary
As we mentioned in our intro, there's a whole lot of variety in the world of hardware effects units. We've got everything here from tiny little handheld glitchboxes through to serious rack-mounted studio tools.
For us, the most exciting effects units are the ones which combine unique, characterful sound with fun, hands-on controls. Plenty of the choices we've picked here meet those criteria, but honourable mentions must go to the Sherman Filterbank, Knas Ekdahl Moisturizer and Erica Synths FusionBox, three entirely different effects which do their thing brilliantly well.
You may also be interested in…