Marco Rodrigues and Robin Lee size up the 10 best studio monitors for your DJ or studio set up.
With the days of picking up some industry standard Yamaha NS10s long gone, buying a set of decent studio monitors for your studio or makeshift workspace can be confusing business. Thankfully the market is now brimming with viable alternatives no matter what stage your studio is at and this article will guide you through the 10 best studio monitors on Juno, ordered from cheapest to high end product, with a final checkout price kept under £1000. To help, Juno Plus tech writers Robin Lee and Marco Rodrigues picked out key features and characteristics of each product to help you decide what will best facilitate your home DJ set up, professional studio space and everything in between.
Kurzweil – KS40A Active Studio Monitors
Setup in 1982 by Raymond Kurzweil and R&B living legend Stevie Wonder, the American manufacturer of studio gear Kurzweil brings forth the KS40A's with small studios and low budgets in mind. But while very compact and solidly-built, the Kurzweil KS40A isn't just a sturdy, durable and competitively-priced addition to bedroom studios or modestly-sized professional setups out there – the sound quality is pretty great. Although the small frame and reduced dimensions of its woofer do limit the bass response a bit, its power to size ratio is still quite impressive – and the sheer fidelity of the sound more than makes up for the slight lack of oomph. The KS40A monitors are capable of great performance and great fidelity, with clear and crisp sound and no discernible distortion whatsoever. Flat response is great – a very important feature to keep in mind when choosing a studio monitor, considering that embellished sound can create a wrong image of how it really sounds in other systems, often resulting in disappointing mix downs.
The Kurzweil KS40A monitors come with two different inputs (A and B) and cater to two different types of use; for music production purposes we can rely on the flat response of Input B, while for listening (or maybe even DJing) there's Input A, equipped with its own bass control knob for convenience. Like most industry-ready studio monitors, each KS40A is an active speaker with its own amplifier built-in for higher sound quality and performance. Overall, due to its small size, the Kurzweil KS40A can't really be fairly compared with other more powerful options, but it's a really great solution for beginners and / or producers struggling with studio size or very tight budgets, offering surprising performance for its extremely competitive price-range.
More info/buy
JBL – LSR305 Two Way Active Studio Monitor
JBL have been a force to be reckoned with in the audio world for two generations and with their reputation for pushing the boundaries in studio monitor design, they have delivered the LSR305, which is strong on design features whilst maintaining affordability. In this case, a modestly sized five-inch woofer that is balanced by a one-inch dome tweeter reproduces the range of frequencies. Both the woofer and tweeter are equally powered in this active design that negates the need for an additional amplifier, saving on space and making these monitors a good choice for desktop producers.
The unique design feature in the LSR305's is the inclusion of what JBL are calling their image control wave-guide. In a nutshell this feature helps the studio engineer listen to an accurate reproduction of the music they are working on even if they aren't in, what we would traditionally call, the sweet spot. It should probably be noted that this technology is featured on some of JBL's very expensive M2 Master Reference Monitors and it's great to see it on a pair of monitors that wouldn't be out of place in a small bedroom set up. Volume control and hi and low shelf controls can be found on the rear along with both XLR and ¼"TRS connections.
More info/buy
Presonus – Eris E5 Studio Monitor
Designed for monitoring in small spaces, the Eris E5 has control over hi', mid and lo frequencies allowing you to precisely match the speakers to your mix environment. With a five and a quarter inch woofer and dome tweeter, the E5 is a tool for getting definition into your mix without having to spend a fortune. Like most active monitors these days, the E5 incorporates limiting technology so you can't over load them whilst protecting your signal from radio frequencies from nearby appliances. Presonus urge anyone that is running a small project studio to hear these speakers.
One of the advantages that these monitors have over some of their equally priced rivals is that they don't try and seduce your ears by shaping the sound. Good studio monitors should give a flat response across a wide frequency spectrum and that is what the E5's do well. They are also surprisingly loud giving over 100dB at around a metre. In addition the E5's feature a soft start up amp that protect your ears and the equipment from any unwanted noise that can occur when powering your speakers up. Connection options include any of the big three ; XLR, ¼"TRS and RCA making this a great monitor for a home production or DJ set up.
More info/buy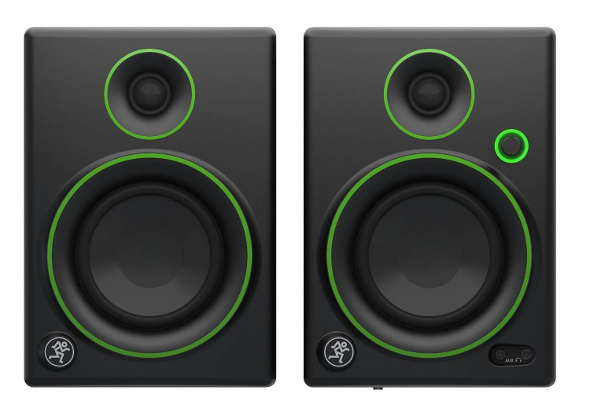 Mackie – CR4 Creative Reference Multimedia Monitors
While there's certainly something to be said in favour of high-end professional gear designed for specific studio needs, it is also true that creativity exists at its most potent when we face it with a certain sense of spontaneity and fluidity. High-end setups can sometimes become rigid and too specific, forcing us to very consciously and almost unnaturally shift between modes such as "music fan" and "music producer". Most of electronic music's innovation is precisely born out of these unorthodox, fluid moments between enjoying and creating – between inspiration and experimentation.
With the CR4 Creative Reference Multimedia monitors, Mackie appears to be very aware of this binomial dynamic; these monitors seem to exist, somehow, in a blurred space between professional studio technology and day-to-day multimedia gear. By occupying that middle space so brilliantly, the CR4's allow users to freely alternate between leisure, research and proper hardcore music production fluidly without having to compromise too much from each mode. In fact, these monitors feature premium, high-performance components that belong to higher-range studio monitors while at the same time integrating features solely designed for maximum convenience – such as front-panel on/off switch (integrated with the volume knob and available on both the left and right monitor) and auxiliary input for easier access.
Even though the CR4 have a frequency response that's hardly as wide as other monitors in this list, its performance is surprisingly great – and that's partly due to the all-wood design of the cabinet. The sound is open and transparent, with a response that's considerably flat and production-ready, as well as crisp, focused imaging. Again with convenience in mind, the CR4s already includes a diverse set of cables to cover all possible uses – from studio mixing to day-to-day multimedia needs. Apart from the font-panel input, Mackie also included balanced TRS and unbalanced RCA entries round the back. These monitors are a must-buy for producers that can't really conceive their art as a highly organised and differentiated activity but rather just a product of permanent engagement with multimedia.
More info/buy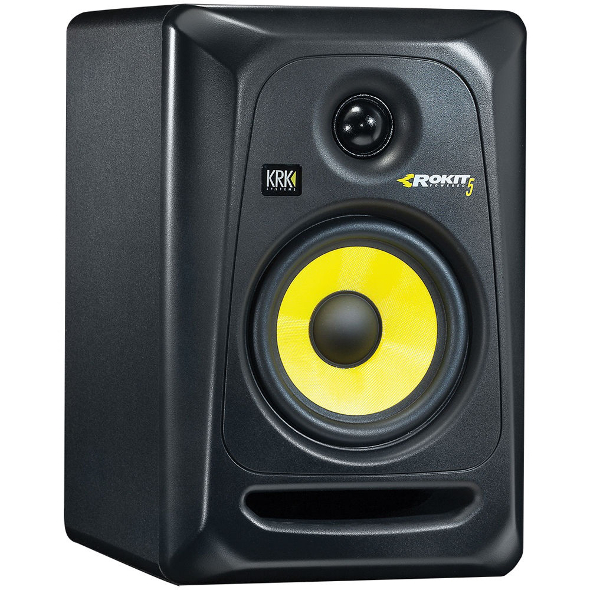 KRK – Rokit RP5 G3 Active Studio Monitor
Featuring for the second consecutive year in our top 10 list of studio monitors, the latest offering in KRK's Rockit series isn't going anywhere when it comes to high-quality, affordable studio speakers for professional use. Following up on the explosive success of its previous model, Rockit RP5 G2, the G3 is much more than a mere facelift with a marginally tougher design. The third generation in KRK's now iconic Rockit series managed to bring forth a number of relevant improvements to the sound of the series further solidifying their place as one of the most ubiquitous studio monitors in the industry. The Rockit RP5 G3 unit is constituted by a 1″ soft-dome tweeter and a 5″ woofer made of aramid – a strong, heat-resistant composite fiber ideal for performance and durability.
Connection-wise, it once again comes equipped with three different types of input for higher versatility: balanced XLR, balanced 1/4″ TRS and unbalanced RCA. Being active speakers the G3's are equipped with their own amplifier and can be directly connected to a mixer or audio interface with no need for external amps.
Much like its predecessor, the G3 is a relatively small box with a big big sound – a very tight, punchy and balanced one. The G3 has a wider frequency response than the G2, ranging from 45Hz to 35 Khz which broadens its spectrum to include higher highs and deeper lows. There's also a clear sense that the sound is more detailed in the G3, allowing for an increased and more precise control of the mix down. Bass frequencies are now also tighter and clearer, which makes the G3 more reliable for producers sculpting the low end of a track – certainly one of the most sensible areas of sound for electronic music production. Musicians and producers in need of loudness, clarity, detail and tight low end will find these a great value for money.
More info/buy
Yamaha – HS8 Powered Studio Monitor
The latest model in Yamaha's HS series steals some of its looks (including the white woofer cone) from the infamous NS10 speakers by the same brand, but looks deceive and it seems pretty unlikely that the new HS8 could ever become famous for the same characteristics. The former model was a passive speaker turned industry-standard because they were used to gauge and reference how a song might sound in less than ideal playback system (like a car stereo for example). By doing so, it helped shape many fail-safe studio mixes of songs that permeated profoundly on all sorts of medium and hence became iconic. The HS8 however are a completely different affair; their sound is crystal-clear and are generally consider one of the best (if not the best) of their price range.
The Yamaha HS8 features a newly designed 1″ dome tweeter and 8″ woofer, both independently amplified by 45W and 75W amps respectively. This reduces chances of clipping, distortion and speaker damage. Port noise has gone down substantially via the use of new Yamaha-exclusive technology designed for the new models in the HS series. Its cabinet was redesigned to reduce resonance, noise and wave diffraction, and round the back there's a Room Control switch to neutralise bass build-up when place near walls. Connection-wise, the HS8 XLR and TRS balanced inputs (although the latter also accepts unbalanced signal as well) and like most high-quality reference monitors, it is active and doesn't require any external amplification – you just need to plug into into a mixer or soundcard.
All of these characteristics result in one of the highest value-for-money studio monitors in the market, with very good imaging, exceptionally flat response, tight bass and superb transient response. A complete must for those willing to pay a (very reasonable) little extra.
More info/buy
Genelec – 8010 APM Biamplified Active Studio Monitor
The familiar curvy lines of Genelec have made it into our top 10. This time with the 8010 APM active studio monitor that, like most monitors in this feature, don't need an external amplifier. The 8010's are often found in professional broadcast studios amongst other places and are highly regarded by seasoned sound engineers and DJs to bedroom producers alike. So why the curvy design? The soft edges of the Genelec 8010 are designed to minimise defraction which lower the monitors efficiency and gives you a sound that doesn't reflect what is actually happening in your mix.
Genelec are keen to bring our attention to the flat frequency response produced by their speakers which means that what you are hearing is a true representation of your mix so that when you take your creation and play it on a big sound system, there will be no unpleasant surprises.
Small enough for a mobile production unit but with a professional build quality and top of the range XLR connections make this the ideal monitor for the producer on the move, or for a compact mixing environment. Genelec include their isopod stands that help minimise any unwanted vibration whilst allowing you to angle them for the optimum listening position.
More info/buy
Focal – Alpha 65 Active Two Way Near Field Professional Monitoring Loudspeaker
Focal's clout as a manufacturer in the audiophile world is real – very much so. The French company is synonymous with high-end speakers, tip top performance and self-built speaker drivers – assuring impeccable conversion of electrical signal to sound waves. Although, more often than not, the price tags on Focal's products leave producers wishing (instead of buying) but all that's about to change thanks to a few smart compromises in design and materials – and the launch of the Focal Alpha 65 monitors. The Alpha 65 is all about versatility and optimal integration in a whole new plethora of studio environments that might not reflect the company's habitual attention to detail – smaller rooms, cheaper setups or spaces whose sound treatment is less than perfect.
To accomplish that goal, Focal doesn't just rely on smart mechanical design and their famed speaker drivers; patented, company-exclusive technologies such as their inverted dome tweeter or the Polyglass woofer cone play an important role in the Alpha 65's superior performance. The former provides exceptionally linear treble as well as a clarity that reveals the most subtle equalisation defects – all this while reducing hearing fatigue. The polyglass in turn improves damping significantly, that way contributing greatly to the monitor's faultless flat response and crystal-clear sound on midrange frequencies.
The inputs available are balanced XLR and unbalanced RCA, covering two of today's most commonly used audio connections. Every speaker on each unit is independently amplified by high-current AB amps for safer, more robust performance, resulting in controlled dynamics and absence of distortion in high volumes. The peculiar bass port design also plays a role in the reduction of noise and is essential a pair of ports transversally in a parallel way between them.
All in all, Focal's initiative of incorporating audiophile-level technology in a product that's accessible and versatile is a total win for producers wishing to step it up in terms of reference speakers but also an opportunity of much wider reach for the brand.
More info/buy
M Audio – BX8 D2 Active Studio Monitors
If you are working in mid-sized space and struggle to hear exactly what is going on in the bass area of your mix then you might be interested in the BX8 from M Audio. This studio monitor features a larger eight inch woofer designed to reveal smooth articulate low end with a one inch dome tweeter to balance crystalline high frequencies. Kevlar and silk may seem like an unlikely combination in the design of any product but for the large woofer, a strong material that can weather high sound pressure levels is an obvious plus. Professional grade XLR and ¼"TRS allow you to connect directly to your mixer, these monitors are simple and affordable.
The one inch dome tweeter reveals some aurally pleasing top end without being too aggressive and although some say that the large eight inch woofer doesn't reproduce the mids as elegantly as it could, these monitors are the kind of speakers that will give you a great listening experience similar to that which you would get from a top end hi fi. With a solid build quality, these monitors are on the heavy side so don't expect to be moving them around to often. However, if you are on a budget but space is less of an issue and you need to hear the low end, these might be the solution.
More info/buy
Adam – A7X Active Studio Monitor
These active speakers from Adam have been very well received in recent years and when hearing them it is easy to see why. The crystal clear high frequencies are delivered to us via some deft technology in the form of the Adam X-ART tweeter. With this super efficient tweeter we are told that the frequency response extends up to a skyward 50kHz, which is probably only audible to dogs and super humans, but what it means for us mere mortals is that nothing is being lost within the upper reaches of what we are capable of hearing.
Balancing the tweeter is a seven-inch mid woofer that manages to reveal plenty of groin in the lower end making the A7X a great speaker for a mid sized room and if you need to tailor these speakers to your space then you will find controls to filter the hi's and low's on the rear along with a gain for the tweeter level. The main volume and on/off switch are located on the front for easy access, which is perfect if you are producing in a studio without a live room or a vocal booth and often need to switch between headphones and monitors.
More info/buy