We pick five of the best options for those looking for an affordable mixing desk for a home studio.
Despite the technological advancements of many audio interfaces, the home studio mixer is still very much a central feature in the humble musician's place of domestic refuge. They bring to life a motley crew of microphones, samplers, synthesizers and guitars whilst maintaining strict order before sending them to your computer and monitors. The latest installment in our Best series seeks to to outline the characteristics of the five best options for under £500.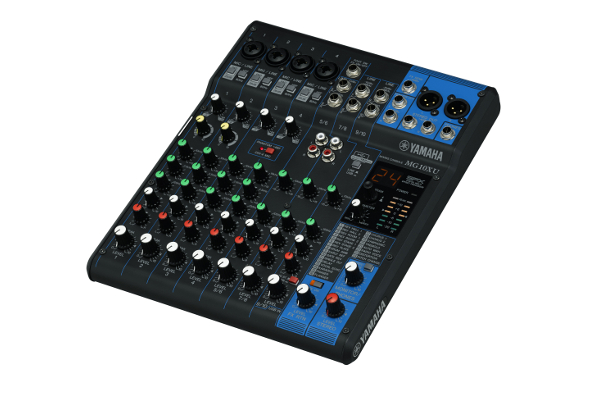 Yamaha's NS10 studio monitors are fairly legendary in production circles, becoming a solid industry standard that still holds up many years after their release in 1978. Yamaha is also a company whose studio mixers come highly recommended, especially if you're on a tighter budget. The MG Series is a series of mixers using the same multi-effects processors used on its high-end mixing consoles at a fraction of the price, featuring 24 effects including chorus, flanger, distortion, reverb and delay. The MG series comes with the kind of pad, gain and level control, and per channel peak indicators, you'd find on larger touring mixers, helping to avoid sound clipping.
The 10-channel MG10XU model sits at the bottom end of the line, but if space is at a real premium or money is tight then it's probably the best option on our list. There's a USB connection which allows audio to be transmitted digitally straight to a computer through channels nine and ten. It'll even work with an iPad provided you have an Apple iPad Camera Connection Kit or Lightning to USB Camera Adapter, making it one of the best buys for those who like using apps to create their music.
More info/Buy
Specifications:
| | |
| --- | --- |
| Channels | 10 |
| EQ | 3-band |
| Audio Interface | USB |
| Input Type | XLR, 1/4″ jack, RCA |
| Output Type | 1/4″ jack, RCA |
| Pre-amps | Yes |
| Effects | No |
| Dimensions (mm) | 294 x 71 x 244 |
| Weight (g) | 2100 |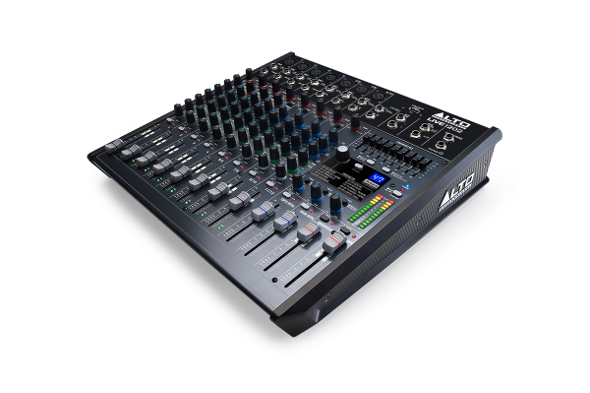 Having only formed in 2000, Alto is the youngest company featured in this list, but it's developing a strong reputation. The company prides itself on affordability, and the Live range of mixers is its most affordable, with this 12-channel model coming in at just over £200. For that price you get an impressive range of features in addition to its 12 channels, including onboard analogue compression on channels 1-4 to help control dynamics. three-band EQs for additional tonal shaping, two auxiliary sends per channel for external effects and monitoring, and a nine-band graphic EQ. There's also a USB connection allowing two channels of 24-bit audio to be sent directly to a computer.
The real clincher for those on a very tight budget however will probably be the 1202's huge library of on-board effects from respected company Alesis. These include a wide range of delays; room and space delays, small and large hall acoustics, plate and spring reverbs, to flangers, choruses, and more. The Live 1202 might be one of the cheapest options here, but the quality of the build from faders to knobs is surprisingly good for a model of its class. If you need more channels for less, the Live 1202 is highly recommended.
More info/Buy
Specifications:
| | |
| --- | --- |
| Channels | 12 |
| EQ | 3-band |
| Audio Interface | USB |
| Input Type | XLR, 1/4″ jack, RCA (phono) |
| Output Type | XLR, 1/4″ jack, RCA (phono) |
| Pre-amps | DNA mic preamps |
| Effects | 100 on-board DSP effects |
| Dimensions (mm) | 358 x 346 x 80 |
| Weight (g) | 4100 |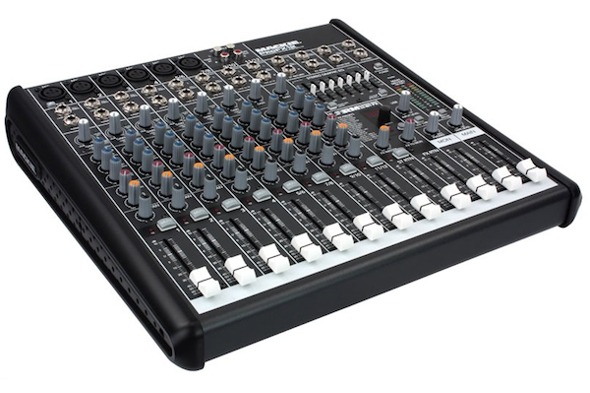 Mackie is champion when it comes to bringing professional quality audio products into the home at a competitive price, and the ProFX series is no exception. The first thing that strikes you about the ProFX12 is the rugged build quality – its solid steel chassis feels built to last, which will be particularly important for those who might want to take it out of the studio now and again. Out of its 12 channels, four are full stereo, while the mixer also features six high-headroom, low-noise microphone preamps, three-band EQ and a seven-band graphic equalizer.
The Mackie also features on-board effects provided by a 32-bit processor, which will be attractive to those who don't want to have external effects units cluttering up their studio. Unlike some manufacturers who put a large number of effects in their mixers, Mackie's approach is to provide 16 of the most important; while there are some out there who might want more variety, keeping things limited definitely makes it easier for the less experienced user. Really, though, the effects aren't the important thing here – it's the fact that the ProFX12 is another winner from one of the most dependable manufacturers of studio mixers in the game.
More info/Buy
Specifications:
| | |
| --- | --- |
| Channels | 12 |
| EQ | 3-band |
| Audio Interface | USB |
| Input Type | XLR, 1/4″ jack, RCA (phono) |
| Output Type | 1/4″ jack, RCA (phono) |
| Pre-amps | Low-noise Mackie pre-amps |
| Effects | 16 on-board digital effects |
| Dimensions (mm) | 370 x 91 x 351 |
| Weight (g) | 4100 |
Soundcraft has been making professional mixing consoles since since 1973 and claims to be an exponent of "legendary British sound". Whether there is any such thing as a British sound in the world of mixers is up for debate, but there's no denying the company has built itself a strong reputation. The M8 is the middle sibling in the family also consisting of the M4 and M12, with the numeric part of the name representing the number of mono channels. Here we have eight mono inputs, four stereo inputs and four stereo returns which are all unbalanced over quarter-inch TRS jacks.
The EQ section comprises high (12kHz) and low (60Hz) shelving sections plus a sweeping mid that can be set between 240Hz & 6kHz. All three bands have ±15dB gain and there's a100Hz, 18dB/octave high-pass filter at the top of the strip. As you'd expect there is a standard pan control knob, plus buttons for mute, direct pre and PFL monitoring. The stereo channels are slightly more basic without the swept mid or low-cut switch with two balanced line inputs, no mic input, no inserts and no direct output. The 100mm faders are great for smooth mixes or level accuracy. There are signal and peak LEDs on every channel and high resolution output metering. Build-wise, it's pretty much spot-on. The bevelled brushed steel side panels can withstand a weight of 60kg, which in studio technology terms is about as robust as it gets.
More info/Buy
Specifications:
| | |
| --- | --- |
| Channels | 8 |
| EQ | 3-band |
| Audio Interface | No |
| Input Type | XLR, 1/4″ TRS and phono |
| Output Type | XLR, 1/4″ TRS & S/PDIFDigital output |
| Pre-amps | 8 low noise, low distortion and RF rejection mic preamps |
| Effects | No |
| Dimensions (mm) | 523 x 506 x 119 |
| Weight (g) | 8200 |
Allen & Heath have been building mixers for over 40 years, and as you'd probably guess, they've got the hang of it. The ZED range is Allen & Heath's affordable, all-purpose mixer for home use, both affordable and full of great features for the price that's suitable for both home studios and musicians playing live in small venues. The mixer's analogue channels are split between 10 mono mic/line channels with three-band EQs, all of which have wide gain duo preamps and Neutrik XLRs plus quarter-inch TRS jacks, and four stereo channels, though they only offer a two band high/low EQ. There's also a USB connection that will deliver CD-quality audio straight from the mixer to your computer.
Aesthetically speaking it's probably the best model in our list, with impeccable build quality; the steel face-plated mixer looks practically indestructible, and as with their DJ mixer range each of the channels is mounted on its own independent PCB. The 10mm channel faders are also excellent, with a long smooth action and rubber membrane to protect the circuit board from moisture. In short, if you need a lot of channels and are willing to sacrifice extra features like on-board effects, then the ZED-18 is a solid option.
More info/Buy
Specifications:
| | |
| --- | --- |
| Channels | 18 |
| EQ | 3-band |
| Audio Interface | USB |
| Input Type | XLR, 1/4″ jack, RCA |
| Output Type | XLR, 1/4″ jack, RCA |
| Pre-amps | DuoPre pre-amps |
| Effects | No |
| Dimensions (mm) | 464 x 98 x 465 |
| Weight (g) | 8800 |