We round up the 10 best contemporary DJ turntables currently on the market, with models from Pioneer, Stanton, Reloop, Audio Technica and more featured.
When both the 1200 and 1210 editions of industry standard Technics turntable were discontinued in 2010, the vinyl buying world let out a kind of collective deflated gasp. Although there is still a very healthy second-hand trade in the Technics 1200/1210 online, and plenty of sturdy models to be had if you're patient, prices continue to rise, and the spare parts and skilled repairers are become increasingly difficult to find. Although the Technics range still command a great deal of respect, a lot of contemporary alternatives do just the same as those classic decks, and in some cases come with modern enhancements that make things like vinyl ripping and recording mixes much easier. As such we've decided to run down 10 of the best contemporary alternatives on the market today.
With its quick start time and high torque direct drive motor, the PLX 1000 is a popular choice with battle-style DJs. Pioneer is the brand name that you'll probably find in most DJ booths around the world and as the industry standard for media players, such as their groundbreaking CDJs, and their award winning DJM mixer series, its safe to say that there is a lot of expectation when it comes to the PLX 1000's capabilities. Apart from its smart modern black-brushed appearance and the blue LEDs, it does have a lot in common with the classic Technics build.
Pioneer, however, have made some subtle improvements including removable power, ground and RCA cables. These were fixed on the classic machine, making it awkward when moving them around. The Pioneer turntable has an improved multi-pitch control allowing you to change tempo +/- 8, 16 or 50 at the touch of a button. This gives you the option of beat matching between records that have wildly differing tempos. If you are a scratch DJ there are many interesting performance techniques you can achieve, using the wide pitch range, including melodic pitch effects on test tone vinyl.
More info/buy
Once again, developed with scratch DJs in mind, the Reloop RP8000S features a straight tone arm as opposed to a S shape. The shape of tone arm allows for accurate tracking without skipping, making it a desirable shape for the battle DJs among us. The RP8000S also contains features that you would normally find on a controller such as cue, sample, loop and slicer that are all compatible with Serato DJ software. This deck includes a rotary encoder that allows you to scroll through your software playlists whilst using the deck with DVS time code vinyl.
There are some clever connection possibilities with this deck. For example, there is a turntable link mode that allows you to connect up to four decks together using only one USB port on your computer. If you are in need of a wide pitch control then the RP8000S delivers pitch ranges of plus or minus 8, 16 and 50 per cent and with a segment-style digital display, you can get direct feedback on the BPM of your current track, which is a useful aid when performing long smooth mixes. If you are looking for a deck that suits both your physical, vinyl and laptop DJing needs then this deck, for intermediate users, is the one.
More info/buy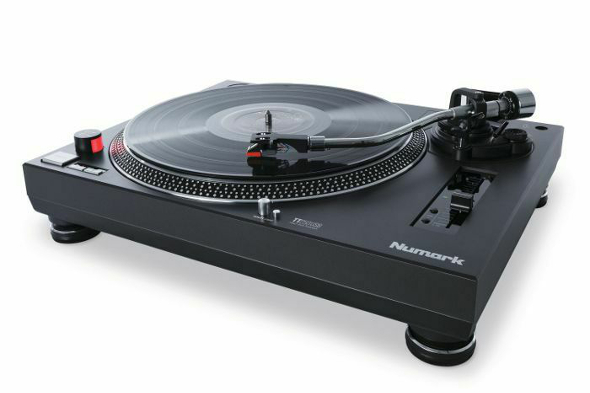 Numark have made a name for themselves producing quality, functional DJ equipment at a price that won't break the bank and the TT250 USB continues that noble tradition. This deck features all of the basic functional features that you would expect from a classic DJ turntable. It's got a high torque direct drive motor that is designed to keep the platter spinning at a steady and constant speed and its pitch range reaches plus or minus 10 per cent. Along with height adjustable feet, the TT250 comes with the magnetic headshell already installed meaning you don't need to set up and align your cartridges. Instead you can mix with this turntable straight out of the box.
But the TT250 USB also has an interesting modern feature that your old school turntables wouldn't have had, in the form of a special USB port that allows you to hook your turntable up to your computer and convert your vinyl into digital files with the use of Numark's free EZ Vinyl & Tape converter software. If you have a compatible mixer, you can also make good use of the built in remote start port allows movement of the fader on your mixer to start the turntable. This design feature is particularly useful for radio DJs.
More info/buy
This mid-priced turntable from Audio Technica also has a USB connection that allows you to connect to your computer and record your vinyl. This time the digital conversion is handled by Audacity Audio Production software that ships with the deck. If you are a collector of particularly old vinyl then you might be surprised to find that this deck will play vinyl at 78 RPM as well as the more standard 45 and 33 speeds. The LP120 features a built in pre amp for use with equipment with no phono/line level switch and comes with line level ready RCA cables.
Like all of the decks in this feature, the LP120 has the stroboscopic platter speed indicator that helps you ensure your record is spinning steadily and accurately. Unlike most vinyl decks, however, this one gives you the option of playing in reverse. The adjustable pitch fader lets you achieve plus or minus 10 or 20 per cent for beat matching between widely differing tempos. This deck ships with the Audacity software, USB and RCA cables, a dust cover and head shell and cartridge, which you do have to install yourself. This a great choice of deck for anyone that needs to digitize a varied amount of vinyl and is suitable for DJs from entry level to advanced.
More info/buy
Like the Audio Technica LP120 USB, the SL1300 Mk6 direct drive deck also features 78RPM speed along with the standard 45 and 33. It shares the same USB connection feature that allows you to get your vinyl recorded into a digital format. With the choice of three colours (silver, black and orange), an ergonomic design and a tough but lightweight polymer chassis, the SL1300 Mk6 is a hit with scratch DJs and is even endorsed by DMC Online World Championships. Its power supply can switch between 100V and 240V.
This particular model has an S shaped tone arm with anti skating controls. Shipping with headshell and cartridge, you do have to set up and align the deck yourself. The SL1300 Mk6 is very much like the Audio Technica deck including a wide pitch control of 10, 20 or 50 per cent and comes in at a very similar price. This deck, however, does have a very plastic looking exterior and add to that the use of the SL tag, made famous by the Technics brand of turntables. There is a slightly cheap air about these turntables. But if you can get past that then you might find the SL1300 Mk6's are a good choice for serious scratch DJs looking for a simple way to digitize their vinyl collections.
More info/buy
Sitting at the top of Audio Technica's DJ turntable range, the ATLP1240 is a tour de force of high-quality at an affordable price range. Like most DJ turntables in the market, the latest offering by the Japanese manufacturer takes cues from Technics' iconic 1200 series, but this is hardly just a revamp; the ATLP1240 combines an impressively strong motor and high-quality build to a string of new features set to expand the possibilities of the vinyl deck. With its all-steel heavy-duty construction, aluminium plater and high-torque direct drive motor, the ATLP1240 is all about reliability and impressive performance – even on demanding modes such as heavy club use or turntablism.
The pitch-control slider is continuous throughout its entire course, allowing greater precision when beat-matching near the zero mark. It also comes with a quartz lock-button, making it easy to bypass the pitch-control when 0 per cent pitch is necessary. There's a stylus target light for cueing records in the dark and a stroboscope light that measures speed accuracy and stable rotation. On top of its more standard features, the Audio Technica ATLP1240 also offers a number of interesting extras that are worth mentioning.
While other DJ turntables mostly focus only on two main rotation modes, 33 and 45RPM, the ATLP1240 offers a third possibility of 78RPM, widening its scope of compatible vinyl formats. There are also two start/stop buttons, for optimised battle-mode use, and two independent controls for the adjustment of the starting and braking of the platter. A high-quality built-in phono amp and an integrated USB output make the transfer of sound from vinyl records to digital a much easier task, and a great help in archiving collections. On top of all this, the ATLP1240 performs greatly sound-wise, with loads of clarity and great tracking, making the fact that it doesn't include cartridge somewhat unimportant.
More info/buy
Reloop – RP7000 Quartz Driven Direct Drive
In the current race for industry-standard DJ turntable par excellence – a throne left vacant by the discontinuation of the legendary Technics SL-1200 series – few proponents are as uncanny as the new Reloop RP7000 model. Using a strikingly similar boxy metal design to the 1200s, the RP7000's aren't exactly trying to mess with the expectations of professional vinyl DJs worldwide. If it isn't broken don't fix it and, indeed, those accustomed to the Technics model will feel right at home from the get-go with it. Unlike Reloop's top range turntable model RP8000, rich in assignable MIDI controls and other more disruptive features, the RP7000 is the brand's purist, club-ready solution.
Luckily Reloop didn't just entirely conform to the beloved features (and also limitations) of the SL-1200 series; in fact one could think of the RP7000 as a good effort at bettering the Technics' staple. An example of these slight improvements would be the dramatically wide, digitally-controlled pitch-range available this time plus-minus 8, 16 and 50 per cent. Battle DJs will surely appreciate that there are two start/stop buttons now, making it easier to adapt to various turntable orientations – as well as starting speed adjustable between 0,2 secs and 6 secs, allowing for greater control of the direct drive motor.
Other new features include a reverse button, a small safety lid around the one/off switch (to avoid accidental shutdown), a clickless pitch slider for more precise beat-matching and a quartz 0% pitch lock. But perhaps the most convenient innovations occur at the connectivity level, with two RCA sockets (with no earth) instead of hard-wired cables, and a switch between phono output levels and line ones – allowing the RP7000s to be used in conjunction with mixers that don't have phono inputs. All in all this is a dependable, professional club turntable with a familiar design and some great new features. Great value for money.
More info/buy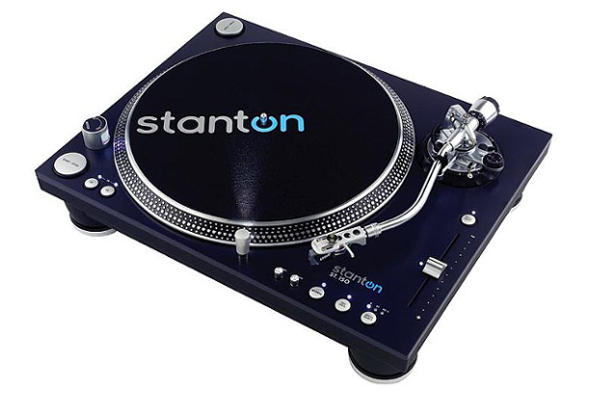 Often referred to by turntablists as the best DJ turntables on the market, the Stanton ST150 do seem to be in their own lane when it comes to their overall looks and technology. While it could be hard to think of a modern DJ turntable that doesn't feed on the blueprint left by the Technics SL-1200s, these aren't copycats designed to fill a gap in the market; the ST150s have been around since 2005 and competed directly with the 1200s – admittedly not an easy task.
A lot of the new, less-orthodox features available on all top-range DJ turntables were first found in Stanton models such as the ST150, and while a considerable number of turntables by other manufacturers pack functions such as reverse buttons or dramatic pitch-range shift, nowhere do they fit more naturally than on these trademark Stanton rounded buttons. With navy blue panel and the light grey buttons and switches, the ST150s are some of the heaviest turntables on the market, weighting close to 42lbs per unit.
Solidity is ensured by the all-steel upper body and the heavy, rubbery lower portion – conceived that way for dampening and isolation purposes. Including three different rotations (33, 45 and 78 rpm), this Stanton model also includes pitch-control range up to 50 per cent – also with 25 per cent and the more customary 8 per cent options. The ST150 comes with an extra start/stop button positioned for optimal use in a battle mode setup, and separate start/stop speed adjustment knobs. The pop-up light it is designed for easy replacement – a definite plus, as most SL-1200 aficionados will tell you.
Some other features include internal grounding – no need for clumsy earth-connecting pre-gig – and reverse play button. Add all that to a Stanton 680.V3 cartridge that comes included in the package and you have a solid, reliable and precise tool that's perfect for serious DJs and turntablists looking for a heavyweight, pro-level tool to hone their craft.
More info/buy
Based on Stanton's top-selling DJ turntable T60, the new T62 is all about simplicity. Most of the features included here are the ones you can find in classic models of DJ turntables and the idea behind it isn't so much to reinvent the wheel, so to speak, but to go back to the essentials and re-design those for modern use. The T62 is a simple, uber-affordable and highly reliable direct drive turntable for those beginners ready to take their craft to the next step into professional territory. Available for less than half the price of its high-range sibling ST150, the T62 comes with an impressively strong motor for its range, with a pro-level torque and quick speed change capability. Looks-wise, the round buttons and general soft shapes, combined with the brand's trademark dark blue and light grey tones, create a very recognisable Stanton design.
Unlike ST150's triple choice of RPM (rotations per minute), the T62 includes only the customary 33 and 45 options – much like classic SL-1200s, no less. Pitch control is also kept at a standard level the single option of plus-minus 10 per cent pitch range. For the demands of scratch DJs and battle-mode enthusiasts, Stanton keep the two start/stop buttons that can be found in higher-range models, as well as a straight tonearm for greater stability during demanding scratch routines.
Outputs are regular RCA sockets, which can be so much more convenient than wired-in cables. On top of this, the inclusion of a Stanton 500.v3 cartridge and a high-quality slip mat make this deal even sweeter, reaching perhaps the most value for money for any professional DJ turntables on the market at the moment.
More info/buy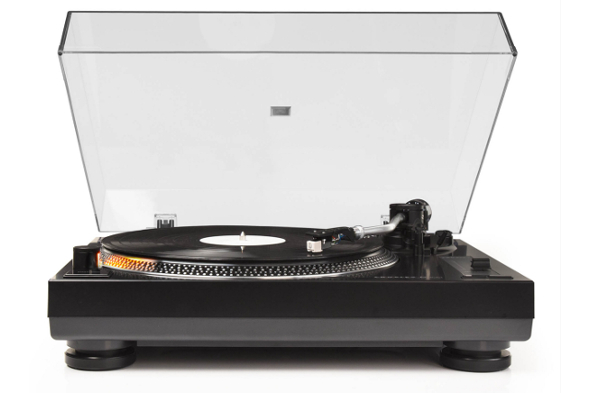 The new Crosley C200 represents a serious step-up in terms of quality from previous models by this American manufacturer. Not particularly known for high-quality DJ turntables, Crosley seems invested in changing that perception somewhat – and the C200 does a great job at that. One of the aspects that was successfully improved is its general build quality; everything about the C200 looks sturdier and more solid than other Crosley models. This choice of better materials and clever design also reflects on the whole feel of the turntable and its looks, with its weighty, solid frame, matte black finish and a much welcome durable tonearm. The latter comes in typical S-shape (like classic Technics SL-1200s) and integrates adjustable counterweights for optimal needle pressure on the record's grooves.
Crosley's C200 comes equipped with the company's first ever direct drive motor, offering much faster start and stop of the turntable. There are two playback speeds (the customary 33 1/3 and 45 rpm options), adjustable anti-skate knob and a pitch control slider. Much like the Technics SL-1200s, instead of a second start/stop button, the C200 comes with a holder for a 45rpm record hole adapter, as well as RCA output sockets with phono/line switch – great for use with mixers than don't have phono inputs.
Although the C200 is a clear step in the right direction it could hardly be considered a professional DJ turntable. But considering the super low price and overall impressive quality (even sound-wise) the Crosley C200 would be a great option for vinyl collectors on a home use tip, and a great starting point for the first mixing experiments in a turntable that comes with all basics covered for that job.
More info/buy