Rob Lee investigates the London-made drum machine and step sequencer with a crunchy sound that takes inspiration from the early days of computer-generated audio.
Based in a East London location, VXXY present themselves as a young brand built on the talent of product designers and electrical engineers, one of an increasing number of boutique electronic instrument makers. These bespoke brands have become more and more popular in recent years, with most of them coming from Germany and France, but a modest British contingent has been steadily growing, and with VXXY, they have a formidable new member.
The Hackney Wick-based team have come up with a drum machine with a sound set that you could describe as crunchy, bleepy or even glitchy. If you grew up in the early 1980s you will definitely recognise the sounds of early home computers and game consoles such as the Nintendo Entertainment System, ZX Spectrum, Commodore 64 and Amiga. It comes as little surprise then that one of VXXY's engineers worked in the field of sound design for some of those very machines as well as a TR-909 clone. Knowing this background information brings the whole concept of the DCM8 into focus, being a digital drum machine with 8-bit digital sound, partnered with a step sequencer that can generate between 8, 16 and 32 step sequences over two channels. It also features plenty of preset sounds and patterns as well as space for you to create your own.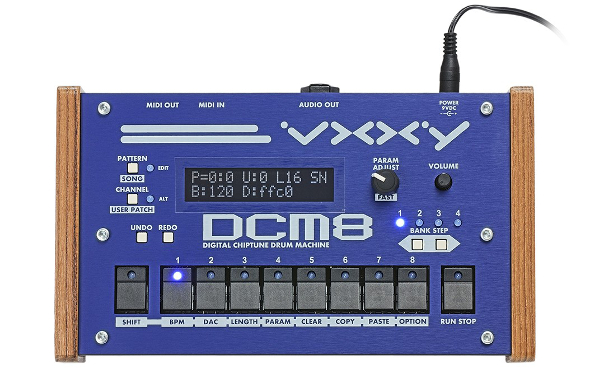 The DCM8 comes with 233 preset chip sounds with room for you to save 32 of your own creations; in addition there is room for 64 patterns organised into eight banks of eight. The digital synthesis follows a familiar flow for anyone used to analogue synth programming; as well as one oscillator with an added noise generator flowing to a single multi-mode filter, and amplifier, the unit features a DAC mask that allows you to dial in the desired amount of grainy distortion.
There is also a single LFO with plenty of modulation shapes and destinations which can be synced to the step sequencer. A quick play around with the factory patterns and presets gives you a pretty good idea of what this little machine is capable of, and although bleepy sequencers are nothing new, this one features proper MIDI I/O and a single mono ¼" TRS audio output. The quirkiness of 8-bit digital sounds takes you back to a time when computer generated sounds were much more primitive, and with the DAC mask, it's possible to get the kind of bit crushed sonics you might expect from circuit bending.
It's also possible to dial in the favoured type of crunch mid-sequence, adding a layer of expression to the other performance features. There are 32 built-in user preset slots that allow you to create your own drum sounds and sound effects from any of ten basic wave forms that include tried and tested square, saw tooth and triangle waves as well as sample wave and FM shapes. As with all digital synthesisers, navigating the menus is a bit of a task at first, and there are some small quirks such as the placement of the volume parameter, but once you begin to understand the flow then edgy sonics tumble out of this compact unit with little effort.
The controls are dominated by eight step buttons with an additional shift and run/stop button, all of which feature LEDs for minimal – but essential – visual feedback. There are small buttons for navigating the four separate banks and switching between pattern, song, channel and user patch modes with a push encoder for any parameter changes and saves you wish to implement. To navigate the menus we are given a small but functional digital display, which although tricky to get used to changing between playback modes and edit modes at first, the unit does ship with relatively clear instructions.
Where the DCM8 comes into its own is when you get into the flow of creating your own patterns using the eight step buttons and four bank step cursors. You can decide on eight steps (the first step bank), 16 steps (first and second) or 32 step sequences (all four step banks). The variety is only limited by the fact that there are only two channels available, meaning that you can effectively only layer two sounds on a single step. At first this might feel a bit limiting, but it also forces you to be a bit more creative with your sequencing choices, and you can still put a different sound on each step if you wish. Performances are enhanced with the help of some clever live effect buttons that are put into use by holding down the shift button and the desired step button to activate various beat loops, beat hold and stutter effects.
Despite some of the tricky menu diving needed to get the most out of this unit, it's surprisingly enjoyable to use. It includes plenty of MIDI options for clocking from external sources as well as being able to send MIDI clock to one of the many bass sequencing units that are on the market at the moment, including all of the TB-303 clones and Aira TB-3, and its perhaps the live environment is where the DCM8 excels. There are a couple of minor grumbles; pattern numbers and respective bank navigation buttons don't agree (e.g. pattern 0:0 is accessed by pressing bank one and step button one) but with song chaining capabilities and eight levels of undo, this mismatch doesn't really make much of a difference in practice.
As an affordable drum machine, the DCM8 finds itself in an increasingly crowded marketplace; competition comes in the form of the more affordable Korg Volca Beats which has price on its side, but doesn't feature the same satisfying controls and high quality finish. The new Roland Aira TB-8 is not much more expensive, but the distinctive sound of the DCM8 puts it in a very unique category. It's these uniquely gritty electronic drum sounds and intuitive step sequencer which make the DCM8 worth investigating if you want something that stands out from the crowd.
Rob Lee
More info/Buy
Specifications:
| | |
| --- | --- |
| Power | 9V DC |
| Synthesis | Digital (1 x digital oscillator) |
| Display | Digital display |
| Connections | MIDI I/O, 1 x mono 1/4″ TRS audio output |
| Memory | T64 patterns, 255 sounds (32 of which are user presets), 8 songs (w 128 pattern selections) |
| Sequencer | 8, 16 or 32 steps (dual channel architecture) |
| Control surfaces | 8 x step buttons, 1 x shift button, 1 x run/stop button, 1 x push encoder, 4 x mini feature buttons |
| Dimensions (cms) | 20x12x6 |
| Weight (kgs) | 0.7 |