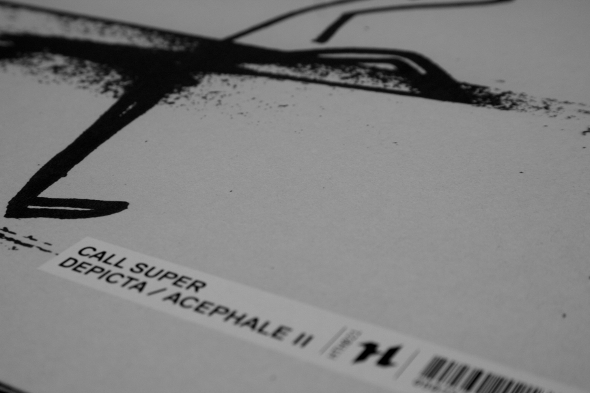 Continuing his salvo of singles for the ever-strengthening Houndstooth imprint, Call Super's latest release reveals yet more dimensions to his crafty sound. The notion of craftiness in modern production is one with a select reach, only wielded by those with an innate gift to lift their compositions above the tropes of any given genre to create something ineffably sharp and unique. It's no surprise then that Call Super has often been associated with Objekt, reaching back to the producer's first single on Five Easy Pieces that came backed with a remix from the man otherwise known as TJ Hertz. It's not hard to see the similarities, and Objekt is certainly an artist with a healthy dose of craftiness in his blood.
Listen to the way "Depicta" rolls into action and the point is as clear as day, as a full-bodied kick barrels into a playful skirmish of closed and open hats with a sense of techno urgency but a subtle swing that edges away from knuckleheaded beats and into something far more balletic in its movements. As the track opens up and the snagging snares spit out their offbeat mantra it's easier to imagine a room full of strobe lit Capoeira dancers rather than a sweaty horde of fist shakers and body twitchers.
Of course this is not just about the beat though, and in the surrounding space the synths radiate yet more of this non-standard spirit, opting for a melody and voice that has absolutely no emotional reference point. Like all the best techno, the curiously rising notes buoy you up to a certain extent, but leave no resolution in their phrasing. It's a music theorist's nightmare, and it makes the listening experience all the more thrilling and bewildering.
"Acephale II" is no slouch when it comes to innovative approaches either. It takes a more drawn-out path that keeps the drums on the straight and narrow, while a more friendly kind of pad lingers in the background in a style redolent of early UK techno, but these more balanced elements simply provide a jump-off point for a rich tapestry of harmonising tones and slithering sound design. By the time you reach the crux of the track, this infinitesimal sonic matter has amassed into something of a swirling psychedelia, moving in an organic current atop the immovable bedrock of the beat and pad.
There is contrast between the two tracks Call Super has served up here. "Depicta" moves with a snarl and bite that commands attention through its very nature, while "Acephale II" could almost be mistaken for a more standard deep techno track without a detailed listen. Therein lies the diversity of Call Super's craftiness, moving from hooky drum patterns and delirious tones to subtle textural layering to make his mark. It takes a special breed of producer to be able to lift the well-trodden path of techno to new heights, but on the evidence presented so far it's all coming rather naturally to this young artist.
Oli Warwick
Tracklisting:
1. Depicta
2. Acephale II