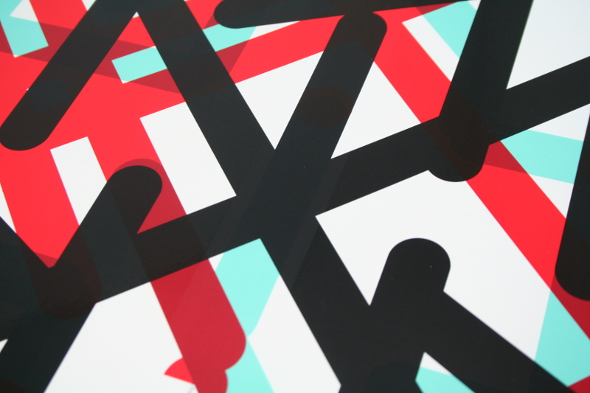 Records on Perc Trax, Diagonal, Beats In Space, Antinote and more stood out last month.
There has been plenty of column inches on this site dedicated to highlighting the excellent work of Check Morris in helping to establish the visual identity of Parisian label Antinote, and their latest work together demonstrated that the talents of the design agency's co-founder Nico Motte extend to the music realm. The languid Carpenter-esque soundscapes of Motte's Rheologia only add another musical string to the ever-adventurous Antinote bow and the accompanying design from Check Morris is perhaps their most eye-catching thus far.
Jonny Costello of Adult Art Club is another name that regularly pops up in this column whose work is intrinsically linked to the output of a label, and his efforts for Perc's new album The Power & The Glory had to be included in this month's edition. The visual motifs of recent Perc Trax releases which sat somewhere between Cronenberg and Nine Inch Nails were put to one side by Costello in favour of an immediately striking illustration, the type of which will remain in your memory for years to come. The same could be said of the photograph that adorned Strut's Dance Mania retrospective, capturing the energy and the rawness of the musical subject with uncanny precision. Once again, Strut's decision to hand over art direction duties to Matt Thame's Studio Auto paid dividends.
Continuing the theme of label's utilising the visual skills of a sole designer to establish a strong identity, Guy Featherstone's latest work for Diagonal Records resulted in the sort of record sleeve that ruined the battery on our Canon camera, such was the amount of pictures taken. Evidently given creative freedom from the start, each and every Diagonal release has been truly blessed by Featherstone's work and his efforts on Russell Haswell's label debut are undoubtedly the best yet. Photographs alone don't do the spot-UV varnished sleeve with black and white inner sleeve justice, you really need to hold this one in your hands.
Tim Sweeney's Beats In Space label has become a open canvas for some of the most visually creative minds out there to excel, with the likes of Steven Harrington, Christopher Forgues, Hisham Akira Bharoocha and Kensei Yabuno all excelling when commissioned for work on the label. The imprint's latest release, courtesy of Hidden Fees, came replete with perhaps the most high-profile, and most stunning visual input thus far, in the shape of some tropically themed hi-res digital art from Gang Gang Dance's Brian DeGraw.
Just before Kassem Mosse fever gripped the globe, his Workshop pal Even Tuell surfaced on Latency with the typically refined three-track Longing Way EP which maintained the Parisian label's fine standards of quality in all departments. Maximum applause should go to Paul-David Rollmann and Pablo Hnatow for their artistic input and you should peep this photoset for further visual sweetness regarding Tuell's record. Kontra-Musik also deserve recognition for doing their utmost to highlight the worrying issues Rivet was trying to convey on his Bear Bile EP with the label's regular artworker Daniel Zachrisson assisted by Lise-Lott Alsenius of WSPA Sverige. A final mention to L.I.E.S. and Low Jack for the Garifuna Variations album which was as impressive to behold as last year's KWC 92 LP – sometimes you need to feel it to see it.
Tony Poland