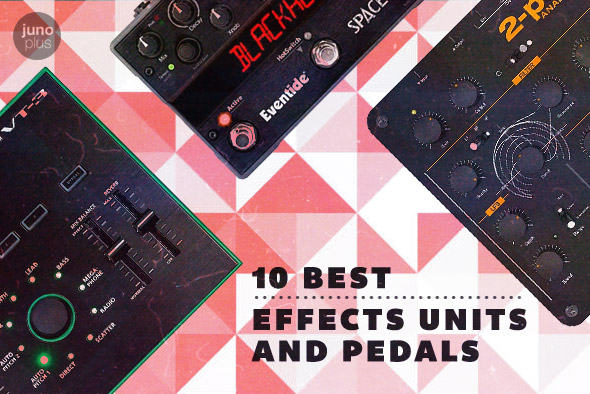 We canvass our range of effects units and expression pedals ideal for home studio production or live set ups.
It's easy to forget sometimes that, over your standalone synthesiser or drum machine, the best sounds to be made in electronic music come from kit like filters, distortion pedals, reverb units and delay boxes. To help give your music the personal expression it might be needing, the Juno Plus team have outlined 10 of the best effects units and pedals for you studio or live set up. Below you'll find equipment by trusted manufacturers like Korg and Roland to boutique companies Vermona and Rainger, as well as further explanation on why things like analogue gates and delay to filters and octave detuners may be just what you need to add extra dimension to your music production.
Korg – Mini Kaoss Pad 2S Dynamic Effect Processor
Fun, easy to use and extremely portable, the 2S from Korg is a blast of spontaneity when used on the go or thrown into a live set up. Although developed as a revamp of Korg's effects unit Kaossilator 2, the newly added sampling capabilities and the versatile sound-banks turn it into more of all-in-one gadget for quick sketching-out of musical ideas. The Korg Mini Kaoss Pad 2S fits in the palm of a hand and certainly weights way less than your average effects unit, making it a must for action outside of the studio. The sporty looks resemble those of a jogging gadget more than that of a sound device but it adds to the feeling that this is more of diary for musical ideas and a complement to live performance rather than a tool for lengthy sonic exploration.
The layout consists of little more than a touch pad, a horizontal intensity sensor, a few menu selectors, play button and tap – keeping things as simple as possible. Pick a drum loop (or load one in from a memory card), sketch a synth-line on the touch pad, hum a few rhythms or harmonies into the in-built microphone and you'll have something to build upon – and load into a DAW later on. The arpeggiator function is available right from the front panel, which brings forward a quick, easy way to add melodic variation to recorded synth loops.
Parameters for effects and the arpeggiator – delay time signatures, swing or arpeggiator patterns such as up or down – can only be accessed through menus, but the ability to pack it with prepared loops, plus the existence of auto BPM synch capabilities will be an absolute must for singers or musicians that wish for an easy way to have full control of their backing track during performance – as well as a few extra sound manipulation tricks up their sleeves.
More info/buy
Koma Elektronik – BD101 analog Gate/Delay
If you are looking for a bit of analogue edge to truly mash up your productions then you can't go far wrong with the BD101. It's not your typical analogue delay pedal as it features a truly hands-on gate function that gives you the chance to add some seriously gritty, stutter type effects to your sound. Couple it with the delay to move between subtle tape chorus to full on spacey dub sounds with a side order of extreme pitch manipulation at the same time.
The BD101 gives you an added level of control by including an infra-red expression controller that overrides the front panel so you can make use of your hands (or feet for that matter) to control the sound in a live setting. There is a patch bay on the front panel to help you get the most from all of your gear. Use an external source to sync the gate rhythm to capture those low-fi glitch sounds that you might find on the music of Mokira or Alva Noto. Alternatively, play it live into your DAW to create some seriously twisted breakdowns and build ups.
More info/buy
Waldorf – 2 Pole Analogue Filter
Firmly stepping into relevance with the Blofelfd synthesizer in 2007, Waldorf Music has since created a name for itself through wavetable synths and great-sounding filters. Conceived with a purely analogue signal path and featuring bleeding distortion capabilities, the new 2-Pole is a sure fire option for producers seeking that crunched-up and saturated sound like Florian Kupfer and Greg Beato – to name only two of its most notable executioners. Using a similar frame as Waldorf's Rocket synth, the design of the 2-Pole is one of simplicity and full accessibility right from the front panel – no digital menus or layered functions.
The one knob/one function approach lends itself to intuitive results and a playful exploration of the various parameters – which obviously include the customary cut-off and (a brutally sweeping) resonance button, but also the already mentioned pre-and post-filter distortions, and modulation controlled via envelope settings and LFO.
The Waldorf 2-Pole isn't just a great tool to add character and creative changes to any source material, it's also cleverly laid-out and built into a solid, portable-sized box. Finally, its modest looks and fairly affordable price-range turn this into a complete must both for studio or travelling live-act set ups blasting out that warmer or even overdriven sound that's become so widespread throughout the rawer quadrants of house and techno in recent years.
More info/buy
Eventide bring some of their best known reverb and delay effects into a single unit that is both compatible for stage use and a studio situation. If you need to give your recordings some extra dimension, then using a high-end reverb and delay processor such as "Space", will certainly give your music the required shimmer. A lot of the patches on this unit have been designed for artists like Beck and Sonic Youth in mind, and the 12-reverb algorithms are blendable with delays for dreamy and haunting tones, pitch shifting for mind-bending psychedelia, classic guitar tremolo as well as experimental modulation for creating totally original sound spaces.
For practicality there is a large digital display as well as a flashing light indicating tempo. Incorporating the "Space" unit into a studio set up is made easily through easy syncing possibilities which include an external MIDI clock source, while for live situations there is a tap tempo functionality. This is the first time that Eventide's top end reverb combinations have been available in an affordable stomp box.
More info/buy
From the beautifully metallic hi-hat sound on Crash Course In Science's "Flying Turns" to the inverted synth on Dave Clarke's rave hymn "Red 1" – or even the iconic washes of harmonised tape hiss in the dub techno perfected Basic Channel – resonators were essential in shaping the subtler layers of some of the finest modern music of the last few decades. As a loosely defined family of gear – including Eventide Harmonizer stompboxes, tape echos and feedback processors – these machines are based on the same idea of layering a source signal onto itself for it to then be independently processed (filtered and pitched up/down, for example) and results will vary greatly.
While a lot of the classic units focus on harmonious layering, the new Jomox T Resonator MkII is all about noise and feedback shaping. Consisting of two identical signal paths with low pass filter and digital effects, feeding up to three feedback chains and envelope capabilities controlling filter cut-off and other digital parameters. This box is just the spaghetti of signal processing you need to venture into seriously psychedelic, speaker-busting and unpredictable noise creation. Whether you're trying to get those classic On-U Sound-era tape bursts of sound and industrial-type metallic drums or just creating dramatic layers of feedback for dystopian techno stompers, this beast can get you there and then some.
More info/buy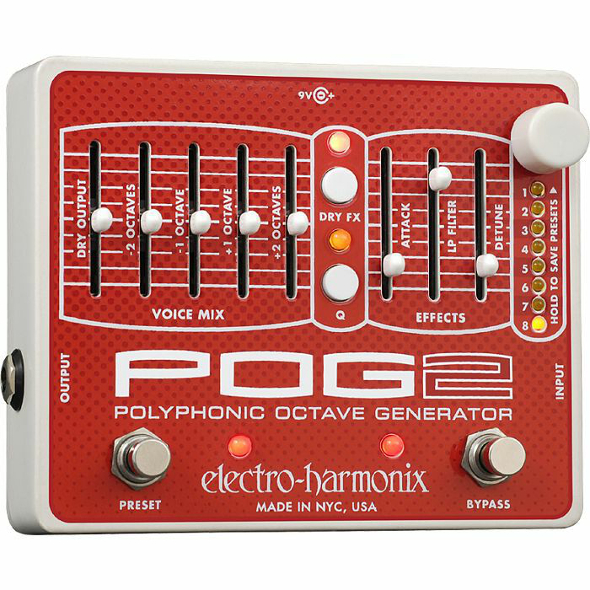 Electro-Harmonix – POG2 Octave Pedal
So much more than a simple octave pedal, the POG2 from Electro-Harmonix not only adds one octave below and one octave above the note you play on your instrument, but it will also do a second octave below and a second octave above too. There is a low pass filter which provides extra opportunity to further sculpt the sounds of those effect lower octaves and the POG2 can do things like add 12 string guitar and organ effects to haunting slow attack chords and melodies, or simply just add a level of fatness to the tone of sound you're manipulating.
If you are daunted by the prospect of having to deal with all of the sliders and buttons present on the POG2 then you will pleased to hear that there are also a bank of presets that can be accessed from a single control that you could also operate using a toe. Full and fat octave tones with the added benefit of a low pass filter are a heady combination here, so if you are looking to expand the colour of your sound then this box is well worth a look.
More info/buy
Vermona have really come correct with this three band filter that gives you the opportunity to breath new life into your standard sound sources like guitars, keyboards, bass guitar and even drums and percussion. It's got three settings that include band pass, low pass and hi pass filters and you can configure them to create typical T-Wah guitar or Mutron bass style effects using the envelope follow mode. Think Bootsy Collins with added dirt and when you throw into the mix an LFO and an envelope generator, you are faced with a powerful filtering tool that has hidden depths. You won't get bored with this FX unit.
The LFO allows you to choose between six shapes for modulating your filter that include sine, triangle and square waves and classic sample and hold shapes. Long unwinding low pass filters found on spacey disco records by French disco outfit Space are easily achievable. With the old school knobs and switches, controlling the Filter Lancet is wholly tactile, and with no menus to dive through it certainly will appeal to the analogue minded creators.
More info/buy
Rainger – FX DrFF3 Dr Freakenstein Fuzz Distortion Pedal
With so much of today's vital electronic music revolving around distortion and sound-crushing, looking into simple, powerful and bleed-effective overdrive pedals is a big deal. Built as a full-on fuzz distortion pedal, using the same circuitry as the original Dr. Frankenstein Fuzz pedal, the new DRFF3 by London's own Rainger FX brand is not trying to reinvent the wheel but rather boiling it down to create a sound that's sounds like nothing but raw, untamed electricity.
This said, there are a few interesting points in addition to its awesome sound worth mentioning, such as the LFO-controlled 'OSC' button (a cross between a wah wah and a phaser, as described by the company) and the fact that the DRFF3 is able to lower the units amplitude to absolute silence between notes – something unusual for a fuzz pedal. Hook it up to a synth, drum-machine or any other sound source and observe how it'll bring everything down to a powerfully electric and addictive sonic pulp.
More info/buy
Roland Aira VT3 Voice Transformer
Roland's unstoppable Aira series continues to dig up and re-design the spotless legacy of the Japanese company for current times, while also bringing forth a few surprises beyond expanded emulators of classic synths and drum-machines. The new VT3 Voice Transformer is precisely one of those very welcome innovations in Aira's catalogue. It condenses a whole range of possibilities for drastic vocal processing into a small, portable unit – all in real time. The ground breaking aspect of the VT3 is the fact that real-time voice processing can be brought to the performance, going far beyond simple robotization and space effects like reverb.
This full-blown vocal-processing workstation will appeal to anyone wanting to transform vocals into something else entirely; from full-disembodiment to voice-synthesis and other uncharted, unpredictable paths to vocal composition or improvisation. While the VT3 is ideally meant to play around with your voice it can also double as an octave pedal, just plug in your synth or drum machine and give this box something else to chew on.
More info/buy
Analogue multi effects are the name of the game when it comes to the Retroverb. But not in the way that most of us will be used to. In fact most multi effects units offer a dizzying battery of flangers, chorus, phaser, delay, reverb and distortion, usually followed by a hefty manual that involves trawling through pages and pages of menus before reaching your desired sound. The Retroverb Lancet promises a much more tactile experience with just a handful of effects, spring reverb, overdrive functions and a filter.
The filter has three sources for modulation that include envelope follow, for those wah sounds, an envelope generator for teasing those slow creeping sweeps, and an LFO for those undulating swoops that are always great for adding colour to arpeggiated synths. The spring reverb sounds exactly like the kind of reverb that can be found in any classic guitar amp, even down to the crash reverbs you can get if you tap your old amplifier. Furthermore you can add reverb to your filters or filter your reverbs, so if you like the sound of something with real character then this unit will deliver the goods, be it dub reggae, acoustic driven folk music, or even synthesizer heavy dance tracks.
More info/buy