World leaders in dance music production equipment and technology have teamed up with Juno Download to give budding producers the chance to remix Drum & Bass anthem "Move Down" by rising star of the Bass music scene and Yamaha artist scene Erb N Dub; (featuring Darrison on vocals, Harry Shotta on the middle bars. Produced with Tony Anthem & Axl Ender over in Oslo).
The winner will receive some serious goodies including a pair of Yamaha HS7 Monitors. Entries can be in any style and will be personally judged by Erb N Dub as well as Yamaha top boy Steve HD.
Videos: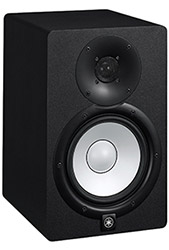 Introducing Yamaha HS7 Powered Studio Monitor:
This second generation of 'HS' nearfield reference monitors, like their predecessors, share the same design philosophy as the legendary NS-10M studio monitors - Providing accurate signal reproduction and superior sonic performance.
The Yamaha HS7 employ a new, highly efficient tweeter providing an extended high frequency range up to 30KHz. The matching HS8S 150W powered subwoofer provides an extend bass when a well defined bottom end is required.
A low resonance enclosure built using a three way mitre joint technique ensures that the corners of the speaker are firmly anchored leading to dramatically improved durability and the elimination of unwanted resonances that can colour the original sound. Yamaha's 'Vortex Sound Control' technology is deployed to decrease unwanted airflows around the speaker ports. This in turn reduces audible noise by up to 6dB.
Prizes:
A pair of Yamaha HS7's (worth £305)
£200 of Juno Download voucher
Simply follow these 3 steps to enter:
Download the parts
Create your remix
Upload your track to the SoundCloud dropbox