Juno has teamed up with Sunday Best and world renowned beatboxer and musician Beardyman to offer upcoming producers the opportunity to remix the track 'Vampire Skank', from the album 'I Done A Album'.
The remix stems are available to download for free from Juno and remix entrants can upload their track to the Beardyman remix competition DropBox for a chance to win: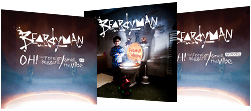 Click here to listen & buy the latest Beardyman releases on Juno Download.

Simply follow these 3 steps to enter:
Download the parts here for FREE
Create your remix
Upload your track to the SoundCloud dropbox >>
So what are you waiting for? Start downloading the remix parts now and let your creativity loose!