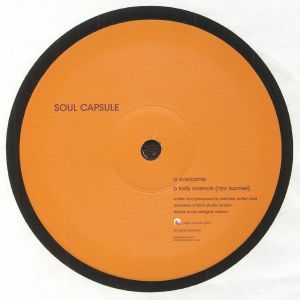 Receive new release alerts for...
SOUL CAPSULE
Trelik
Tracklist
Side 1
1.
"Overcome" (9:00)
Side 2
1.
"Lady Science" (NYC Sunrise) (9:22)
Review
REPRESS ALERT!: Trelik returns with a repackaged edition of one of the catalogue's most treasured releases. "Overcome" and "Lady Science (NYC Sunrise)" need little introduction, and now come sporting the new TR11:11 matrix number. Written and produced by Thomas Melchior and Baby Ford aka Soul Capsule, these tracks came from one of the many sessions recorded at the West London Ifach Studio in 1999. On the A Side "Overcome" is stripped back and energetic, driven by rolling and shuffling garage style beats, tight bubbling bass and atmospheric synth pads. The intermittent vocal samples and the release's signature organ set you up for the flip, "Lady Science (NYC Sunrise)". Possibly one of house music's most emotive pieces, the track builds slowly with the introduction of each part building a story of soulful optimism based around a sparse palette of deep synths, uplifting keys and warm analogue bass. The understated beauty of the main vocal riff never seems to grow old or tired with the track lending itself perfectly to either main room, peak-time play or after-hours sessions alike. Remastered by Rashad at D & M.
Played by
Ian Blevins, Reece Johnson, BLM, Burnski, Miles Simpson, Robot 84, Catz 'n Dogz (Pets Recordings), Ikpathua, TrueSelf, Costelloe, FOLD, Corbi, Eamon Harkin, Mister Saturday Night, Piers Harrison, The7notes, Ezio Spoldi, RedSoul, Goshawk/Rhythm Plate, Billy Johnston, Thatmanmonkz (Shadeleaf Music), St. Bernard, Kayne Cross, Mark Graham (Contrast-Wax), James Ornate, Brothers' Vibe, DJ Bone, Satore (Hizou Deep Rooted Music), Marcelo Tavares(Deep Space Podcast), Autoreply Music, Juno Recommends Minimal Tech, Carl (Thug Records), Jorge Caiado / Conversion, Nicholas, KevinTsuba, Chamboche, Astral T (Astral Love Affair), OLDERIC, Michael McLardy, NICOLA CONTE, ManooZ, Cleymoore (Pluie/Noir), Jamie Trench, Cem G, OCH, TIJN, Melbourne Deepcast, Timmy P, Don Crisp, Fulbert, Samann (Traxx Underground), Askell (BORG LTD), Juno Best Sellers 2016, ACID MONDAYS, Spittal (Craigie Knowes), DUB STRIKER, Liam Geddes, Swink Music Records, Mike Sharon, Contrast-Wax, Nicola Brusegan, REbEL, Russ Gabriel, Huerta, Ocu, AWOL, Rhythm&Soul, Fauvrelle, Mak & Pasteman, SY, Homework, The Organ Grinder, Aphrohead, Honey Soundsystem, Laidlaw
Delivery
Returns & refunds
If you decide an product is not suitable within 14 days of delivery, you can return it to us for a replacement or refund. Returns must be unused and in their original, undamaged packaging.
Some items are excluded from our money back guarantee:
- Computer software that has been unsealed or registered
- Any item that comes directly into contact with the nose, ears or mouth
To arrange a return, just contact our customer service department on 020 7424 2800 or via our customer support form.