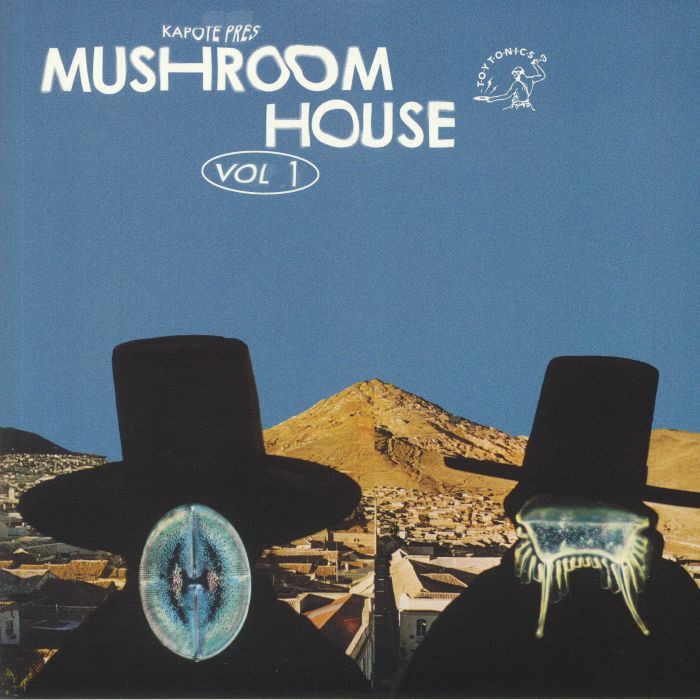 Receive new release alerts for...
Toy Tonics

Tracklist
Side 1
1.
Ponty Mython - "Slippin' Into Darkness" (5:39)
2.
Zhut & Kapote - "Afro Rico" (2020 version) (5:27)
3.
WhoMadeWho - "Keep Me In My Plane" (DJ Koze remix) (7:03)
Side 2
1.
Munk - "Nigerian Jam" (6:22)
2.
Jad & The - "Gervinho" (5:08)
3.
Hyenah - "Fire" (feat Kissey) (6:44)
Side 3
1.
The Deadstock 33s - "The Circular Path" (Asphodells remix) (5:06)
2.
Daniel Haaksman - "Akabongi" (feat Spoek Mathambo - Kapote remix - 2020 version) (5:11)
3.
Daniel Avery & The Deadstock 33s - "Eric Zann Revisited" (6:08)
4.
Baldelli - "Phobos" (2020 version) (2:32)
Side 4
1.
Munk & Rebolledo - "Surf Smurf" (6:02)
2.
Auntie Flo - "Kampala Boda Boda Ride" (feat Samuel Nalangirla) (4:53)
3.
Drrtyhaze - "Hey Mama" (6:02)
Review
German producer Kapote has previously been involved in a number of Toy Tonics compilations, so it's little surprise to find him at the controls on Mushroom House, a rather fine trawl through the more Afro-cosmic and Balearic-influenced ends of the label's vast back catalogue. There's much to set the pulse racing across the set's two slabs of wax, from the rubbery, dubbed-out Afro-house bounce of Ponty Mython's 'Slippin' Into Darkness' and the dusty Afro-disco haziness of Munk's 'Nigerian Jam', to the intergalactic electro trip of the Asphodells' killer remix of 'The Circular Path' by the Deadstock 33s, and the deep space Italo-disco chug of Baldelli's sparkling 'Phobos (2020 Version)'.
Delivery
Returns & refunds
If you decide an product is not suitable within 14 days of delivery, you can return it to us for a replacement or refund. Returns must be unused and in their original, undamaged packaging.
Some items are excluded from our money back guarantee:
- Computer software that has been unsealed or registered
- Any item that comes directly into contact with the nose, ears or mouth
To arrange a return, just contact our customer service department on 020 7424 2800 or via our customer support form.

100% Secure Shopping
BEST MUSIC STORE:
5 TIME WINNERS