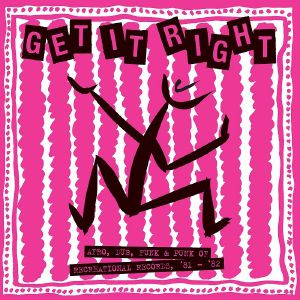 Receive new release alerts for...
Emotional Rescue

Tracklist
Side 1
1.
Scream + Dance - "In Rhythm" (12" mix)
2.
Talisman - "Wicked Dem" (12" mix)
Side 2
1.
Animal Magic - "Get It Right"
2.
X-Certs - "Untogether"
3.
Electric Guitairs - "Don't Wake The Baby"
Side 3
1.
Talisman - "Run Come Girl" (12" mix)
2.
Scream + Dance - "Giacometti" (Wicked mix)
Side 4
1.
Ivory Coasters - "Mungaka Makossa"
2.
Animal Magic - "Trash The Blad"
3.
Scream + Dance - "In Pink & Black"
Review
The Emotional Rescue label has done a superb job of shining a light on the British post punk scene over the last decade or so. It now does so once more in fantastic fashion with a compilation of tunes from Bristol's short lived but much loved Recreational Records. The 10 tunes have been remastered and recut and they all sound as good now as ever. Highlights include X-Certs - 'Untogether' and Electric Guitar's 'Don't Wake The Baby' which sum up the collection perfect with their jangling dub rhythms, heavily treated vocals and oodles of delay all twisting your melon. This releases was included in Bandcamp's Essential Releases 2022.
Delivery
Returns & refunds
If you decide an product is not suitable within 14 days of delivery, you can return it to us for a replacement or refund. Returns must be unused and in their original, undamaged packaging.
Some items are excluded from our money back guarantee:
- Computer software that has been unsealed or registered
- Any item that comes directly into contact with the nose, ears or mouth
To arrange a return, just contact our customer service department on 020 7424 2800 or via our customer support form.

100% Secure Shopping
BEST MUSIC STORE:
5 TIME WINNERS