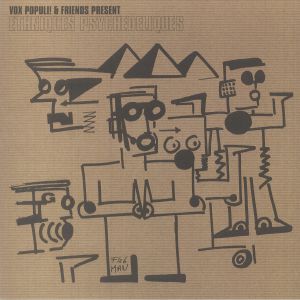 Receive new release alerts for...
Platform 23

Tracklist
Side 1
1.
Donald Campau - "Welcome To The Needle" (1:05)
2.
Laurent Pernice - "Plan De Coupe" (4:23)
3.
Brian Ladd - "Brian Song" (4:41)
4.
Pacific 231 - "Eve Very Nice" (2:47)
5.
Jacki Moreau - "Knossos" (4:51)
6.
Sound Color - "Wandering Soul" (3:14)
Side 2
1.
Vox Populi! - "Micro Climax" (9:56)
2.
Mistery Plane - "Disturbing" (4:55)
3.
Sound Color - "The Unconquered Sun" (3:59)
4.
Jacki Moreau - "Paris-Pop" (2:55)
5.
Dreaming With Vox Populi! - "Infusion" (3:23)
6.
Jean Cocteau - "Les Enfants Terribles" (0:47)
Review
Platform 23 reunites once more with Vox Man Records to dig deep into their archives and shine a new light on. In the past they have done some mega well loved Alternative Funk compilations which got the label off to a fine start and now they dig into an array of cult cassette releases to bring us treasure from Audiologie N-4 - The Independant Psychedelic Trip and Audiologie 5 et 6 - Ethniques Urbaines. This is music from the avant-garde and post punk scenes that draws on wave, spoken word, dark dub and industrial for its eerie yet alluring charms, all with a real edge. Ethnic, idiosyncratic and psyched out, this is another great overview.
Delivery
Returns & refunds
If you decide an product is not suitable within 14 days of delivery, you can return it to us for a replacement or refund. Returns must be unused and in their original, undamaged packaging.
Some items are excluded from our money back guarantee:
- Computer software that has been unsealed or registered
- Any item that comes directly into contact with the nose, ears or mouth
To arrange a return, just contact our customer service department on 020 7424 2800 or via our customer support form.
100% Secure Shopping
BEST MUSIC STORE:
5 TIME WINNERS