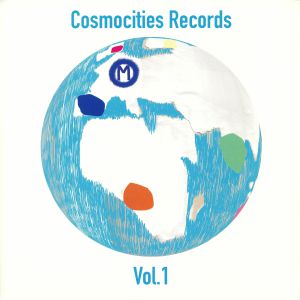 Receive new release alerts for...
Cosmocities France

Tracklist
Side 1
1.
Pepe - "Church Music" (part 1 - To Susumu Yokota) (7:34)
2.
Leif - "Anachronistic" (feat Duckett) (6:33)
Side 2
1.
2814 - "Pillar" (9:33)
2.
Segue - "Parchment" (4:55)
Side 3
1.
Eleventeen Eston - "Panulirus Cygnus" (3:31)
2.
Sasso - "Black Soldier" (Film Score Flavour) (6:37)
3.
DJ Maboku - "Instrumental Pe" (3:24)
Side 4
1.
Jitwam - "Heavensent" (1:51)
2.
Unnayanaa - "Chimmy's Theme" (8:44)
Side 5
1.
Jaime Read - "No Relief" (7:31)
2.
Cherushii - "Far Away So Close" (6:32)
Side 6
1.
Inner Science - "End Of The Beginning" (8:51)
2.
Juho Kahilainen - "Track 13" (6:07)
Review
Welcome to the world Cosmocities Records, a new French label whose first release is an incredible, triple-vinyl collection of what it calls "rare and beautiful instrumental tracks". It's a rather eclectic set, all told, but thanks to immaculate track selection and programming it hangs together exceptionally well. Flick through the clips and you'll find some next-level ambient bliss (Pepe), a crazy, flute-laden percussion workout (DJ Maboku), sunrise-ready dub techno (Segue), melodious ambient techno (Leif), Balearic space jazz (Jitwam), warm analogue deep house (Jaime Read) and a clutch of cuts that blur the boundaries between jazz-funk and broken beat. In other words, it's a stylistically diverse collection of brilliant electronic music that you'll want to listen to again and again.
Delivery
Returns & refunds
If you decide an product is not suitable within 14 days of delivery, you can return it to us for a replacement or refund. Returns must be unused and in their original, undamaged packaging.
Some items are excluded from our money back guarantee:
- Computer software that has been unsealed or registered
- Any item that comes directly into contact with the nose, ears or mouth
To arrange a return, just contact our customer service department on 020 7424 2800 or via our customer support form.

100% Secure Shopping
BEST MUSIC STORE:
5 TIME WINNERS