Tracklist
Side 1
1.
"Forever In Boccaccio"
2.
"In Love With A Girl That Doesn't Exist"
Side 2
1.
"Jambers At Carat Afterclub"
2.
"The Return Of Van Rossem"
Review
Betonkust has been spotted lurking in the realm of seedy late night body music alongside artists such as Palmbomen II, landing his noirish wares on 1080p, Pinkman and most notably Dekmantel. Now he makes the logical leap to Crimes of The Future alongside equally accomplished Belgian producer Innershades, previously spotted on Wicked Bass, Creme Organization, Hot Haus and many more besides. The sound on Forever In Boccaccio is totally fitting for Crimes of The Future, all muscular drum machines beats and analogue synth lines angled to send a shiver down your spine. Watch out for the unexpected rave hit of "Jambers At Carat Afterclub" which comes on strong with some fist-shaking peak time Euro techno motifs.
What do you think of this release?
Tell us what you think in the Facebook comments box below: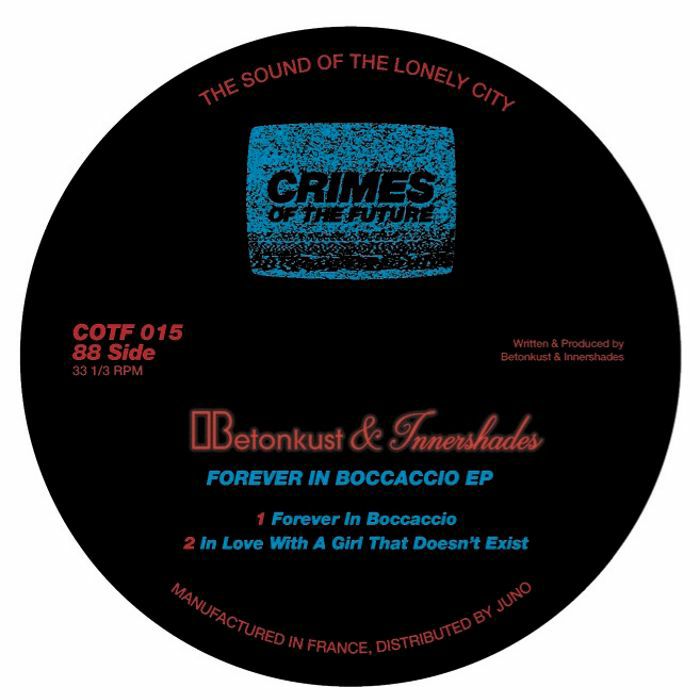 100% Secure Shopping
BEST MUSIC STORE:
5 TIME WINNERS