Items 1 to 2 of 2 on page 1 of 1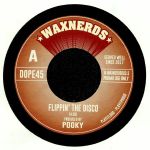 Cat: WAXNERDS 0035. Rel: 14 Feb 18
Disco/Nu-Disco
Flippin' The Disco (4:25)

Tux Redux (4:27)
Review: Waxnerds was started by Mark-One in 2014 as an Instagram chat group. Moving forward, the combined enthusiasm of Matt Love and Jamez Gant got the label up and running. For the label's seventh release, they have tapped Adam Speechly: a Liverpudlian DJ and producer based in Valencia for some disco deviance. On the A side we have the slo-mo swagger of "Flippin' The Disco" using an often sampled Salsoul classic, but pitched down well low to give it a new lease of groove - plus those familiar rap vocals layered over the top are a nice touch. On the flip, "Tux Redux" sees this bohemian b-boy get lo-slung with this blunted hip-hop joint.
…

Read more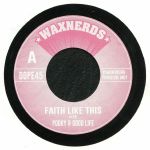 Cat: WAXNERDS 006. Rel: 07 Jun 18
Funk
Pooky & Good Life - "Faith Like This" (4:23)

Good Life - "Just Buggin' Out" (4:27)
Review: Waxnerds' latest sizzling seven-inch brings together label regular Pooky and the previously unheard Good Life. In typical Waxnerds fashion, A-side "Faith Like This" sees the duo play around with a classic Faith Evans vocal above a lolloping, sample-rich backing track of their own creation. As you'd expect, there's plenty of nods towards familiar funk and soul favourites, as well as a killer, head-nodding beat. Good Life goes solo on the flip, laying down a scorching slab of cut-up hip-hop funk of the type that's guaranteed to get the party rocking every time it is dropped.
…

Read more
Items 1 to 2 of 2 on page 1 of 1