Items 1 to 1 of 1 on page 1 of 1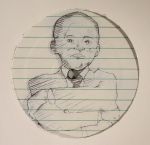 Cat: WAT 001. Rel: 28 May 15
Deep House
Thank U Jay (5:58)

Anything With A Moonroof (7:25)
Review: After seriously impressing with output for Sound Signature, NDATL, Wild Oats, and Apron, Jay Daniel resurfaces with his own dedicated label Watusi High. With a title like School Dance, its little surprise that Daniel seems to be playing on his relative lack of years - the centre label also features a sketch of him as a youngster. There's little you could say is immature about A-side "Thank You Jay", though; a typically sparse affair built around dusty but bumpin' grooves, leisurely electronics and a brilliant synth bassline. "Anything With A Moonroof" is arguably even dustier, with freshly baked chords - ludicrously deep, even by his high standards - riding a jazz-flecked drum machine groove.
…

Read more
Played by:
Alex Dallas
,
Nathaniel Jay (Love Notes)
,
Dirty Channels
,
STEREO 12"
,
Zenner
,
Carlos Nilmmns
,
Paul Thornton (Dig Deep / Reboot)
,
Steven Tang (Emphasis Recordings)
,
Marcel Vogel
,
Juno Recommends Deep House
,
Jorge Caiado (Balance / Groovement)
,
Scott Ferguson (Ferrispark Records)
,
Vorres (Vrrs)
,
K-HAND
,
Ney Faustini
,
Our Mutual Friend
,
Hélder Russo
,
Tommy Finger Jr.
,
Djs: Most Charted - Deep House
,
Bastien Carrara
,
Sasha Khizhnyakov
,
Rikki Humphrey
,
Lumitecc
,
Soul Of Hex
,
Anaxander
,
JELLY ROLL SOUL
,
Philou Louzolo
,
Ike Release
,
DJ SCM (Warm Tapes Adjustment)
…

Read more
Items 1 to 1 of 1 on page 1 of 1