Items 1 to 2 of 2 on page 1 of 1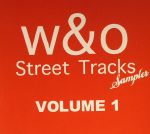 VARIOUS
Cat: WOSTC 001CD. Rel: 19 Jan 15
Deep House
Adrain & Sake - "Midnight Stagger"

Chamboche - "Swatch"

New Jack City - "Feeling You Girl"

Street Tracks - "Don't You (Get Away)"

Steve Huerta & Urulu - "Hypoxia"

Ejeca - "Bamp"

Sage Caswell - "Nothing Stays The Same"

Mediman - "Games"

XXXY - "TPW"

Eliphino - "Marcus Dupree"

Bodhi - "The Oakland Chinwag"

Citizen - "Jaded"
Review: Waze & Oddysey's W&O Streetracks imprint pulls together the likes of Eliphino, Ejeca, Citizen and XXXY for its first (unmixed) compilation released this Winter, W&O Streettracks Vol 1. Having clocked up eight releases on Street Tracks, it's the ideal time to throw down a milestone and document the sound of the label in one package and W&O Street Tracks does so with panache. The result of Waze & Oddyssey's plunge into their address book is a 12 track compilation that neatly reflects modern house music. Ejeca, Citizen and W&O themselves sit alongside newcomers like Mediman and Sage Caswell while the emergent talents of New Jack City and Eliphino make for a nicely profiled piece of work
…

Read more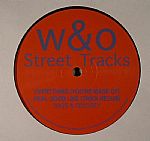 Cat: WO 007. Rel: 03 Mar 14
Deep House
Real Good Like

Real Good Like (remix)

Everything (You're Made Of)

Real Good Like (Trikk redub)
Review: Waze & Odyssey return to their label Street Tracks with a double A-Side Real Good Like / Everything (You're Made Of). The release comes with a remix of Real Good Like, and a Trikk re-dub. The EP has picked up early club support from the likes of Huxley, Jimpster, Severino, Skream, Duke Dumont, XXXY, Citizen, Adam Shelton, Maya Jane Coles & Kim Ann Foxman.
…

Read more
Items 1 to 2 of 2 on page 1 of 1