Items 1 to 2 of 2 on page 1 of 1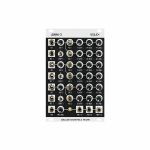 Cat: 640993 Rel: 13 Mar 17
All analog, real-time, complex wave-shaping 3-channel mixer module
Notes: The AWM-3 is an all analog, real-time, complex wave-shaping (triple wave-folder) 3-channel mixer module with added features of compression and multiple mix modes including matrix mixes. The combination of multiple access points (outputs of various mixes), wave-folding, and compression allow for an extremely wide array of signal processing, including complex chorus-like sounds.

All three channels are identical and can operate independently. They can also be cascaded (connected in series) to obtain double and triple wave-folding. The compressor at the front-end of each channel allows for not only unique wave-shaping, but the ability to send asymmetrical wave-shaped signals through multiple wave-fold stages while preserving a better managed signal process.

With individual outputs for each channel, a master mix (and master level control), as well as three matrix mix outputs as: "MIX 1+2" (1 OUT + 2 OUT), "MIX 2+3" (2 OUT + 3 OUT), "MIX 1+3" (1 OUT + 3 OUT), the AWM-3 is wave-shaper, signal processor, and multi-mode mixer.

Each channel has independent positive and negative control over wave-shaping, including CV inputs, CV attenuation, bias (wave-fold threshold), and level (wave-fold volume). Each channel also has a dry level control. Between the dry level, positive wave-fold level, and negative wave-fold level controls, many variations of wave-shaping are possible.

All CV inputs will accept LFO or audio-rate frequencies. The main signal path is DC-coupled. Each dry signal throughput can be amplified up to +6dB (2 times the input signal) and has a buffered output.

With the addition of a VCA inserted before the AWM-3 (i.e. VCO > VCA > AWM-3), dynamic wave-folding opens up a high degree of variation for automatic wave-shaping. Add the compressor stage, then new and complex sounds can be generated.
…

Read more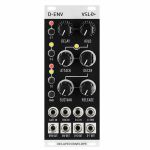 Cat: 676905 Rel: 16 May 18
Delayed envelope generator - 10HP
Notes: The D-ENV is a 10hp Eurorack Envelope Generator with the addition of Delay and Hold functions for gates. As a "utility-effect" of sorts, it allows for delayed dynamics, which can provide more spacial or dimensional sounds within many configurations, including drum beat delays, or part of an echoic soundscape. Exponential envelope generator (ADSR/AR) with independent delayed gate/trigger processing (up to 1 second), and delay-hold (up to 1 second).

- 3 Env timing ranges (Short timing fixed range. Long timing can be extended for Extended-Long timing.)
- CV to Delay time
- Delay + Hold for Gate/Trigger Delays

Delayed Gate/Trigger can be routed internally at the push of a switch, and is "OR'd" with any income gates or triggers entering the envelope generator's gate and trigger input jacks.

Delayed gates only accept new gate signals once the entire Delay and Hold cycles are complete. Delay cycle starts once a signal at the D-G IN jack is received (rising edge -or- positive-going). Both the Delay and Hold cycles are minimum 12 ms, and maximum 1050 ms, each, and are sequenced from Delay to Hold.
…

Read more
Items 1 to 2 of 2 on page 1 of 1