Items 1 to 2 of 2 on page 1 of 1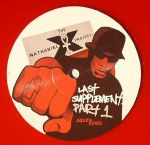 Cat: UT 018 . Rel: 06 Jul 15
Deep House
Bring It On (5:46)

Get Up Again (5:50)

Lone & Not Alone (5:31)

It's The Bridge (7:09)
Review: Soulful, vocal US house from The Nathaniel X Project on offer from Undertones. Male spoken word and female diva vocals work in unison over a broken beat on "Bring it on". An old school hip house rhythm works well on the old school flavoured "Get Up Again" too. On the B side we have "Lone & Not Alone" channeling the spirit of old Larry Heard with that trademark bassline reminiscent of "Can U Feel it just not as sombre. Finally "It's the Bridge" exclaims loudly as Nathaniel X himself lays it all down in a straight up monologue backed by another intense classic house vibe.
…

Read more
Cat: UT 019. Rel: 03 Aug 15
Deep House
Dr Vil'Kenstein & Monksta' X Bonus (5:55)

Thee Illusionatti (6:28)

All In A Day's Work (6:30)

The Party's On The Way (5:58)
Review: True and proper underground deep house here for the real heads. Nathaniel X is back, making another EP full of soulful house anthems for the underground. ''Dr Vil'Kenstein & Monksta' X Bonus'' with its sampled symphonic arrangements over a tough beat are somewhat reminiscent of Andres ''New for U'', while ''Thee Illusionatti'' channels the spirit of Mr Fingers. On the flip is '' All In A Day's Work'' with its warm rolling bassline and more orchestral samples utilised well over the top. Lastly there is the most reassuring track title ever ''The Party's On The Way'' with its uplifting piano lead accompanied by powerful male vocals, reminiscent of the legendary Daryl Pandy.
…

Read more
Items 1 to 2 of 2 on page 1 of 1