Items 1 to 3 of 3 on page 1 of 1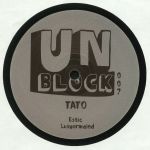 Tato - "Estic"

Tato - "Lusyourmaind"

Tijn - "Stranger Things"

Tijn - "Piano Tool"
Review: The Unblock label hits its seventh release with a split EP featuring rising talents Tato and Tijn. The sound on the 12" fits right in with the previous transmissions from Tuccillo, Tomoki Tamura and more besides, taking a quirky approach to stripped down house and techno dynamics to create intriguing party fodder for inquisitive dancers. Tato's "Estic" does a wondrous job of twisting up tribal percussion with a snaking minimal groove, while "Lusyourmaind" brings a cheeky housey shuffle to the proceedings while keeping things a little mysterious in the same breath. Tijn's "Stranger Things" is a light and airy minimal house jam that contrasts neatly with the hook running through the centre of "Piano Tool".
…

Read more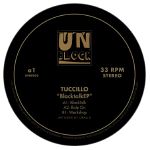 Cat: UNB 005. Rel: 12 Sep 16
Minimal/Tech House
Black Talk

Ride On

Workshop
Review: Unblock label boss Tuccillo strikes again with another solid release with the EP Black Talk. This is the 5th release on this respected vinyl only imprint that has previously showcased talent such as Tomoki Tamura and Djebali but this time, comes from Tuccillo himself with his unmistakable signature sound.
Headlining track "Black Talk" has a great rolling baseline with plenty of swing with some subtle vocal snippets thrown in here and there.
"Ride on" has a tougher edge with some old school flavours driven by a rhythmic snare with lots of energy perfect for the height of club DJ set
Shopwork offers a more percussive sound over an infectious warm chunky groove, again with some cool short reggae influenced vocal snippets.
A timeless release that can stay in the box.
…

Read more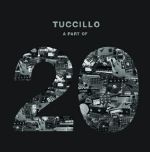 Cat: UNB 006. Rel: 03 Jul 17
Deep House
Renacer

Need You

Tonight (feat C.H Brown)

Raw Orquestra

Expression

Feeling Hot (feat Howard)

7300 Days

Again (feat Paola Rowid)
Review: It's certainly not easy keeping up with Tuccillo. The relentlessly productive producer has been constantly firing off dancefloor bombs on labels as respected as Visionquest, One, Holic Trax and 8bit for years, but never before has he turned his hand to an album. Finally, he's decided to do the right thing and give us a deeper insight into his sound, and he's doing it on his own Unblock label. Fans will get everything they crave on A Part Of 20, as Tuccillo indulges his dancefloor sound and keeps the quality level as high as ever. There are some choice guest turns from vocalists on "Tonight", "Feeling Hot" and "Again", but throughout the album Tuccillo's commitment to the stripped down, emotive house groove remains constant.
…

Read more
Items 1 to 3 of 3 on page 1 of 1