Items 1 to 2 of 2 on page 1 of 1
Cat: TRLTD 004.
Deep House
Don't Lie (No Lies mix)

Don't Lie (Paul Johnsons dancefloor dub)

Don't Lie (Alessio Collina remix)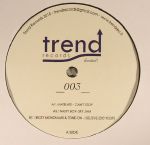 Cat: TRLTD 003. Rel: 29 Dec 16
Deep House
Hatelate - "Can't Stop" (7:32)

Nasty Boy - "Sky Jam" (5:43)

Ricky Montanari & Tone-On - "I Believe (Do You?)" (8:45)
Review: The latest volume in Trend Records 'Ltd' series boasts a trio of fine cuts, each of which aims for a different kind of dancefloor. So, while Ondule Recordings regular HateLate explores loopy disco-house pastures on cheery opener "Can't Stop", the track which follows, Nasty Boy's "Sky Jam", looks to early Larry Heard and classic Italian dream-house for inspiration. Speaking of vintage Italo-house, scene stalwart Ricky Montanari - arguably best known for his role in Keys & Tronics Ensemble and Omniverse back at the turn of the '90s - joins forces with younger producer Tone-On for flipside cut "I Believe (Do You)". Loose, low-slung, groovy and blessed with some sublime old school vocal samples, it's a delicious blast from the past.
…

Read more
Items 1 to 2 of 2 on page 1 of 1