Labels
Items 1 to 3 of 3 on page 1 of 1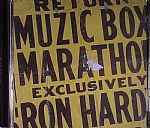 Cat: MBC 196. Rel: 04 Jun 12
Deep House
Acid

5 8 6

Beat Knuckles

Use You

Bird In A Guilded Cage

Liasons

Ride The Rhythm

Together

Pop Your Funk

Body Heat
Review: The legacy of the late, great Ron Hardy continues to be plundered/represented by the Muzic Box Classics series, which appropriately presents a selection of cuts made famous by the man himself at his Chicago venue. Whether or not the versions contained here are Hardy re-edits isn't clear. Either way, there's plenty of quality material to enjoy. Opening with a typically forthright 303 tweaker, the album moves from vintage new order to hands-raised house classics ("Ride The Rhythm", "Bird In A Guilded Cage") via European new wave curiosities ("Liasons"), E'd-up disco ("Together") and classic James Brown ("Body Heat").
…

Read more
$19.15
SAVE 33%
in stock
$12.83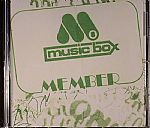 Cat: MBC 199. Rel: 13 Aug 12
Deep House
Welcome To Our World

Law Of The Land

Whole Lotta Love

Baby Wants To Ride

Relax

Dap Me

Blown Away

Undercover Of The Night

Walk The Night

Movin

I Need You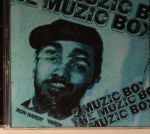 Cat: MBC 209. Rel: 16 Feb 15
Disco/Nu-Disco
World Love

Boogie People

Can You Feel It

Lucky Love

My Life

Chapter 3

Can You Feel It

Damaged Goods

Frozen Faces

6 Days Gone

Jezebel
Review: Given the longevity of Ron Hardy's residency at Chicago's Muzic Box, not to mention his legendary status as trailblazing DJ with an unquenchable lust for life, there's no shortage of material to fill the Muzic Box Classics series. Like its predecessors, this ninth instalment in the series is full to bursting with quality material, from the funk-rock genius of the Rolling Stones's "Lucky Love" and bass-heavy dub brilliance of Joe Gibbs's "Chapter 3", to the post-punk strut of Gang of Four's "Damaged Goods" and sax-laden madness of Propaganda's new wave oddity "Frozen Faces". There's also another chance to enjoy one of Brian Eno and David Byrne's greatest moments, a brilliant "The Jezebel Spirit".
…

Read more
Items 1 to 3 of 3 on page 1 of 1