Items 1 to 3 of 3 on page 1 of 1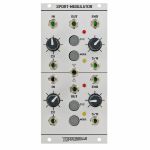 Cat: 581149 Rel: 05 Feb 18
Lag/portamento, sample/hold & staircase wave generator, or LFO module
Notes: The Sport Modulator could be one of the most confounding yet simple and useful Eurorack modules ever conceived, a veritable set of swiss-army knives in a compact package. The Sport Modulator draws deep on the "patch-programmable" design approach of the Serge modular system, particularly the "Smooth/Stepped Generator".

It can be difficult to describe what it "is" exactly because what that is depends on how it is used in your system, such as for generating modulations, sampling/processing itself or other modules, as an audio source, timing duties etc.

Technically speaking, it is a set of two voltage-controlled integrators with peripheral circuitry set up to make it behave as one thing or another, depending on how it is configured.

Practically speaking, however, each section can *independently* be used as, for example:

- A VC lag-processor that can be made to hold-state on command
- Wide-range VC LFO/ Clock
- Sample and hold
- Track and hold
- Comparator
- Gate delay
- Gateable oscillator

Finally, the unlabelled jack in the middle is a gate output that compares the top section's output with the bottom.

- 3U Eurorack module, 12HP deep, 36mm deep
…

Read more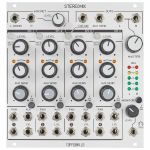 Cat: 623954 Rel: 05 Feb 18
Stereo mixer with 4 fully-featured input channels
Notes: Clean stereo mixer with four full-fledged channels, each with a pre/post selectable aux send, popless mute/solo as well as voltage control of panorama, level and aux send amount.

The module has a loud headphone output which emits either a monitor mix or a cue mix with a wide range of applications. The aux return is stereo and has level control; the panorama circuitry has a compensated "constant power" law.

- 4 fully-featured input channels, with voltage control over LEVEL, PAN position and AUX SEND level.
- Pop-Free Muting | Cueing | Soloing. (long press on the LED Mute Switch enables SOLO for selected channel).
- -3dB compensated "constant power" pan law.
- Stereo Aux Return with level control. ("L/Mono" return normalized to "R" return for Mono if "R" is unpatched). Extra gain available for outboard effects.
- "Cue Mix" output available for use as pre-listen, a second FX send channel, alternate mix, etc...
- AUX send can be switched to PRE or POST fader for each of the four channels. -10dB pad available for aux send via jumper.
- Loud and super clean stereo headphone driver allows monitoring of either "Main Mix" or "Cue Mix" which allows for previewing input sources before adding them to the Main Mix. This can also be used to link to line level TRS outboard recording/processing devices, stereo send, etc... Independent level control of both headphone and main mix.
- Master volume control and dual 5-segment VU metering.
- Efficient design. Relatively low power consumption and very low-noise/ low distortion audio path. Audio AC coupled through low-distortion "audio grade" film capacitors and a very low-noise opamp.

Revision 1.1 offers improved LED response and the pan law is closer to the ideal. Furthermore, the HP amp is even louder than before. The most noticeable thing, however, is a new channel expansion header on the circuit board.
…

Read more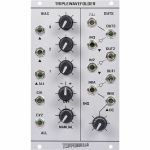 Cat: 581146 Rel: 05 Feb 18
Triple wave folder module containing 3 independent voltage controlled wave multipliers
Notes: The TWF module was designed with multi-use in mind. It is composed of three identical (with the exception of a couple features) direct-coupled waveshaping stages that can be used independently or in series. The operation is selected according to which inputs are used.

The facility for independent control over each folding stage provides multiple processing options for a variety of sources as well as more interesting explorations with timbre modulations/frequency synthesis.

Each stage can gently fold an input source inward on itself as it approaches a threshold set by the panel controls and CV. For example, a sawtooth or a triangle input from a VCO can be bent into a sinewave, and beyond that, doubled in frequency at constant amplitude. Use them in series and they will continue to fold.

Here are a few things that you can do with it, under voltage control:

Create complex timbres from audio sources. The possibilities are really limitless. You can control each series of harmonics via the BIAS panel controls. So the overall sweep through the folds when using the VC ALL/MANUAL controls is very flexible and since each stage of the folding process is VC'able, you can use different modulation sources simultaneously for wild animation/phasing/beating with a single tone source.

The normalized DC bias at input 1B can be used to control the symmetry of the folding process, via the control knob (when the input is not in use).

CV Processor for LFOs, envelope generators, sequencers or any control source. Create multiple interesting rhythmic modulation sources from an otherwise dull one. Useful in creating more complex, continuously variable shapes for modulation or timing.

Accurately multiply/square up an input signal. Shape your triangles and sawtooths into very pure sinewaves. Mangle your sinewaves or anything else into asymmetrical fuzz. Generate a cosine function relative to your VCO's triangle/sine output (useful for quad panning, stereo modulation). You can do a couple of these things at the same time with different sources.
…

Read more
Items 1 to 3 of 3 on page 1 of 1
Filter
Toppobrillo Music Electronics