Items 1 to 2 of 2 on page 1 of 1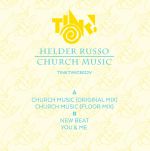 Cat: TINKTWICE 22V. Rel: 18 Sep 17
Deep House
Church Music (original mix)

Church Music (Floor mix)

New Beat

You & Me
Review: Having made a couple of initial appearances on Groovement a few years back, Helder Russo now re-emerges on Tomorrow Is Now Kid with some effervescent house grooves to impart. "Church Music" in its original form is a truly soul-stirring beast that plies more organ action than you can handle and an endlessly teasing groove to get people shocking out on the floor. Meanwhile the "Floor Mix" gives it to you straight, riding on top of a chunky Nu Groove flavour beat. "New Beat" is a crunchier affair that deals in experimental kinds of percussion and errant synth lines, and "You & Me" rounds the EP out with a floating, synth rich jam for more brooding moments.
…

Read more
$8.77
SAVE 25%
in stock
$6.58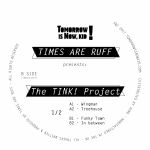 Cat: TINKTWICE 023V. Rel: 11 Jun 18
Deep House
Wingman

Treehouse

Funky Town

In Between

What About Samira

Seven

Behind The Curtain

Nero Verde
Review: Times Are Ruff is back on Tommorow Is Now, Kid! with a whole album's worth of that fiery, soul-stewing business for deep house heads who want a little spice in their sauce. On one hand "Wingman" is a brash, stomping cut shaped out by snappy drums, but on the other it's a smooth Rhodes laden affair soaring to the sky - the best of both worlds. "Treehouse" is a more flowing affair peppered with illustrious instrumentation, "Funky Town" gets locked into the New Jersey swing and "In Between" cools things down with a sweet instrumental. "What About Samira" gets right back to it with a rattling jazz funk excursion, "Seven" takes things in a tougher electronic direction, "Behind The Curtain" gets reflective in its lingering chords and then "Nero Verde" finishes the bumper pack of jams off on a pointed, modernist house tip.
…

Read more
Items 1 to 2 of 2 on page 1 of 1