Items 1 to 3 of 3 on page 1 of 1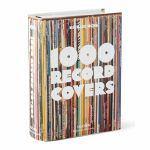 Cat: 661777 Rel: 01 Jan 90
Hardback book with 1000 of the best record covers from the 1960s to 1990s
Notes: Record covers are a sign of our life and times. Like the music on the discs, they address such issues as love, life, death, fashion, and rebellion. For music fans the covers are the expression of a period, of a particular time in their lives. Many are works of art and have become as famous as the music they stand for Andy Warhol's covers, for example, including the banana he designed for The Velvet Underground.

This edition of "Record Covers" presents a selection of the best rock album covers of the 60s to 90s from music archivist, disc jockey, journalist, and former record-publicity executive Michael Ochs' enormous private collection. Both a trip down memory lane and a study in the evolution of cover art, this is a sweeping look at an underappreciated art form.
…

Read more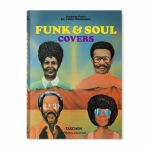 Cat: 661778 Rel: 01 Jan 90
Hardback book featuring over 500 legendary funk & soul record covers
Notes: Following the success of Jazz Covers, this epic volume of groove assembles over 500 legendary covers from a golden era in African-American music. Psychedelia meets Black Power, sexual liberation meets social conscience and street portraiture meets fantastical cartoon in this dazzling anthology of visualized funk and soul.

Gathering both classic and rare covers, the collection celebrates each artwork's ability to capture not only a buyer's interest, but an entire musical mood. Browse through and discover the brilliant, the bold, the outlandish and the sheer beautiful designs that fans rushed to get their hands on as the likes of Marvin Gaye, James Brown, Curtis Mayfield, Michael Jackson and Prince changed the world with their unique and unforgettable sounds.

Featuring interviews with key industry figures, Funk & Soul Covers also provides cultural context and design analysis for many of the chosen record covers.
…

Read more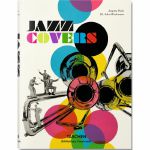 Cat: 661779 Rel: 01 Jan 90
Hardback book featuring illustrations & information on over 500 record covers from the history of jazz
Notes: Part design history, part trip down musical memory lane, this anthology of Jazz album artwork is a treasure trove of creative and cultural inspiration. Spanning half a century, it assembles the most daring and dynamic Jazz cover designs that helped make and shape not only a musical genre but also a way of experiencing life.

From the 1940s through to the 1990s, each chosen cover design is distinct in the way it complements the energy of the album's music with its own visual rhythms of frame, line, text, and form. To satisfy even the most demanding of music geeks, each record is accompanied by a comprehensive fact sheet listing performer and album name, art director, photographer, illustrator, year, label, and more.
…

Read more
Items 1 to 3 of 3 on page 1 of 1