Items 1 to 3 of 3 on page 1 of 1
Cat: SGR 003 . Rel: 13 Mar 17
Minimal/Tech House
Khan - "Leni On The Cross (Olympia)" (7:44)

Eloi Brunelle - "Neneh" (5:44)

Andres Garcia - "Invisivel" (9:31)
Review: The Synthetic Gold story continues to unfold in the most curious nooks and crannies of the minimal techno scene, as this third volume welcomes in tracks selected by Anestie Gomez. Khan is in a looped up, insistent cycle loaded with alien synth tones and a focused rhythmic hiccup of a beat, truly aiming for the psych-out end of the night. Eloi Brunelle makes things a touch funkier on "Neneh", deploying choice splashes of dubbed out colour in between the sharp strut of the drums. Andres Garcia then spreads himself across the B-side with the loping funk of "Invisivel", working all manner of freaky sounds around the scuffed sway of the beats.
…

Read more
$8.83
SAVE 30%
in stock
$6.18
Cat: SGR 001. Rel: 24 Oct 16
Minimal/Tech House
Isherwood - "Output 1-2" (8:07)

Easy Changes - "Sviat Gepard" (8:12)

Nu Zau - "Din Descriere" (9:42)

Tom Ellis - "200 Yards Below" (5:20)
Review: Synthetic Gold comes into being with a clear commitment to the finest stripped down grooves to be enjoyed in the current climate. Isherwood has already been turning heads for a little while, and brings a truly submerged, experimental mood to "Output 1-2", while Easy Changes ramp up the tempo and get quirky in the minor details of "Sviat Gepard". Nu Zau lays down a perfect crystalisation of the Romanian sound, while Tom Ellis delivers a crackling, electronic piece that edges away from his usual organic sound. It's a fitting final suggestion that this is a label intent on encouraging its artists to head off-piste when delivering a track for release.
…

Read more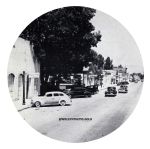 Cat: SGR 004. Rel: 02 Oct 17
Techno
Just Imagine

The Taphead

October Sunrise

Syntax Error

Disconnected

Testkrach

Loop B (SVS28)

Loop B (SVS17)

Loop A (SVS15)
Review: Stephen Laubner never fails to deliver the goods, whether on his own label Something or elsewhere. Having recently popped up on The Untold Stories, this time around he's dropping his uniquely crusty compositions on Synthetic Gold. After a quietly disconcerting ambient opening, the leftfield grind of "The Taphead" pushes an uncompromising agenda of ragged bass and an unrelenting groove. "October Sunrise" by way of contrast is a more intimate, sweet natured affair. "Syntax Error" too taps into the softer side of Laubner's craft in a most mesmerizing of ways, but for the die hard fans fear not, there's also plenty of locked groove loops included to keep you tripping into infinity.
…

Read more
Items 1 to 3 of 3 on page 1 of 1