Items 1 to 2 of 2 on page 1 of 1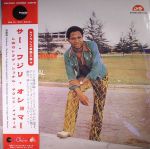 Vol 3
(limited LP with obi strip)
Cat: SRLP 022. Rel: 24 Nov 16
International
Omhona - Omhona (8:33)

Eyemaya Erayemare (8:29)

Oshiomegie Idonigie (10:20)

I Forget Not Mother (5:50)
Review: It would be fair to say that Sir Waziri Oshoma is not one of Nigeria's better-known musicians, despite having a high reputation amongst collectors. Throughout the 1970s and early '80s, he recorded and released a number of albums - each packed with his distinctive interpretations of the then dominant Afrobeat and Highlife sounds - with the backing of his Africa 70 style house band, the Traditional Sound Makers. Volume 3 initially appeared on the band leader's own label back in 1980, and here gets the reissue treatment thanks to the folks behind Paris record store turned label Superfly. Its' four lengthy workouts are naturally superb, making it one of those hard-to-find gems that should be in any Afrobeat enthusiast's collection.
…

Read more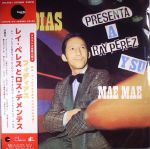 Cat: SRLP 021. Rel: 24 Nov 16
International
Emae Mae (5:18)

El Mundo Esta Lleno (4:04)

El Nino Del Tronbon (5:00)

Ya Amanecio (2:48)

Yo Vendo Unos Ojos Verdes (3:33)

Los Lios De Mis Suegros (3:34)

Mango Maduro (2:36)

El Alacran (4:25)

Asi Mueren Los Valientes (2:51)

Voy A Llorar Esta Noche (2:41)
Review: Paris record label Superfly specialise in rare and collectible vinyl of soul, Brazilian, African, jazz and Latin variety. Next up for the label is the Phidias Presenta A Ray Perez Y Su Mae Mae LP by Venezuelan cult favourite Ray Perez, who you may know of from such projects as Los Dementes, Los Kenya, Los Singers and SU Orquesta. The label makes the bold claim that it is "the most soulful Salsa record you will ever hear, from the sweetest singer ever, good from start to finish." South American salsa as good as it gets? It sounds like a good bet if you ask us! Get your hands on this quality Japanese reissue that is limited to only 1000 copies, with liner notes by accomplished Latin music scholar Roberto Ernesto Gyemant.
…

Read more
Items 1 to 2 of 2 on page 1 of 1