Items 1 to 2 of 2 on page 1 of 1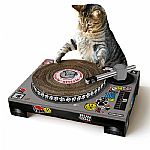 Cat: 440124 Rel: 10 Nov 11
Cat scratch mat which comes flat packed and folds together into a simple structure, includes a poseable spinning tone arm for your cat to play with
Notes: Never let it be said Suck UK don't dabble in science. In the name of completely misunderstanding Schrodinger's work, Suck UK introduce their newest cat/box combination, the scratch mat. The cats scratch furniture to mark their territory, exercise their muscles and for sheer pleasure. All similar reasons youths mix music and if you are to cross over both those cultures you'd rather get cats mixing music than teenage boys bringing bedraggled birds back to your doorstep.

The decks come flat packed and fold together into a simple structure with poseable tone arm and a top which spins as your cat paws at it, meaning you can sit and giggle in a look the cat is doing human things way rather than watch in horror as she shreds your favourite couch into tiny pieces.

…

Read more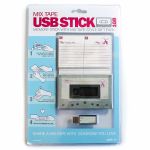 Cat: 382734 Rel: 16 Feb 10
USB stick featuring up to 2 hours of digital music and comes in a selection of 6 different surprise designs (we cannot specify which one you will receive)
Notes: Remember the days before digital music and MP3 players? If you do then you probably made compilations of all your favourite music to share with your friends and loved ones, on good old-fashioned blank cassette tapes. If you miss making mix tapes this product will inspire you again.

Instructions: 1. Add your own sounds to the USB stick. 2. Place the stick inside the tape-style gift pack. 3. Write your own message and playlist. 4. Give it to someone you love.

Store your own mix on the USB stick by plugging into your PC or Mac, then add MP3 or any other files to the USB stick. Stores up to 2 hour of high quality digital music, the same amount as you get on a C120 cassette tape. Perfect for creating your own unique compilation or mix tape. When you only have 120 minutes you have to think carefully about what you are going to put on there. Write your own title, messages and playlist all over the retro gift pack. Mac & PC compatible. 6 different designs to collect. Home taping never killed music.

Please note: There are 6 different tape designs - we cannot guarantee which one you will receive.
…

Read more
Items 1 to 2 of 2 on page 1 of 1