Items 1 to 2 of 2 on page 1 of 1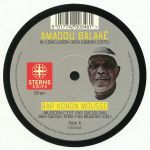 Cat: STEDIT 002. Rel: 10 Jan 18
International
Bar Konon Mousso (Musicien C'est Pas Quelqu'un) (Ben Gomori N'est Pas musicien edit) (8:00)

Massa Kamba (Ben Gomori's Massabbatical edit) (9:11)
Review: This officially licensed 12" sees prolific British disco producer Ben Gomori take a scalpel to two cuts from veteran African musician Amadou Balake's 2015 album, In Conclusion. On side A you'll find a fantastic, eight-minute extension of the breezy shuffler "Bar Konon Mousso (Musicien C'est Pas Quelqu'un)", where snaking saxophone solos and sun-kissed, juju style guitars rise above a hot-stepping, bass-heavy groove. Turn to the flipside for a thrillingly epic take on "Massa Kamba", a deeper and slightly more musically intricate cut blessed with a blissful; Pat Metheny style jazz guitar breakdown, memorable chorus vocals and evocative horn lines.
…

Read more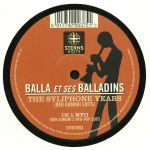 Cat: STEDIT 003. Rel: 09 May 18
Disco/Nu-Disco
Nyo (Ben Gomori Nyo-Pop edit) (8:06)

Wilikabo (Ben Gomori Kaboom edit) (7:31)
Review: Three time's the charm: Legendary African music house Sterns project with long-standing London DJ Ben Gomori has been buy on sight so far. These Balla et ses Balladins edits are likely to go the same way as Gomori takes two of the Guinean orchestra's releases on the state-run Syliphone label and once again turns in two exceptional and respectful revisions; "Nyo" is a slow-and-low chugger with cosmic ripples and cleverly echoed vocal layers while "Wilikabo" is an instant party call to arms with a bell-bottomed bassline and a raw street kicking carnival feel. Already big with the likes of Skream and Horse Meat Disco, this won't hang around.
…

Read more
Items 1 to 2 of 2 on page 1 of 1