Items 1 to 2 of 2 on page 1 of 1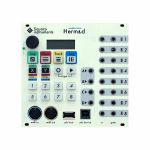 Cat: 670613 Rel: 19 Mar 18
8-track sequencer & interface - perfect for composition & live performances
Notes: Hermod brings together a powerful step sequencer, a CV looper, a real-time effect processor, LFO generators and a complete bi-directional MIDI-USB-CV input/output interface.

Record a performance at any time thanks to the CV inputs, the USB HOST, the USB DEVICE and the MIDI input. Create and edit your tracks with the STEP mode and its piano roll and automation view. Generate crazy patterns with the randomization tool.

Hermod is polymetric, it means that each track can have a different length, from 1 step to 64 steps (256 quarter notes). Moreover, you can zoom in to increase the resolution of the step sequencer.

Polymorphic tracks:

Thanks to Hermod architecture, a track can be a simple mono CV/GATE voice, but can be easily configured as a polyphonic track (up to 8 voices), a CV/GATE + velocity + aftertouch track, a modulation + clock track... in order to perfectly fit your Eurorack system!

Sequences and Projects:

The 8 tracks are grouped into one of Hermod's 8 sequences. Every sequence is totally independent and contains a new set of tracks to be played with, for a total of 64 tracks in a single project.

The number of projects is unlimited and the save/load can be done in a flash, allowing you to jump from one song to the next in your live performance.

Dynamic effects:

All the fun in Hermod resides in its effect system, allowing you to transform input signals, whether it's MIDI or CV. You can stack on each track up to 8 real-time effects: Quantize, Swing, Arpeggiator, Glide, Harmonizer, Delay, Chance, Scale, LFO... Experiment with the effects position and parameters to generate eccentric melodies!

Every effect parameters can be edited in the EFFECTS mode, or with CC messages & CV inputs, thanks to the modMatrix.

MIDI-USB-CV interface:

Full connectivity: control Hermod with plug-and-play midi USB devices, midi keyboards, computers or other Eurorack CV systems.

Hermod is also a great midi hub, allowing you to sequence midi synthesizers/drum machines and computer's virtual instruments. Of course, Hermod can be perfectly paired with Pyramid or other hardware and software sequencer, in order to benefit from its CV/GATE outputs.

With Hermod's rock-solid clock, this module becomes a great synchronization tool, for all your setup!
…

Read more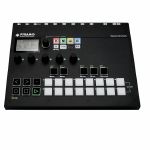 Cat: 670612 Rel: 14 Dec 17
Modern, easy-to-use & versatile hardware sequencer
Notes: Pyramid is designed to be the perfect brain for your musical setup, from studio to stage. It brings together a powerful sequencer, a looper, a rhythm generator, a real-time effect processor, a midi controller and an input+output interface.

Pyramid does not produce sounds. Instead, we have focused our energies on creating an innovative and complete sequencing solution full of creative tools.

Pyramid is an instant source of inspiration to start, finish & perform your song!

Hardware & computer hub:
With Pyramid's high precision clock, the sequencer becomes a great synchronisation tool for both vintage and recent devices. Your instruments will always keep in time: Pyramid is the heartbeat of your studio.

You can also use Pyramid sequencer as a rock-solid interface box for your MIDI, USB MIDI & CV/GATE setup:
- Filter note/clock/start stop/cc/pitch/aftertouch messages
- Route MIDI in to USB MIDI out
- Convert MIDI in to CV/GATE output and add effects
- Convert CV/GATE in to MIDI out
- Convert MIDI IN clock to DIN SYNC

Even if you use a DAW as your primary sequencer, Pyramid will become an indispensable Swiss knife!

Capture your inspiration:
Record a performance at any time with the built-in keyboard, the smartpads (generates chords, scales or repeats), the touchpad, the 5 encoders or an external controller... with true polyphony and high precision!

Create polyphonic melodies & rhythms with the advanced step sequencer:
Create and arrange complex rhythms and melodies with the full realtime step sequencer, or edit your live recording.

Draw automation:
Create CC or FX automation with the touchpad or with the 16 pads.

Generate outstanding euclidean grooves:
Pyramid offers one algorithmic euclidean sequencer engine per track, auto generating uncommon and rich rhythmic patterns. Almost all traditional rhythms from across the world can be generated with this tool.

Deeply play with your tracks:
Once your tracks are created, Pyramid offers several ways to play with your sequences: mute/unmute your 64 tracks on the fly, launch sequences (group of tracks), or chain sequences to create a complete, structured song.

Flexible interface:
Pyramid includes 5 clickable encoders and a wide touchpad.

User-friendly screen:
The graphic display makes Pyramid fun and easy to use. Everything you need to know is spotlighted. And if you want to go further on, just press the "display" button.

Polyrhythms & polymeters:
Pyramid is fully polyrhythmic. This means that you can set different and unusual time signatures on each track, to create shifted-beat sequences. Polyrhythmic constructions will bring new flavours to your productions.
…

Read more
Items 1 to 2 of 2 on page 1 of 1