Items 1 to 2 of 2 on page 1 of 1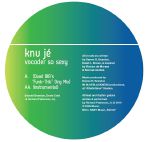 Cat: SRR 003. Rel: 11 Sep 17
Broken Beat/Nu Jazz
Vocoder So Sexy (Quad IBB's Funk-Trib original mix)

Vocoder So Sexy (instrumental)
Review: Donnie Tempo has only appeared once previously as Knu Je', and that was way back in 2001. Now the alias is revived on Sound Reflection in a shimmering, twirling expression of broken beat and boogie sensibilities for those who like their beats soul n' sun drenched. It's actually his Quad IBB alias that serves up the "original mix" of "Vocoder So Sexy", and it's nothing short of stunning. The rich layers of vocals cavort with the expressive key changes and sharply angled beats, making for a truly striking cut that sounds equally fresh in its instrumental form on the B side.
…

Read more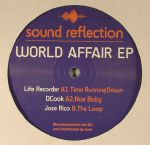 Cat: SRR 001. Rel: 29 Mar 16
Deep House
Life Recorder - "Time Running Down"

Dcook - "Noe Bixby"

Jose Rico - "The Loop"
Review: From the label: "First release from a new Chicago label; Sound Reflection Recordings. Boasting 3 deep tracks from Life Recorder, Dcook, & Jose Rico. "
…

Read more
Played by:
Tomi Chair
,
Stojche
,
Life Recorder
,
Nathaniel Jay (Love Notes)
,
Rai Scott (Inner Shift Music)
,
Monsieur Cedric (Serie Limitee)
,
Jesus Gonsev
,
Jimmy Maheras
,
Cottam
,
Brad P/Inner Shift/Common Dreams
,
G-Prod
,
Djs: Most Charted - Deep House
,
Hakim Murphy
,
RNR
,
Rikki Humphrey
,
Anaxander
,
DJP / Soul Print Recordings
,
Marco Celeri
,
Miruga
…

Read more
$6.58
SAVE 40%
in stock
$3.95
Items 1 to 2 of 2 on page 1 of 1