Items 1 to 2 of 2 on page 1 of 1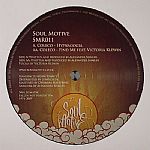 Cat: SMR 011. Rel: 16 Jul 12
Deep Dubstep
Hypnagogia

Find Me (feat Victoria Klewin)
Review: With material from Hyetal, Bashmore, Headhunter, Joker and more in their discography, Soul Motive have established a reputation for seeking out the various strands of music blossoming both close by their Bristol HQ and far (Cosmin TRG has also featured on the label) Arriving at their eleventh release Soul Motive further indulge the sounds of local talent Coleco, a producer who contributed to one of the label's early, split releases and is now granted the full grip of a twelve inch. Lead track "Hypnagogia" takes it's cue from the loose percussive style of Shackleton, gradually weaving in a thumping half step groove and intoxicating layers of Eastern strings - accomplished stuff! On the flip Victoria Klewin adds her floating, slightly saturated vocal tones to the galloping mysticism of "Find Me."
…

Read more
Cat: SMR 010B. Rel: 02 Apr 12
Bass
Stableface (Dark Sky remix)

Stableface (Macc remix)
Review: Bristol hub Soul Motive scored a massive coup in enlisting Punch Drunk boss Peverelist to remix "Stableface", one of the standout tracks from Clouds Of Moments, the 2010 debut set from Lithuanian experimental dubstepper Eleven Tigers. That they choose to complement it with two further remixes is tantamount to treating us, with both Dark Sky and Macc on board to further re-contextualise the cracked atmospherics. In the hands of Dark Sky, "Stableface" is twisted into a brooding dark side steppah with subtle hints of jungle pressure pervading the lower reaches, the 50 Weapons trio playfully teasing with the vocal before dropping in a bassline that can only be described as rude. On the flip, Macc showcases his enviable drumming skills with a heavily cinematic roller of a remix dominated by those rumbling, live rhythms.
…

Read more
Items 1 to 2 of 2 on page 1 of 1