Items 1 to 3 of 3 on page 1 of 1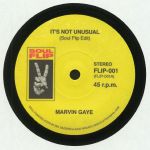 Cat: FLIP 001. Rel: 30 Jan 18
Soul
Marvin Gaye - "It's Not Unusual" (Soul Flip edit) (3:17)

Sam & Dave - "Soul Sister, Brown Sugar" (Soul Flip edit) (3:17)
Review: So, who is in the mood for some "soul-powered edits" from veteran DJ/producer combo Del Gazeebo and Aldo Vanucci? That's the premise behind the duo's freshly minted Soul Flip label and this debut seven-inch. As you might expect, the scalpel style edits pay due respect to their source material, extending drum breaks and tidily tightening up the grooves for easier DJ use. On the A-side you'll find a particularly on-point, occasionally dubbed-out version of Marvin Gaye's lesser-known cover of "It's Not Unusual" that's worth the entrance fee on its own. Turn to the flip for a noticeably heavy, stomping take on Sam and Dave favourite "Soul Sister Brown Sugar" that sneakily uses effects and editing tricks to ratchet up the energy levels.
…

Read more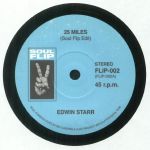 Cat: FLIP 002. Rel: 30 Apr 18
Soul
Edwin Starr - "25 Miles" (Soul Flip edit) (4:22)

Aretha Franklin - "A Change" (Soul Flip edit) (3:36)
Review: Vanucci and Gazeebo's Soul Flip guise cracks its editing knuckles for a second roll of the party dice and the results are every bit as funky as you'd expect. Edwin Starr's 1968 super-funk belt-out gets supersized with a rolling big beat break while Aretha Franklin's formidable rhythm & blues stomper "A Change" is given a subtle thrusting for modern day floors. Absolute dynamite.
…

Read more
Items 1 to 3 of 3 on page 1 of 1