Items 1 to 2 of 2 on page 1 of 1
Cat: SR 004. Rel: 09 Sep 13
Deep House
Let It Go (Sophisticado vocal mix)

Let It Go (ReelSoul instrumental mix)

Let It Go (Josh Milan Honeycomb vocal mix)

1929
Review: Following the summer-sizzled "LOVE Song" comes another smooth soul schooling from Victor Lavender. Smoking keys and a lolloping bassline set the scene as Diviniti's vocals cause a spell-binding ear roadblock to great effect. For something deeper and more percussive jump on ReelSoul's drum-heavy instrumental while Josh Milan Honeycomb extends the soul aspects and injects a tiny bit of jazz to recipe giving it a confident MAW-like polish. "1929" completes the set with more jazzed out leanings thanks to the dreamy keys and piano work, tied together neatly with a funky squidgy bassline and subtle percussion elements.
…

Read more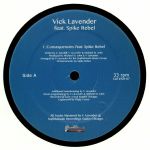 Cat: SR 07. Rel: 26 Mar 18
Deep House
Consequencies (7:37)

Tiano Nuevo (8:49)

Now We're Cookin (8:59)
Review: The architect returns to Sophisticato rolling deep with previous partner in vibes Spike Rebel. As always with Lavander, soul is the main focus and there's a strong sense of sprightly summertime jazz fusion at play, too... "Consequencies" is a lilting dreamer with a playful Balearic shuffle, "Tiano Nuevo" gentle ebbs and flows between the planets on a weave of glistening strings and wispy pads while "Now We're Cooking" turns up the Rio heat over the course of nine minutes with steamy twists at every turn.
…

Read more
Items 1 to 2 of 2 on page 1 of 1