Items 1 to 2 of 2 on page 1 of 1
Cat: SOM 1275. Rel: 18 Apr 16
Deep House
I Ain't Gonna Wait (edit)

Infractions

Words To A Nation
Review: This special release revisits classic Brothers' Vibe tunes, edits and a never before released on vinyl track. Kicking off proceedings is the 1989 gem "I Ain't Gonna Wait". An early Brothers' Vibe piece and massive underground anthem! Brothers' Vibe distinctive gritty style of groovy house takes us on a hypnotic journey into uncharted territory. Melody and percussion interchange amongst a framework of zippy synths and sinuous kicks. Released under the moniker Silent Rodgerz, the second track "Infractions" saw the light of day back in 2008 solely in digital format on a MixxRecords compilation. Low slung with an acid influence, the cut reveals a distinctly natural groove lead by the classic bassline. The final track is the definition of a house classic!! Featuring echoing words of the great Maya Angelou, "Words To a Nation" exudes a timeless quality, unveiling a masterpiece which stays firmly in your head...
…

Read more
$8.77
SAVE 40%
in stock
$5.26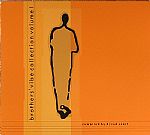 Cat: EXBVCD 1001. Rel: 08 Oct 00
Funky/Club House
Brothers Vibe - "Sin Martillo"

Todd Gardner - "French Riveria"

Cassioware - "Nu Born Luv"

DJ Dave - "Come On"

Jay-J Hernandez - "Yeah Baby"

Brothers' Vibe - "Brazilian Drum Dance"

Kick Affiliates - "Carnival"

Connected Funk - "Magic Sax"

Tony Rodiguez - "North Fifth St Seranade"

Brothers' Vibe - "Timbaso"
Items 1 to 2 of 2 on page 1 of 1