Items 1 to 3 of 3 on page 1 of 1
Cat: SIS 025. Rel: 10 Nov 15
Deep House
Timed Reality (7:18)

Parallel Strings (7:26)

Altered Possibility (7:14)
Review: In our eyes, Patrice Scott's Sistrum Recordings represents everything that we like about deep house. That is not to say the label is limited at one single sound or genre, but it's more about its approach to finding the right artists to fit with its aesthetics. This latest head to head by the 12 To 30 trio - Bacanito, Giovanni Randisi and Tazz - is another stunning escapade into the deepest and most cerebral shades of house music, and the opener "Timed Reality" makes use of the genre only for its tempo, preferring instead to deliver a sublime wall of pads, airy synths and sci-fi effects. "Parallel Strings" reminds us of Theo Parrish in his mid-'2000s mode, but "Altered Possibility" is the real winner on here; a warm slice of SH 101 noise is just what we need for our low-end necessities.
…

Read more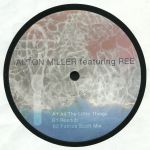 Cat: SIS AMILLER. Rel: 04 Jun 18
Deep House
All The Little Things (8:32)

All The Little Things (Reedub) (8:10)

All The Little Things (Patrice Scott mix) (7:19)
Review: Following his well-received 12" comeback "Analog Love" last year comes another sterling composition from Detroit veteran Alton Miller with the honeyed dulcets of singer Ree who comes on a strong like a young Amp Fiddler over Miller's restrained smooth chords. Flip for an immense immersive Reedub where the vocals become sweet textures in a more freeform organ-led jam before fellow Detroiter Patrice Scott closes the show with a deep and dreamy refix. All the little things are adding up right here.
…

Read more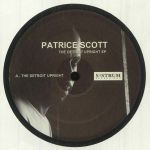 Cat: SIS 026. Rel: 11 Apr 16
Deep House
The Detroit Upright (6:21)

Who We Are (6:17)
Review: Patrice Scott's long awaited debut album, Euphonium, was arguably one of the most underrated full-lengths of 2015. Happily, he's kept the quality threshold high for this follow-up EP. "The Detroit Upright" is particularly potent, with effortlessly smooth keys stretching out over rich chords and bumpin' deep house beats. On the flip, Scott doffs a cap to the hazy, jazz-funk influenced styles of 2000 Black, on the impeccable broken beat/deep house fusion cut, "Who We Are". Weighty at the bottom end, and blessed with both starry keys and delay-laden synth lines, it's the kind of track you could imagine Theo Parrish losing his shit to.
…

Read more
Played by:
Tomi Chair
,
Tres Manos-Your Only Friend
,
Sean Dixon
,
Matt Pond (DeepSystems)
,
Nathaniel Jay (Love Notes)
,
STEREO 12"
,
Bantam Lions
,
Mr Webster
,
Michael Zucker - Finale / Balance
,
Patrice Scott
,
Dj Prophet
,
Monsieur Cedric (Serie Limitee)
,
Per Bojsen-Moller
,
ISOUL8 (Volcov)
,
Jesus Gonsev
,
Nick Anthony Simoncino
,
MR G
,
Jorge Caiado (Balance / Groovement)
,
Petko / Soul Print Recordings
,
Cottam
,
Alex Bradley
,
NICOLA CONTE
,
Bryan Hervieu
,
Appian
,
Cromby
,
Djs: Most Charted - Deep House
,
Don Crisp
,
Rikki Humphrey
,
Massiande (Freerange/MOS/Phonica)
,
25 Places
,
Titonton Duvante (Residual)
,
DJP / Soul Print Recordings
,
Aleqs Notal
,
Bradford James (DS Records)
,
Chaos In The CBD
,
Secretsundaze
,
Reggie Dokes
…

Read more
Items 1 to 3 of 3 on page 1 of 1