Items 1 to 2 of 2 on page 1 of 1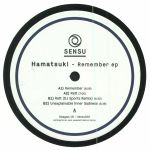 Cat: SENSU 002. Rel: 30 Apr 18
Deep House
Remember (6:27)

Rett (6:58)

Rett (DJ Sports mix) (6:34)

Inexplainable Inner Sadness (5:37)
Review: Georgian producer Hamatsuki appeared on GASP last year with the Uncertain Loops cassette release, but makes his vinyl debut on this damn fine 12" for the recently minted Sensu label. "Remember" is a rich, undulating swirl of deep house laden with melancholic pads, while "Rett" sports a sunnier tone for its own arsenal of soft, rounded synth tones. DJ Sports comes on board for a remix of "Rett" that plays with said synths and creates springy, computer jazz melodic threads out of them. "Inexplainable Inner Sadness" completes the set with another trip into warm, Chicago-indebted house tones for the introspective dancer.





…

Read more
Cat: SENSU 003.
Deep House
Keep It Up

EndoPlazm (Innabud dub)

Uniform

Mizty Mountain Hop
Review: Sensu kick off their second release of the year with Rudolf C taking the helm. A four track that showcases the young Melbourninan's clear talent.





…

Read more
Items 1 to 2 of 2 on page 1 of 1